Paralympics: Keeping Politics Out Of Sports
03:53
Play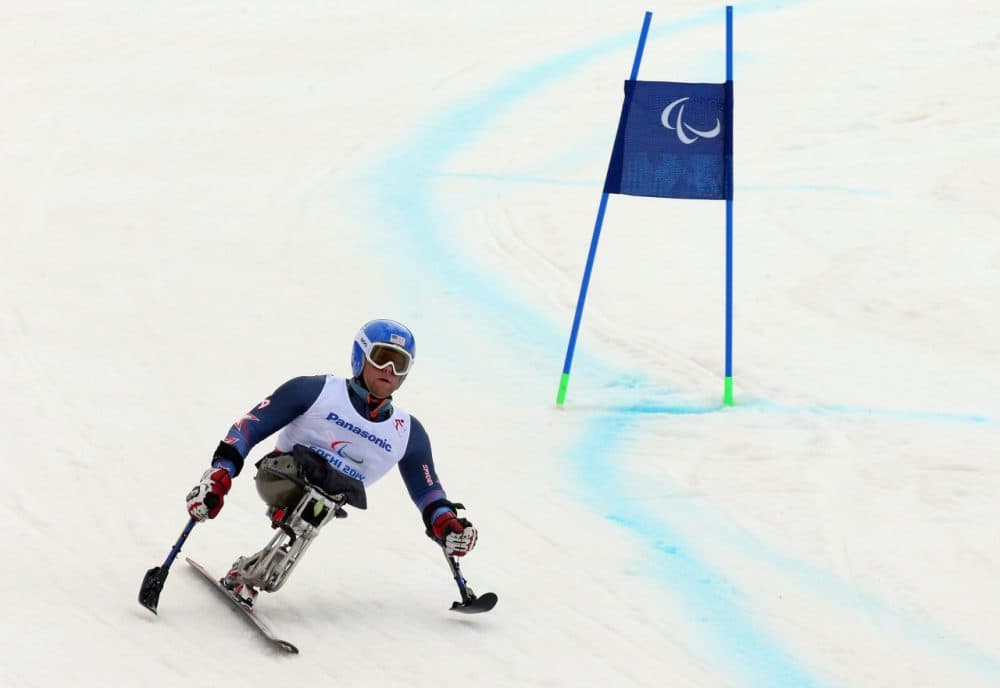 This article is more than 7 years old.
The Paralympic Games are underway in Sochi, Russia. Only one of Ukraine's 23 Paralympians participated in Friday's opening ceremonies. He bore his country's flag to enthusiastic applause.
The U.S. athletes entered Friday night's opening ceremonies behind Jon Lujan, an alpine skier and veteran of the Marine Corps. But the athletes from the U.S. and Great Britain will have to manage without their political delegations. Both countries have kept their officials home in order to register their disapproval of Russia's military activities in Ukraine.
Craig Spence, head of communications of the International Paralympic Committee, joined Bill Littlefield to discuss the Games.
BL: You said on Tuesday, "we are not here to do politics." But the U.S. has said Russia has troops in Ukraine in violation of various international agreements and Vladimir Putin has denied that. How can you avoid politics?
[sidebar title="Boy Going Blind Sees NBA Game" width="330" align="right"]Louis Corbett, a 12-year-old boy from New Zealand who is losing his sight, traveled to the U.S. to fulfill his dream of seeing an NBA game.[/sidebar]CS: Because we are a sporting organization. We don't have a focus on politics. We're here to create the best Paralympic Winter Games in conjunction with the organizing committee. And to do that we need great venues and great athletes, and we've got both of those in plenty here.
BL: 575 athletes from 40 countries this time around are there primarily to compete, but I wonder if there's been any indication that politics is on their mind at all. 
CS: No, I've spent quite a lot of time with the athletes this week. Having trained most of their lives to be here, this is the pinnacle of their sporting careers. One athlete said to me this week, "I'm really selfish. I don't care what's going on in the outside world because I've been training for this moment all my life, and all I want to do is win gold here." And I think that's a view shared by most athletes. It's a sporting event. You hope you can change people's perceptions of people with an impairment. And that's why we need to proceed with this event.
BL: I understand accessibility has not been a priority in the past in Russia. Has that been a concern there at all? 
You hope you can change people's perceptions of people with an impairment. And that's why we need to proceed with this event.

Craig Spence, International Paralympic Committee
We've got the infrastructure here right, but now we've got to change attitudes because Russia's attitudes towards people with an impairment isn't particularly good. And we're hoping one day people see the performances of the athletes and they will change their attitudes. We've found that the Paralympic Games have a fantastic track record for doing that, and we're confident we can do the same thing here in Sochi.
BL: In the past, fans of the Paralympic Games have complained the television coverage hasn't been especially good. Do you see that changing?
CS: Yeah, we've seen that change a lot in recent years. We had record viewing figures in London for the Summer Games. And here in Sochi we should easily beat the record viewing figures for Winter Games, which was set four years ago in Vancouver. NBC and NBC Sports are showing the Games for the first time live in the U.S. We're live in Brazil for the first time.
There's a number of territories who have shown the Games previously who are showing more hours as well. This is a fantastic sporting event. I mean people who tune in on NBC will see visually impaired athletes doing the downhill — the same downhill the women did here in the Olympics at 100 kilometers an hour. That's effectively skiing blindfolded. And they're just following a guy in front of them telling them to go left, right, and describing the turns. It's amazing — sport at it's very best.
This segment aired on March 8, 2014.