Remembering Buffalo Bills Owner Ralph Wilson
04:30
Play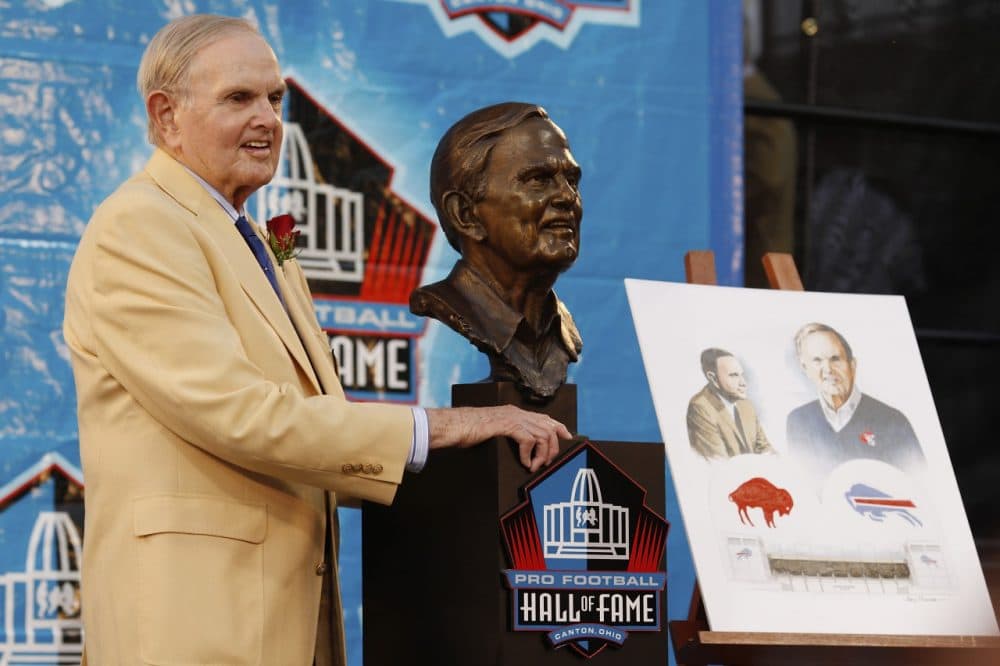 This article is more than 7 years old.
This week, the NFL lost one of its pioneers. On Tuesday, Buffalo Bills owner Ralph Wilson died at the age of 95. In 1960, Wilson became one of the founding owners of the American Football League, which first challenged and later merged with the NFL.
Ed Rutkowski played for Buffalo for six seasons in the 1960s and later served on the Bills' radio broadcast team. He went on to spend more than 20 years in county and state government in New York. He joined Bill Littlefield.
BL: Let's start with your relationship with Ralph Wilson. How will you remember him?
[sidebar title="The Greatest Comeback In NFL History" align="right"]In 1993, the Houston Oilers held a 32-point lead over the Bills in a playoff game. But it wasn't enough.[/sidebar]ER: We were more than just a team to Mr. Wilson. We were like family. We looked at him as kind of our father figure, and I can't begin to tell you how many guys, ex-Buffalo Bills, he helped when they had some maybe financial problems or health problems. He was just an incredibly compassionate individual and took care of a lot of us, but never, never made that known publicly. He kept that private.
BL: Today the NFL is a multi-billion dollar industry, but in the 1960s the AFL was a start-up operation. You played on two AFL championship teams. How critical was Ralph Wilson's leadership to the organization's success in those early years?
ER: Well, he was not only critical to the success of the Buffalo Bills, but you know the Oakland Raiders got into some financial problems and, unbeknownst to a lot of people, Ralph Wilson bailed 'em out with a loan to the owner at that time. I think it was Wayne Valley.
And he was very generous to us. I tell this story: I graduated from Notre Dame and signed with the Buffalo Bills. And when I talked to my mom I told her I signed a contract with the Buffalo Bills. She said, "How much?" I said, "$7,500." She said, "Oh my God. You're rich." And I said, "Not only that, Mom. They gave me a signing bonus. They give you money to sign the contract." She said, "Oh my gosh, no, really?" I said, "Yeah, really. They gave me $300." I said, "What do you need? What do you want?" So she told me. And this was a true story. With the $300 I bought her a new pair of false teeth for$150. I took the other $150 and drove down with four guys down to Fort Lauderdale, Fla., and paid for the gas and the hotel rooms and came back with about 25 bucks and said, "This is it. I made it." [Laughs]
BL: After the AFL-NFL merger, the Bills' best years came in the 1990s. The team didn't win a championship, though they did reach four consecutive Super Bowls. But the Bills' last playoff appearance was in 1999. They've had just one winning season since then. I wonder, has that affected the public perception of Ralph Wilson in Buffalo?
We were more than just a team to Mr. Wilson. We were like family. We looked at him as kind of our father figure.

Ed Rutkowski, Bills alum
BL: It's interesting that you mention the stadium because the Bills have a lease that requires them to stay there until 2019 or pay a stiff penalty, and yet Ralph Wilson had made it clear that his family would not run the team after he was gone. How much would it hurt the area to lose the Bills to another city?
ER: Oh, it would be devastating. I don't think you're ever going to see the Bills move out of Buffalo. There are just too many good people concerned about the Buffalo Bills and love the Buffalo Bills that, when push comes to shove, they're going to step up to the plate and make sure that the Bills stay here in Buffalo. I can't ever imagine the Bills leaving Buffalo. That would be devastating.
BL: In sum, Ed, what do you think Ralph Wilson's legacy will be?
ER: Well, the fact that he loved his ballplayers. He loved his team. He loved his family dearly and the fans of Buffalo. He did what he had to do to keep the franchise here but provide some terrific entertainment and for that we'll always be grateful.
This segment aired on March 29, 2014.