The Anthropology Of Basketball Fandom
03:25
Play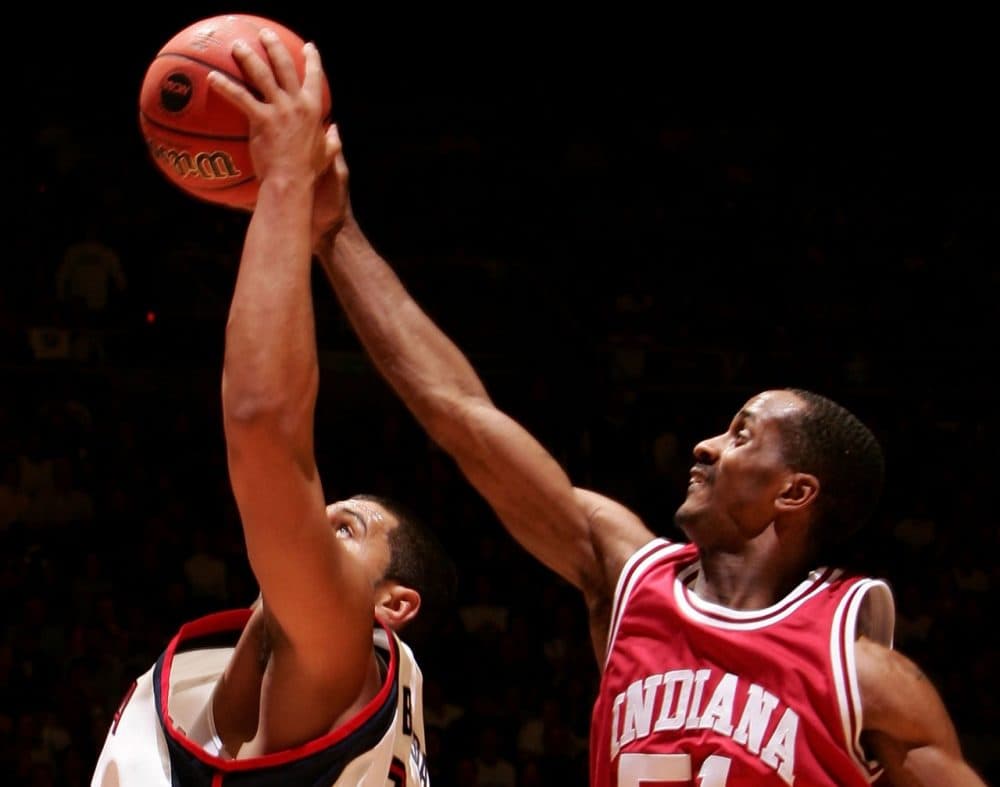 This article is more than 6 years old.
Bloomington, Ind., March 2006. I sat with a carton of Haagen-Dazs worthy of the worst breakup. My heart had broken just hours earlier in a packed sports bar called Yogi's. The buzzer rang, the Gonzaga players leapt for joy, and tears filled my eyes. I sunk my face into my boyfriend Josh's arm as he consoled me.
It's that regular dose of hope we all need to keep us going.

Dr. Evelyn Dean-Olmsted
Before all of this, I had been baffled by America's obsession with sports, the billions of dollars and hours wasted. Poverty. AIDS. Education. I could easily name a dozen worthier causes. The same went for my limited grad student time and money.
And then a funny thing happened. We were down against Iowa when Josh turned to me and asked, with genuine concern, "Are you all right?"
"I'm stressed!" I said. And I was. My body was tense and my heart pounding. All for a game.
It was sealed when I dressed like Princess Leia and danced for the huge overhead scoreboard at the home game against UConn. As I walked out, I remarked to my Darth Vader companion, "I love basketball." It was a revelation, to myself and to him. I loved basketball.
A friend once asked me why. "It's the players," I answered. "You follow them and you want them to do well. My favorite guys are Earl Calloway and Errek Suhr. I just love them."
"Wait, you know them?" she said.
"Well, not personally, but I know them. I've been watching them all season!"
But it was more than this fictitious personal relationship. It was the sense of renewed hope I experienced — every game was a new chance to succeed.
[sidebar title="Men's Final Four Update" width="330" align="right"]Yahoo! Sports columnist Pat Forde tells us about some of the big-name players missing from the men's Final Four and which ones might be leaving school for the NBA. [/sidebar]I finally got it. True to my anthropological training, I'd gotten an insider's view of sports culture by immersing myself in it. I felt what fans felt, in that visceral way that only ethnography allows. I learned how sports become integrated into a person's life, how we invest and identify with them. I understood their value, and not just as diversion from the daily grind. It's that regular dose of hope we all need to keep us going.
After the Hoosiers' tournament loss to Gonzaga in '06, that hope allowed me to move into the fifth and final stage of grief: acceptance. Sports teach us that there is always another chance to redeem ourselves. There's always the next game, and when there are no more games, there is always next season.
Dr. Evelyn Dean-Olmsted is a professor of anthropology at the University of Puerto Rico Río Piedras in San Juan. She earned her Ph.D. at Indiana University.
This segment aired on April 5, 2014.