Pat Forde: The NCAA's Phenomenal Freshmen
04:42
Play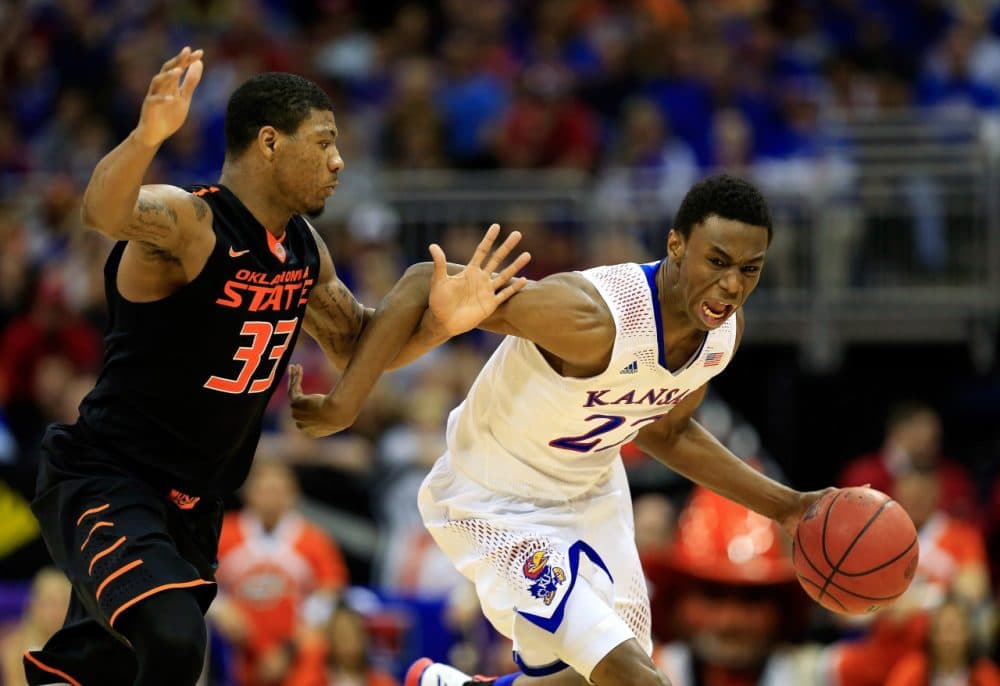 This article is more than 6 years old.
On Monday, as Wisconsin, Florida, Kentucky, and UConn prepared for this weekend's Final Four, Andrew Wiggins of Kansas declared his eligibility for the 2014 NBA draft. But he's not the only blue chipper who won't be a part of the extended Madness.
To talk about the premature departure of some of this season's best men's college basketball players, Pat Forde of Yahoo! Sports joined Bill Littlefield.
---
BL: Kansas lost in the tournament's Round of 32, so fans didn't get much of a chance to see Wiggins play in the postseason. Nor will they see him in the future. What are fans missing out on?
[sidebar title="March Sadness" width="330" align="right"]The story behind the NCAA vs. Jason Gay's kitty cat mug.[/sidebar]PF: Well, he's an phenomenal athlete — incredible jumping ability, lateral quickness for 6-foot-7. That makes him an excellent defender. But, you know, my concern with him is he's a little bit of a wallflower-type personality. You know, I don't think he has much of a take-over mentality. If somebody wants to spend $50 [to] $60 million on making him the face of your franchise, I'm not sure he wants to be that face, so it's a bit of a risky endeavor, I think.
BL: Wiggins has been projected to go no later than the third pick in the draft. Is that all of the motivation he needs to declare this year and forgo the chance to lead Kansas deep into the NCAA tourney for the next one, two, or three years?
PF: Oh yeah, I mean if you're a top-three pick. Heck, there's a lot of guys who'll leave if they're a top-30 pick. So if you're going to be picked in that position, you go, no looking back whether you're ready or not. You know, I wish the rule were different. I wish the rule were like baseball where you could declare out of high school, and they had a viable minor league system that you could go into. Or if you say you're going to college, you have to go for two or three years or something like that.
I'm not really big on the whole sham of let's pretend we're in college here. These guys who are around for six or seven months and then they're out of here and have no interest in declaring a major or finding out what campus life is really about beyond going to the gym and practice facilities. So it is what it is, which is a saying I hate, but I'm not sure there is a better one to describe this situation.
BL: What other players are you sorry fans didn't get to see more of in this year's Big Dance?
PF: Well, certainly Joel Embiid, who is Wiggins' teammate at Kansas. You didn't see him at all because he had a back injury. Some people believe he's the best NBA prospect of all. Wonderfully skilled 7-footer. He can really pass and handle the ball and shoot. He can do pretty well [at] everything. He's still pretty raw, but I wouldn't be surprised if he's the overall No. 1 pick. And then also Jabari Parker from Duke. Wonderfully talented guy. Plays really hard. Very competitive. Really was kind of playing out of position at Duke as more of a power forward. He'll be a small forward in the NBA. Those two guys are fantastic talents, and I think they'll be star players in the NBA for many, many years.
BL: It's interesting that you mention those two because, though many of the NBA's worst teams have denied it, there has been a lot of tanking going on this season. I guess those teams had no inkling of the possibility that Wiggins' teammate, center Joel Embiid and Duke's Jabari Parker are reportedly pondering a return to their respective teams.
PF: Yes, that is the report. I would be shocked if either do return. The "Play Sorry for Jabari" or "Concede for Embiid" movements have been in full effect for a long time. I don't think anyone expects them to have a change of heart this close to getting their paydays as professional athletes.
BL: I would think another problem with some of these guys — and I know it's worked out really well for some players to get into the NBA very young — but for some of these guys, they are still very young to get into the grind of that kind of job. 
[sidebar title="The Women's Final Four" width="330" align="right"] ESPN's Michelle Smith updates us on the women's Final Four. [/sidebar]PF: Oh, I totally agree. It's a risky proposition I think. I'm not sure there's many who are well-suited for that. There may be the rare LeBron James who at 18 [or] 19 could handle it — not just being able to excel on the floor, but being able to handle the grind of being a professional athlete. The demands on you are significant. The season is more than twice as long as anything you've played before, and your coach will be more demanding on you as well. It's not an easy lifestyle. That's why they get paid that much money. So, I'm not sure there are really that many teenagers out there that are really cut out for it.
BL: Currently, the NBA's minimum age requirement is 19. The league's newly minted commissioner, Adam Silver, has made raising that limit a priority. Would you be in favor of that?
PF: Yeah, I would. What I'd really truly be in favor of is an either/or where you could come out at 18, so you don't have to pretend you're a student, or you stay for a minimum of two years. That'd be a good solution. But 20 would be better than 19. 21 would be better than 20. A college degree would be best of all, but I know that's naive. We don't live in those days anymore.
This segment aired on April 5, 2014.