Women's Final Four Preview With ESPN's Michelle Smith
04:20
Play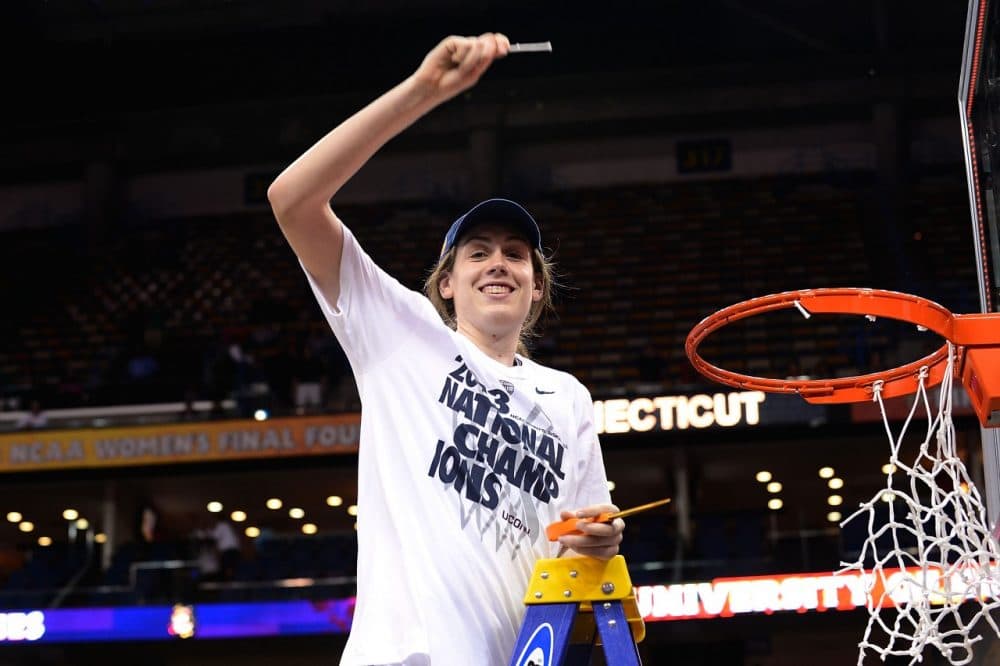 This article is more than 6 years old.
There are four teams left and the NCAA women's national champion will be crowned Tuesday night. Two semifinal games on Sunday will decide whether the final will feature the two teams nearly everyone has been expecting to make it: UConn and Notre Dame. Overall No. 1 seed UConn will face off against Stanford while Notre Dame takes on fourth-seeded Maryland.
[sidebar title="The Men's Final Four" width="330" align="right"] Some big names from a stellar freshman class are missing from the men's Final Four. [/sidebar]Stanford, a No. 2 seed, has a familiar opponent in UConn. In the past seven years, the teams have faced each other four times in the Final Four.
"For Stanford, it's a matter of playing at their absolute best to have a shot," ESPN's Michelle Smith told Bill Littlefield. "I still think it's probably just a shot. There probably isn't anyone outside the Stanford locker room and Stanford family who think they have a shot against Connecticut just because of the season Connecticut's had and how complete they are as a team."
In a 64-team tournament, a four-seed is high, but Maryland is the decided underdog in the Final Four.
"This is one of those teams that was probably playing really well at the end of the season," Smith said. "They just kept playing well through the tournament."
The Terrapins face Notre Dame, one of the two remaining undefeated teams. Maryland's chances of winning have increased because of an ACL injury to Notre Dame's Natalie Achonwa.
[sidebar title="The Anthropology Of Basketball" align="right"]A fan shares her account of discovering a love for basketball as an adult after being totally disinterested in sports.[/sidebar]"I am not 100 percent that Notre Dame is going to get [to the title game] now," Smith said. "I think that's a huge injury to have this late in the season and a very quick adjustment that your team has to make to playing without a major player who's played there all year."
But Smith still like the Fighting Irish to advance.
"I think once they get [to the title game], it will be very difficult for them to compete with Connecticut without Achonwa because she's one of their major cogs," Smith said. "You don't go into the national championship game playing against a loaded Connecticut team with something less than your best team."
This segment aired on April 5, 2014.