'Greek Freak' Giannis Antetokounmpo Brings Youth To Stagnant Bucks
Resume
Formal practice is over at the Bucks' training site in suburban Milwaukee, but 6-foot-10 forward Giannis Antetokounmpo is still on the court working on his shooting with Bucks assistant coach Josh Oppenheimer. The 19-year-old Antetokounmpo calls out as he and the coach launch three-pointers.
That playfulness seems to be part of Antetokounmpo's personality. The Athens-born son of Nigerian immigrants has been in the U.S. less than a year.  The Bucks made him their first round draft choice last June. But he's been getting acclimated. Antetokounmpo is hip enough about American ways to kid about his favorite foods.
"I like burgers, McDonald's, Wendy's, KFC, all that," said Antetokounmpo. "No, I'm joking. No, just rice, chicken, pasta."
[sidebar title="New Blood In The NBA" align="right"] We spoke with Yahoo's Pat Forde about the top prospects in this year's NBA Draft [/sidebar]His parents arrived from Greece a couple months ago to cook him more meals. Before that, Antetokounmpo made a few visits to Milwaukee restaurant Ma Fischer's.
Second-generation Greeks own the diner and Greece-native Spilios Kalogriopoulos is the second-shift manager. He said the local Greek community of about 10,000 is very proud of Antetokounmpo. Kalogriopoulos said when he attends Bucks games, he often gives him a special cheer.
"For example, I am in the stands and he has the ball," Kalogriopoulos said. "I try to say, let's go Giannis or as páei Giánni̱s -- something in Greek."
There are other Greek players in the NBA like Nick Calathes and Kosta Koufos. But Kalogriopoulos said Antetokounmpo has the most promise.
At the Bradley Center in Milwaukee, it can take some doing for fans to stay awake through the Bucks' many losses. But if you talk to boosters wearing Antetokounmpo jerseys like Melissa Brown their faces light up.
"Well, No. 34, Antetokounmpo -- I can spell that as well — he's my favorite player. I love him," Brown said. "I think he's really going somewhere one day, and that's the jersey I wanted."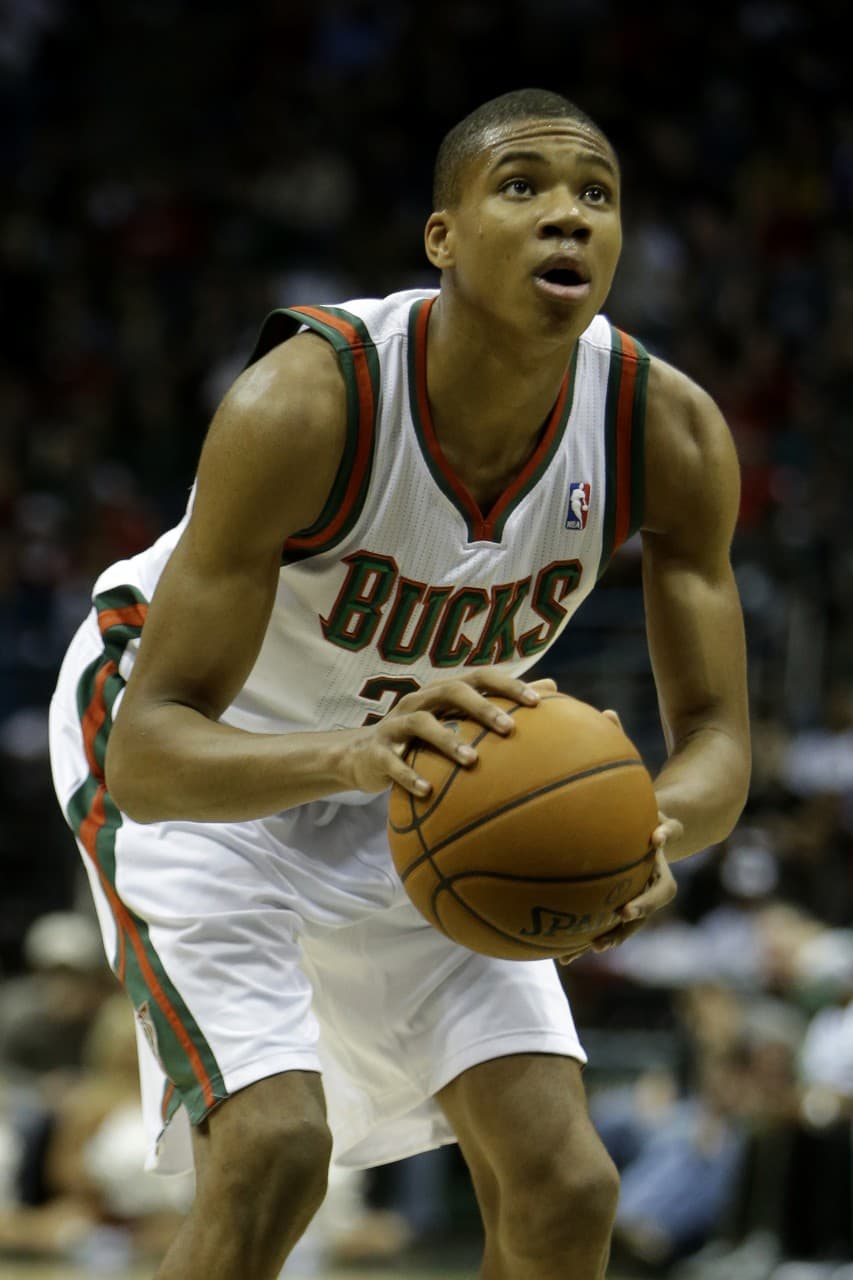 Juan Randall isn't wearing the Antetokounmpo gear yet, as he acknowledges the rookie's average numbers. Still, Randall sees a lot of potential .
"He can handle the ball," Randall said. "His jumper will get better as he starts learning the NBA game. I think they was kinda on when they said he might be close to Kevin Durant. I think he might be. Give him three years."
Antetokounmpo did play in the Rising Stars Challenge for rookies and sophomores at this year's NBA All-Star Weekend. Bucks coach Larry Drew said his young player has made a nice transition from playing in a second-tier league in Greece to the much more challenging NBA. But Drew does worry a little about all the hype.
"He's been getting a lot of international attention and the last thing you want is for him to get complacent," Drew said. "He's got to keep working his behind off and getting better and better because that's the only way he's going to get to that next level."
Drew says that next level is "total consistency."
Antetokounmpo says he's willing to work hard to improve even for one of the NBA's worst teams.
"What can you do?" he said. "Just gonna play hard, not gonna give up — not gonna give up yet. Play to the last game and finish strong."
The same day Antetokounmpo stayed late at practice, working on his three pointers, he hit one late in a game against Orlando that helped seal one of the Bucks rare victories this year and earned a call from the PA announcer that the Bucks hope is often repeated: "The Greek Freak for three!"
This segment aired on April 5, 2014.