Sewing A Championship Banner
04:40
Play
This article is more than 6 years old.
The sewing room at New England Flag and Banner is humming with activity. It's been that way for a while now — the company's been around since 1892. The current owner, Ned Flynn, has only been in charge since 2006, but not surprisingly, he starts our conversation with a look at the past.
"This is the oldest picture that I've seen," Flynn said. "It came out of the archives."
Among the photos on Flynn's wall is one of Fenway Park, adorned with red, white, and blue bunting to celebrate the return of baseball after World War II. More recently the company made the championship banners which covered the entire Green Monster for Opening Day. In fact, they made the championship banners that permanently hang in the rafters of many pro sports venues — the LA Kings loved theirs so much they made a short documentary about it.
Those huge velcroed banners high school football teams break through before home games? Many of those were made here. As are the ones passed around in the stands at universities such as Notre Dame and Kansas. Listing all the schools New England Flag and Banner works with could take all day.
Flynn walks me through the geography of the entire United States by listing the colleges his company has made flags and banners for. He estimates he has about a 90 percent market share, and I'll admit I can't think of anyone he hasn't mentioned.
"University of Florida, Florida State, the entire SEC region, all the way up to the University of Maine. It's pretty cool," he said. "So almost all the games I watch now I'm thinking to myself, if not saying out loud, 'How's that flag look?' It's true."
A lot goes into a good-looking, hand-sewn applique flag or championship banner. After the design is finished, it's sent to computerized plotters, which poke holes in large pieces of paper.
Staples temporarily hold together full sheets of brightly colored fabric — usually nylon. The paper is used as a stencil to mark the pattern, but the design isn't cut out. At least not yet.
Skilled sewers, some of whom have been working here for 30 years, deftly zigzag around the stenciled marks.
And finally, the extra fabric is cut off by hand, layer by layer, revealing the design.
"It's counterintuitive," Flynn said. "People think we sew letters on and sew logos on. It's actually the opposite. What we do is sew the image on and then we cut everything around it off."
When the sewing room makes a particularly cool banner -— say one with the Olympic rings on it -— an extra will sometimes be hung on the wall. And, since the Masters is underway, I guess I need to point out that one of those banners is very, very green.
"There is a very green banner on the wall from a, I guess you would say, somewhat famous golf tournament that takes place in April every year," Flynn said. "And we've been lucky enough to be making their flags for the clubhouse and their driving range for a long time now. And every year we sign a new non-disclosure with them, so we won't mention who it is, but it certainly is green."
[sidebar title="Making Trophies" width="330" align="right"] OAG's Doug Tribou went to Tiffany's to see how championship trophies are made.  [/sidebar]
He's not at liberty to say more, but it's clear Ned Flynn is proud of his 122-year-old company's association with all of the storied institutions whose logos grace his factory wall.
"Any time you do a Stanley Cup championship or a world championship or whatever, it's all great," he said. "But there are some that transcend the rest, and I think the one from Georgia kinda transcends the rest. Is that opaque enough?"
It's opaque enough for me. I just hope the folks down in Georgia agree.
This segment aired on April 12, 2014.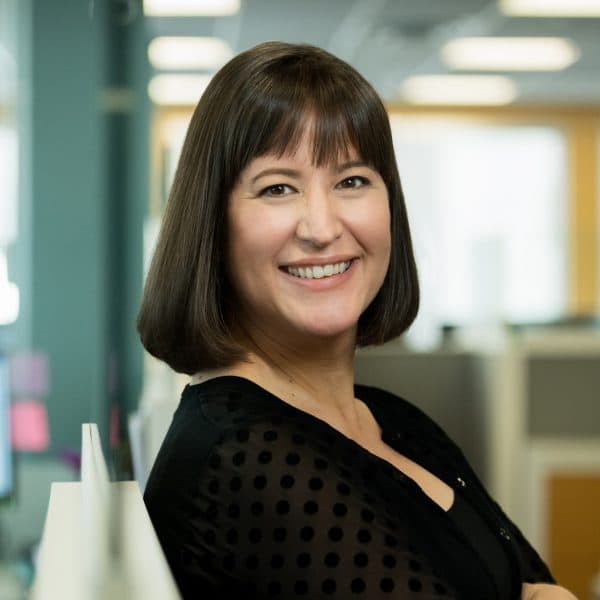 Karen Given Executive Producer/Interim Host, Only A Game
Karen is the executive producer for WBUR's Only A Game.