Women And Children Welcome At Augusta
05:42
Play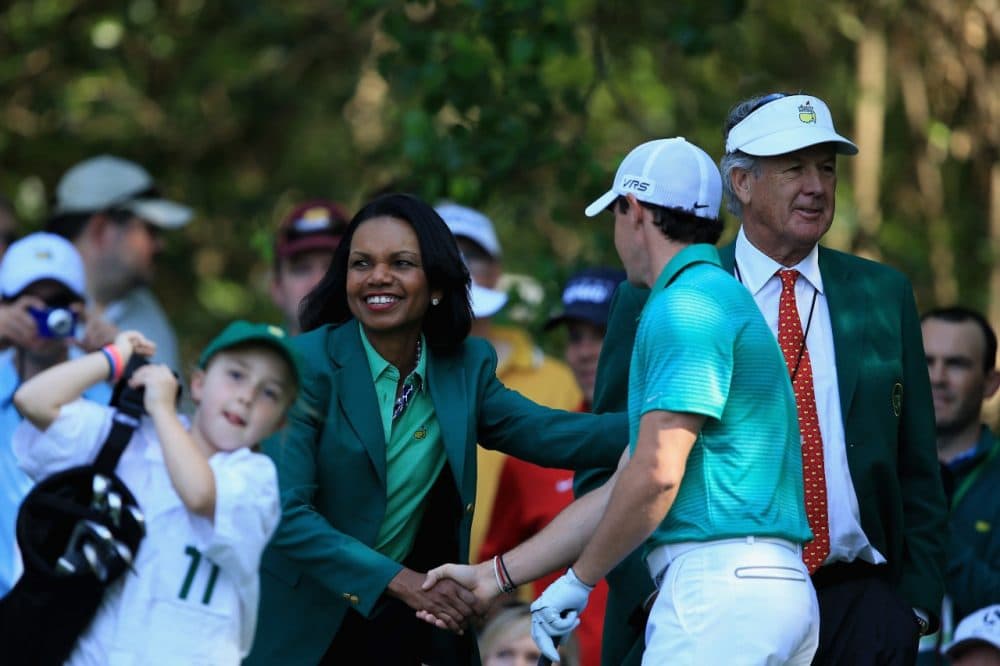 This article is more than 5 years old.
Historically, change has not been welcome at Augusta National Golf Club, site of The Masters, which began on Thursday. The club which was established in 1933 admitted women for the first time just two years ago. But this week USA Today writer Christine Brennan found intimations of — dare we call it — progress. She joined Bill to discuss her findings.
---
BL: Of the activity you witnessed last Sunday at Augusta, you wrote "female golfers had taken over the place." Explain, please.
CB: Yes, Augusta, in conjunction with USGA and the PGA of America, came up with a competition called Drive, Chip, & Putt. And they came up with champions and they brought in 44 girls and 44 boys to Augusta National to compete on the grounds — the hallowed grounds of Augusta — including putting from the spot where Adam Scott sank a big putt in his journey to victory last year.
It was equal in all ways. For the first time ever girls had equal billing on the course with boys, something that would've unthinkable even two years ago. So, it's an effort not just to show that Augusta has entered the 20th century before too much more of the 21st went by, but also I think it's this effort to grow the game because, frankly, golf is hemorrhaging participants and of course inviting girls and women to play at the venerable Augusta National is certainly one way to show that the sport is welcoming to 51 percent of the population.
BL: As I mentioned, the club admitted women for the first time just two years ago. Has that changed everything for anybody but Condoleezza Rice?
[sidebar title="Change At Augusta National" align="right"] Bill chats with Gary Player about another change at Augusta National: the death of the Eisenhower Tree. [/sidebar]CB: It's changed because there are now women, you know, and that's the good news. Now two out of 300-plus, or whatever it is, [are women members] — we don't know the exact number, so that's not exactly a great percentage, but it's a start.
You know, Condi Rice is having the time of her life here. She of course is an avid golfer. She shows up everywhere. Avid sports fan. She's at the women's Final Four. She's on the committee to pick college football playoff teams starting this coming season. So really she's everywhere and has become the face of the course. Last year, she was this force. Everywhere you went she was there greeting fans, greeting other members. Very visible, very smart move on the part of Billy Payne who's the chairman of Augusta National. Now you've got women and this very famous woman — former Secretary of State — let's let the world see that we have her. And I think that's why there is progress because they do understand that they were far behind the times.
BL: In a recent USA Today story, you've speculated as follows: "As Augusta goes, so goes the golf industry." Why is that?
CB: Well, because it's the high time that these guys, and hopefully it is men, decided that capitalism could trump sexism. But over the years, it was amazing to me to watch this. As you may know in 1999 — my first trip down here as a columnist for USA Today -- I asked a question: "Do you have any women members?" And this sent shock waves apparently, and all I did was Journalism 101. I asked a simple question.
And we were off on the Hootie Johnson Martha Burk thing and on and on it went. Now that Augusta has realized, boy we need to have some women members, I would love to say it's altruism, but I do think it's a cry for help from the golf industry. All the club makers, all the apparel makers, all the people who are building golf courses, all the golf courses that have been plowed under by the economy. Golf is not a sport on the rise. It is a sport on the decline, so Augusta needs to show people, "Hey, women are welcome" because that's the demographic, that's the growth industry. Women and girls are the untapped market.
BL: U.S. Golf Association President Thomas J. O'Toole acknowledged this week that his game "has a significant legacy of exclusion and elitism" and "that golf has not been welcoming." How else will Mr. O'Toole and others address this legacy beyond staging contests for children at Augusta?
[sidebar title="Sewing A Banner...Or Flag" align="right"] OAG's Karen Given visits the place where flags and championship banners are sewn. [/sidebar] CB: It's a fascinating question, and I'm not so sure it's going to work, and I tend to be a very optimistic person, and I wish them well, but I don't know. For example, experts have talked about things like daycare, so that young moms can take their kids and put them in daycare and go play a few holes. How bout a round of golf that is three holes or a round of golf that is six holes? And you're laughing, right? And I'm smiling, too. But very few people, especially young people, especially young women, have time to play 18 holes of golf. Frankly it's hard to find time to play nine holes of golf.
I played golf. My dad made sure his daughters as well as his son would be adept at playing golf and feel welcome on a golf course. And I haven't hit a golf ball except on a driving range with my niece and nephew in two or three years. I can't make the time to play golf. That's fine. I'm not missing it, and it's not missing me. But the reality is golf is going to have to change its fundamental way it's gone. It's a fascinating conversation because, again, the options that are there, especially because of Title IX for girls and women — are you kidding me? That sport is slow, takes too long, old, my grandfather's sport, it's too lily white, it's too male dominated — whatever the argument would be about golf, I'm going to go find it — you know [there are] 15 other sports to play. That's why they have to think outside the box, but they've been so loathe to do that as an industry and the country club set especially. I just don't know how it happens.
This segment aired on April 12, 2014.