Mixed-Gender Basketball Association: Where Men And Women Team Up
Play
This article is more than 8 years old.
Dr. John Howard Jr., a star forward at Cincinnati in the late 1960s, says the idea began to germinate in 1986, when he was principal at Buena Vista High School. The Saginaw, Mich., school had a girl who was so good at basketball that Howard believed the only way to fulfill her talent was to have her play varsity on the boy's team. So he petitioned state authorities to let her do that.
"She was not given an opportunity because the Michigan High School Athletic Association would not accept the opportunity for me to allow her to play," Howard said.
Howard says it killed him to watch the boys go on to win the state championship while the best player in the school, who happened to be a girl, watched from the sidelines.
Howard is now working full-time to put together an 8-to-10 team Mixed Gender Basketball league — 12 players to a team, all paid equally. The first teams will be based in the Northeast: Philadelphia, Delaware, New York and New Jersey. He says the season will tip off in July.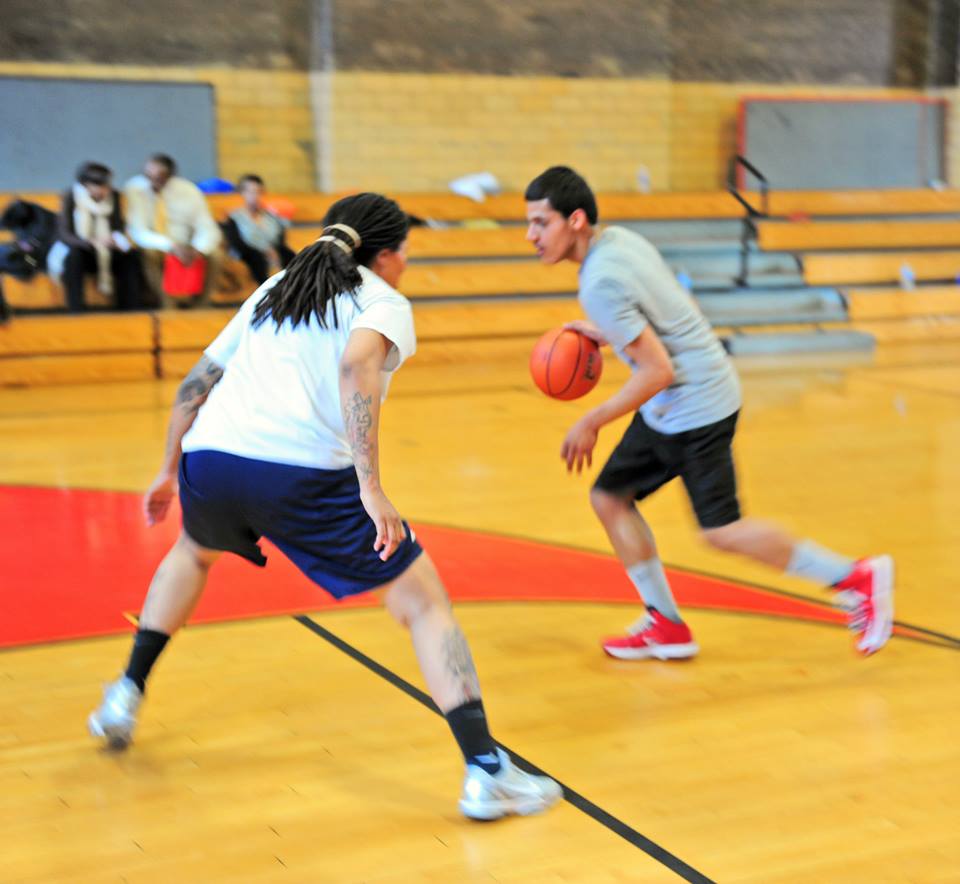 But with the WNBA and other leagues, there's no shortage of ways to see women play pro ball. Why does Howard think fans will pay to see his games?
"More excitement, drama, suspense and, guess what, the unknown," he said. "People are going to pay for the unknown. People want to see how men play against women and how the women play against men. It's that unknown factor."
Howard's a salesman who takes every chance to push the novelty of his concept. That includes the league's logo, which depicts a woman scoring over a man. And that raises another issue.
O'Grady: One of the big questions in the room is, how do you manage the male ego when it comes to this?

Howard: The women do that.

O'Grady: How do they do that?

Howard: They do it by shooting a four-point shot.
That's right. If a woman hits a shot from beyond the professional three-point arc, it counts as four points.
"It doesn't water down the game," Howard said. "It just gives the woman equity in the game."
In the first quarter, teams will have three men and two women, a ratio that flips with each quarter. If a team is behind late in the game, it can play up to five women to improve their chances of hitting four-point shots.
Talia Beaulieu, 23, has a pretty good outside shot, which she honed playing guard and forward in a pro league in Switzerland. She was at the Harlem tryout in late March.
Beaulieu: I think it's very interesting, girls and guys playing together. And just to be able to play professional ball here at home is basically a huge privilege.

O'Grady: What's interesting about girls and guys together?

Beaulieu: It's just better to play I guess with guys because they're quicker. And you get more competition out of the guys than you do with girls because girls don't like to get in the gym always.
A few women, like basketball Hall of Famers Ann Meyers and Nancy Lieberman, have competed with men at the pro level. But those were exceptions. In this league, mixed gender squads are the rule.
That's why Martin Dunkley, who'll be coaching a team based in upstate New York, was evaluating the men for their ability to blend with the women.
O'Grady: What does that mean? That a guy is not too macho to pass to a woman?

Dunkley: Abso — oh, hey, listen, they're not gonna be in the league if that's the case, right?

O'Grady: Really? And they know that?

Dunkley: Oh yeah, they know that.
Conversely, Howard made a point of telling the women at the tryout not to expect special treatment. He said that if they set a pick on a guy, they should expect him to use his strength to fight through it.

What does Talia Beaulieu think about that? I mean, she's strong, but a lot of the guys she's up against are stronger.
"That's fine with me," she said. "I think when it comes to basketball, if you love the game of basketball, it's not really about gender, race, anything. It's just about winning the game, doing what you do to score points, get stops, win."
Romeo Bartley, a 27-year-old shooting guard who's played as a pro in the ABA, takes the same pragmatic approach. He's here to win, make a bit of a living, and maybe then move on to something better.
Bartley: It's just a perfect opportunity for everyone to showcase their talent. Some people didn't play for college, such as myself, that's actually extremely good and is trying to make it to the next level.

O'Grady: And do you worry that's there's any sort of stigma or people look down on a league where guys play with women?

Bartley: Everybody's equal. It really doesn't matter who we play with or who we play against.
The league held an exhibition game in February between two of its teams, the South Jersey Jammers and the North Jersey Ballers. It sounded like any tight basketball game. The Ballers were down two points with possession and five seconds left. They attempted a three-pointer but missed.
Two of the league's July games will be played about a half mile from the tryouts, at Harlem's legendary Rucker Park. If Dr. Howard can put a quality product on those courts, in front of those fans, who are used to seeing pro players show up for games, he'll have taken a big step toward making his league legit.
This segment aired on April 12, 2014.