UConn Wins Dual Championships ... Again
Resume
Celebrating one championship is fun. Celebrating two is, well, more fun. The University of Connecticut did that this week after the men's and women's teams each claimed the NCAA national basketball title. It's just the second time in Division I history that a school has held both titles in the same season. In 2004, UConn was also the first university to do it.
Paul Myerberg of USA Today and John Altavilla, who covers the Connecticut women's team for the Hartford Courant, joined Bill Littlefield to discuss the amazing feat.
---
BL: Paul, I want to start with you. The men's final featured the highest combination of seeds in history. UConn was a 7-seed, Kentucky, an 8-seed. Can you put into perspective how improbable that men's title game was?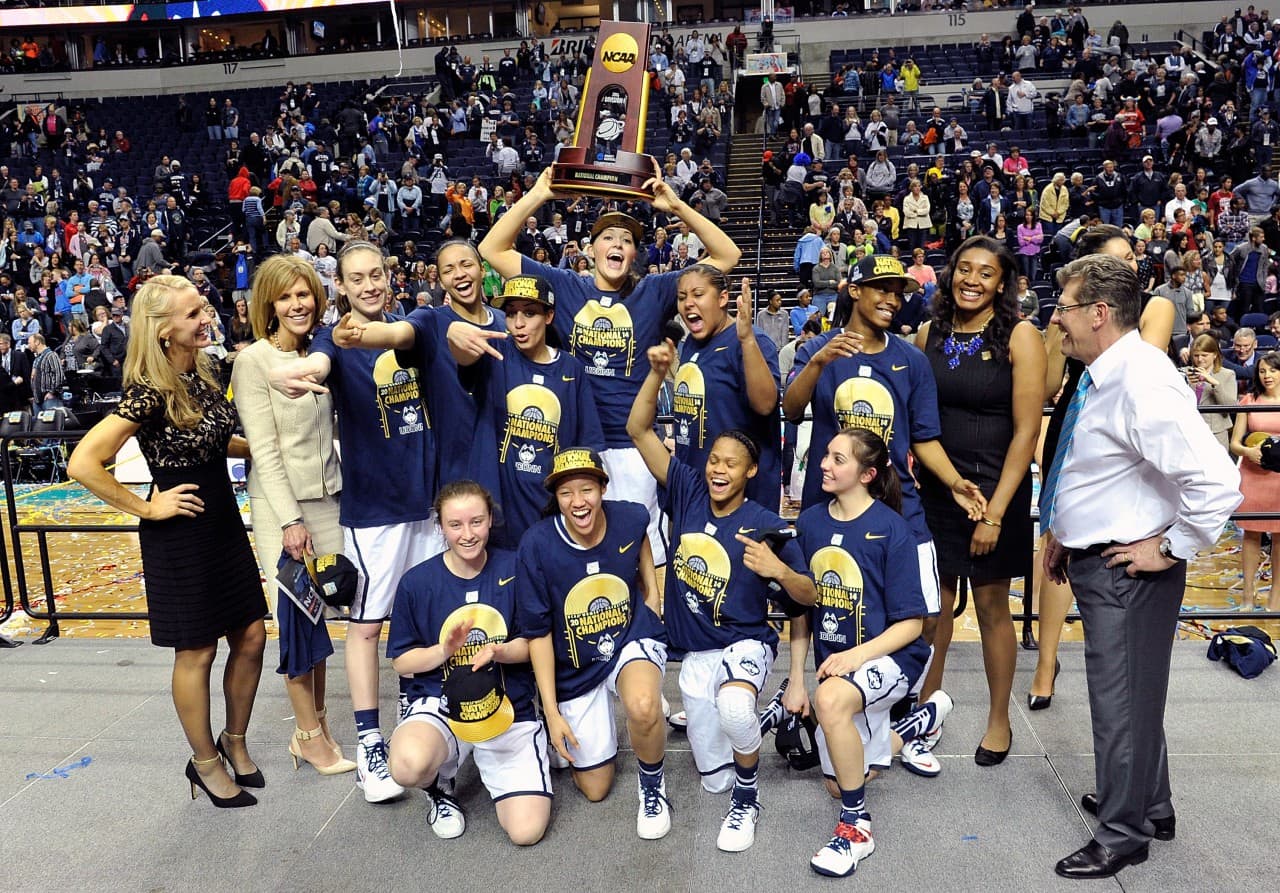 PM: Well, in the historical sense it is entirely improbable and entirely unpredictable that two teams coming from such high seeds out of some tough brackets would advance to the title game. In the smaller picture, UConn as a 7-seed probably properly ranked. Kentucky as an 8-seed. They were the preseason No. 1. They certainly had the talent, so for them reaching the title game was a preseason goal. Just coming in as [low as an] 8-seed makes it kind on hard to believe.
BL: John, for the first time in history, the women's final featured two undefeated teams: UConn and Notre Dame. On paper that would seem to suggest the makings of a great showdown, but that's not what we got on Tuesday night. The Huskies won by 21. Was that margin a surprise even though the UConn was favored?
JA: I have learned over the years of watching UConn play — and I've been to every single Final Four that they've played in in this last string of seven — that UConn just operates in a different stratosphere. To sort of reference your question at the start of this conversation, the only 7- [or] 8-seeds that ever blossom in the spring of women's basketball are in flower pots. Really. It'll never happen. Not in my lifetime.
BL: Paul, the UConn men were banned from the tournament last year on academic grounds. Final Four MVP Shabazz Napier said after the finals, "This is what happens when you ban us." What has changed at UConn since the NCAA sanctions?
[sidebar title="Mixed Gender Professional Basketball" align="right"]Now that they've won separately, maybe the two UConn squads should set their sights on the new co-ed professional basketball league.[/sidebar]PM: Yeah, you know speaking to a few players this past week in Dallas at the Final Four, they did say that when Kevin Ollie, their second year coach, replaced Jim Calhoun, who was a Hall of Fame legend, ... he instituted mandatory study halls, class checks — if you didn't go to class and they caught you, you'd be running in the morning. Ways to kind of keep guys on their toes and make sure that they made academics a greater priority.
BL: John, at least back in the '90s when I was going to games down [in Storrs, Conn.], the guys on the men's team would attend the women's games and cheer for them. Is that still the case?
JA: Oh yeah, they [still] do now. There's a real spirited core between the two programs and the players. One of the biggest differences on campus now in terms of the alignment of the programs is the relationship that Geno Auriemma has with Kevin Ollie.
You know, Kevin Ollie was an 18-year-old freshman from Los Angeles when he showed up [as a player] at UConn. Geno was already well into his coaching career at that point. And they began to hit it off at that level when Kevin was still a teenager. Geno followed his career playing in the NBA closely and they've remained close friends. And now that they're peers, they are very tight, unlike Auriemma and Calhoun who were polar opposites in personalities; they very rarely spoke to each other.
BL: After halftime the women's championship game was not close. And that marked the ninth championship for UConn, their fifth undefeated season. As far as the state of women's basketball is concerned, is there such a thing as one team being too good?
JA: Before I got involved in this very interesting gig, I spent years covering the NHL and I spent 10 years covering the NY Giants in the NFL. I've been immersed for a long time in a male dominated world. My friends often ask me, "How do you deal with covering women's basketball?" And I always tell them the same thing: This guy. This little Italian immigrant, Geno Auriemma, is to college sports what Walter Camp was to football, what John Wooden was to men's basketball. And he is to women's basketball what Lombardi was to the NFL. He's the seminal figure who has changed the sport in every single way. Both in terms of how little girls that want to play it look at it and how television covers it.
And maybe in 25 years when I'm old and jowled and sitting in a chair, ESPN'll come into my living room and I'll feel like David McCullough talking about John Adams. I'm looking forward to that day. [Laughs]
BL: Paul, Kevin Ollie, is only in his second year in charge of the men's team at UConn, but he's suddenly the hot young head coach. Has he got the players to continue the success he enjoyed this season?
PM: I believe so. I mean look at their roster. I know they lose Napier, but I think that he's got it so it's all pointing up. I think you look at what he's done, and how the players and team have rallied around him. If he stays at UConn, the sky's the limit. The only question is whether at some point he does find the NBA to be an appealing position, maybe to test himself and to move forward in his career. That's the only question I have.
JA: You know Paul, ... it is interesting because two of his biggest supporters during [Ollie's] career in the NBA were LeBron James and Kevin Durant. He was on their teams when they broke into the leagues and they love him. They're going to advocate for him maybe soon to be an NBA coach because of the respect they have. I think Connecticut's biggest challenge, as Paul alluded to, is not going to be trying to repeat as a national champion. It's going to be figuring out how to keep him on campus.
BL: UConn won both national titles back in 2004. They've done it again this year. Is there another program that could possible aspire to that achievement at this point?
PM: You know there are certain [men's] basketball programs obviously, you look at a Kentucky, Michigan, Michigan State in the same class, there are a few schools out west that have that kind of ability to put forth a contender every year. I'd have to rely on John's expertise on the women's side, but certainly UConn stands head and shoulders above the rest, but there might be two or three who could join that class.
JA: Well, up until this year there were only three other instances in the history of NCAA Division I basketball where one school battled for championships in the same season. It was 1999, Duke had their men and women in the title game. Of course, the UConn teams that won the dual championships in 2004 and last year, ironically enough, in 2013 when the Louisville men won their championship, the Louisville women played Connecticut for the championship at the NCAAs and then again this year, the fourth time. If there's going to be a program that has a chance of doing it again — only because 50 percent of it is already taken care of with the women — it would be UConn.
This segment aired on April 12, 2014.