Union Takes Home Hockey Championship
02:30
Play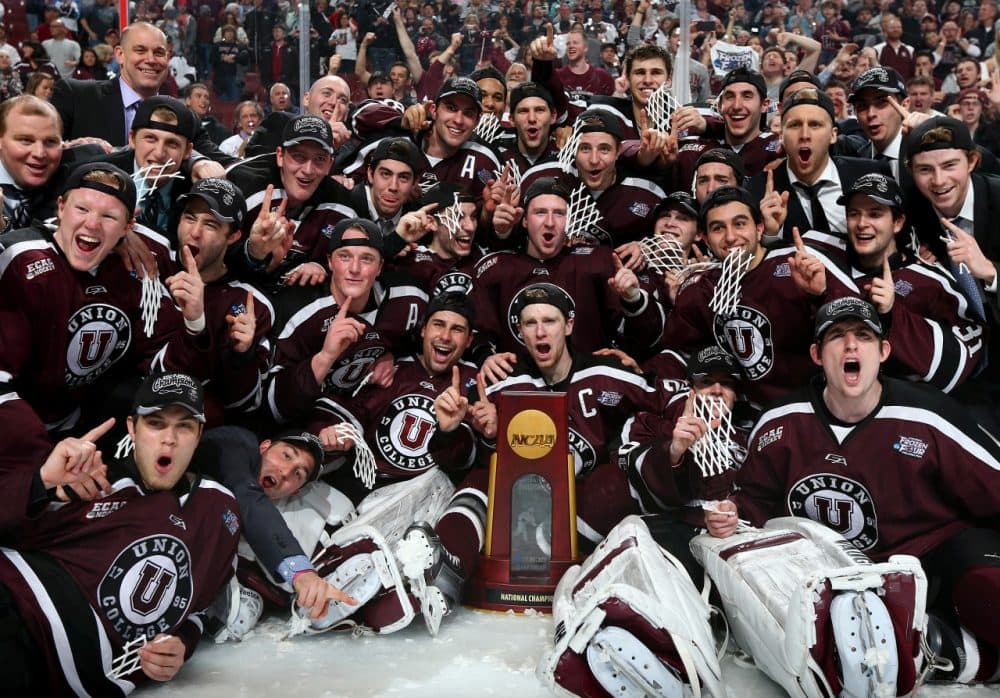 This article is more than 5 years old.
Last weekend Schenectady, N.Y. rang with shouts of "We're No. 1" or at least I imagine that it did because the men's hockey team from Union College which is located in Schenectady won the NCAA championship. Bill Littlefield was joined by head coach Rick Bennett.
---
BL: I assume that you were not one of the people surprised by your team's triumph.
[sidebar title="The Hobey Baker Award" width="630" align="right"] Check out the story of the man behind college hockey's most prized award. [/sidebar]RB: You know, I guess when you go into the opening meeting in September, our last bulletin point is we want to be national champions. So if you're going to put it down there, you've got to believe in it. It's great that the coaching staff believes in it. The players have to believe in it, and that's exactly what they did.
BL: Union's student body totals just over 2,000. The college is much smaller than the universities that usually win NCAA DI championships. Was your team the kid decking giants with a slingshot this year or is that comparison not appropriate?
RB: Maybe back a little bit, few years ago, you might have thrown that one in there. Yeah, we have a rink that seats 2,500. You know we have 2,200 students. But we feel we have a great sell here. The fact that these student athletes can just take  three classes per semester — we're a trimester school — so they can really focus on school and then they can focus on hockey and do some extra in both to be really successful. And I think when they take care of the classroom, it really helps their hockey. I think through that great things can happen.
BL: In the final against Minnesota last weekend, your team scored seven times to Minnesota's four. In your happiest pre-game dreams, did you anticipate that Union would score seven goals Saturday night?
RB: Getting on the elevator to the game a guy jumped on. I think he had Frozen Four stuff on. He said the score is going to be 6-3 Union tonight. And he had no idea who we were. And it was kind of nice. But he was darn close and that was quite a call.
BL: You've only been the head coach at Union for a few years. You've had your team in the Frozen Four twice, you've won a national championship now to go with the ECAC trophies and various other awards you've won. I wonder if Union is concerned that one of the bigger schools or maybe the NHL is going to come calling for their coach.
RB: I'm gonna say the same thing that a former Division I coach told me. He said 'What happens when a big school's gonna come after ya?" And I said, "What makes you think Union College's not a big school?" So that's kind of how I've addressed it. We feel we've got a great formula here. I enjoy coming to the rink every day. It's not work and the people that I do work for are phenomenal people, so I'm really lucky, and I don't know if moving on somewhere else is the right answer.
This segment aired on April 19, 2014.