Who Will Be The Next Clippers Owner?
03:12
Play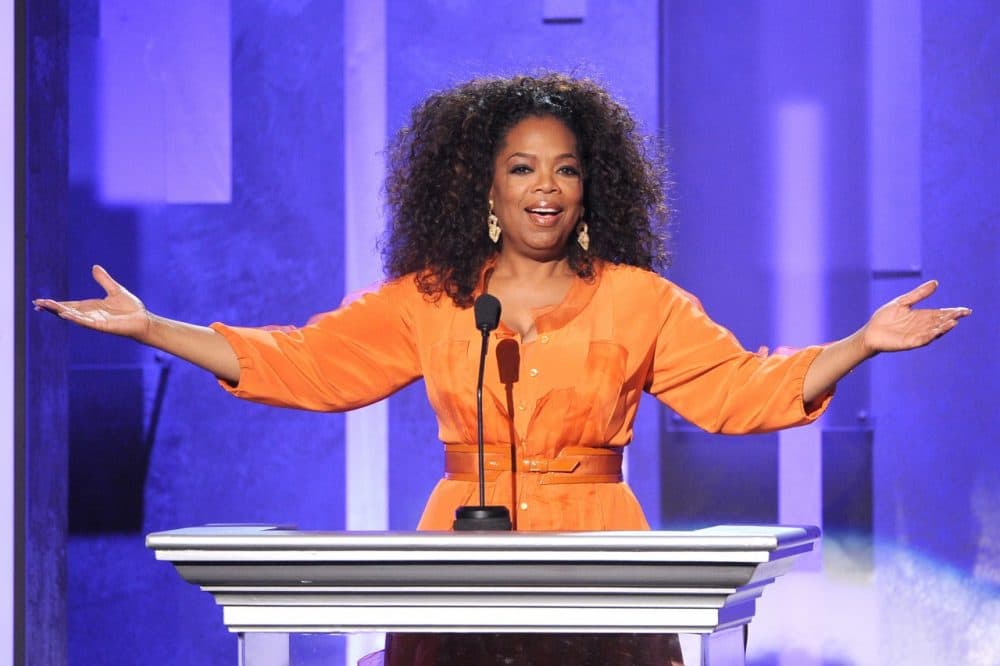 This article is more than 7 years old.
There is already a long line forming of celebrity would-be-buyers for the Clippers. Bill Littlefield is joined by The Wall Street Journal's Stu Woo to discuss some of the interested high-wattage high rollers.
BL: Discussion of the Clippers suitors must begin with the ownership team featuring media maven Oprah Winfrey. She has reportedly joined forces with entertainment mogul David Geffen and Oracle Chief Executive Larry Ellison. What brings these three together?
[sidebar title="Donald Sterling's Past" width="330" align="right"] ESPN's Peter Keating profiled Sterling in 2009. He joined us to look back. [/sidebar]
SW: Geffen and Ellison are longtime friends. They used to co-own one of the worlds biggest yachts, The Rising Sun, before Ellison sold his remaining half to Geffen this year.  And Geffen and Oprah are both in the entertainment business. Oprah and Ellison are both from Chicago. A lot of connections there.
BL: Let's do the numbers. Oprah Winfrey's net worth is estimated at $3 billion, David Geffen $6 billion, Larry Ellison at $40 billion. That's a combined $50 billion, give or take. But Sterling has recently turned down some generous offers. The sale wouldn't just be about dollars, will it?
SW: No, not at all. One of the guys in that group that you just mentioned tried to buy the Clippers from Sterling four years ago. Geffen offered roughly $600 million in 2010 and [Sterling] wouldn't take it. But this would be the biggest sale ever, probably. You look [and] the Warriors went for $450 million. You would think the Clippers would go for more given that media market.
BL: Former Laker and NBA Hall of Famer Magic Johnson had also been mentioned as a potential owner. Given his stature as a player, a successful businessman, and a LA celebrity, he would be the logical choice to buy the team, no?
SW: He has talked about this and he was part of the group that bought the Dodgers a year or two ago. He hasn't said publicly whether he's interested in buying the team yet. It would be interesting for a Laker to buy the rival team in LA as well.
BL: Other suitors include boxers Floyd Mayweather, Jr. and Oscar De La Hoya and former 'Malcolm in the Middle' actor Frankie Muniz. Any of these viable options?
SW: Those guys would have to collaborate with others. If we're going to talk strictly about a bidding war, I can't imagine anybody beating any group that includes Larry Ellison. Maybe Bill Gates wants to come in and make a bid.
BL: Let's set aside the odds of who's going to actually end up with this team. Who would you most like to see next own the Clippers?
[sidebar title="Larry Ellison And The America's Cup" width="330" align="right"] Check out our interview with Stu Woo about Larry Ellison's other sport's venture. [/sidebar]
SW: If I were a Clippers fan, I think I would want Larry Ellison to own my team given what he's done with the America's Cup. It's safe to estimate he's spent $340 million on his four America's Cup campaigns. And there was a great little nugget that I learned the other day: Larry owns a couple of yachts — has owned a couple of yachts --several of which have had a basketball court on them.
And he likes to shoot on these courts which are outdoors on the deck. And he's had somebody in a powerboat trailing the yacht to retrieve any balls that go overboard. If I were a Clippers fan, I think I would want someone with Ellison's resources, his history of winning, and his love of basketball.
This segment aired on May 3, 2014.