Peter Keating Discusses Donald Sterling's Past
05:44
Play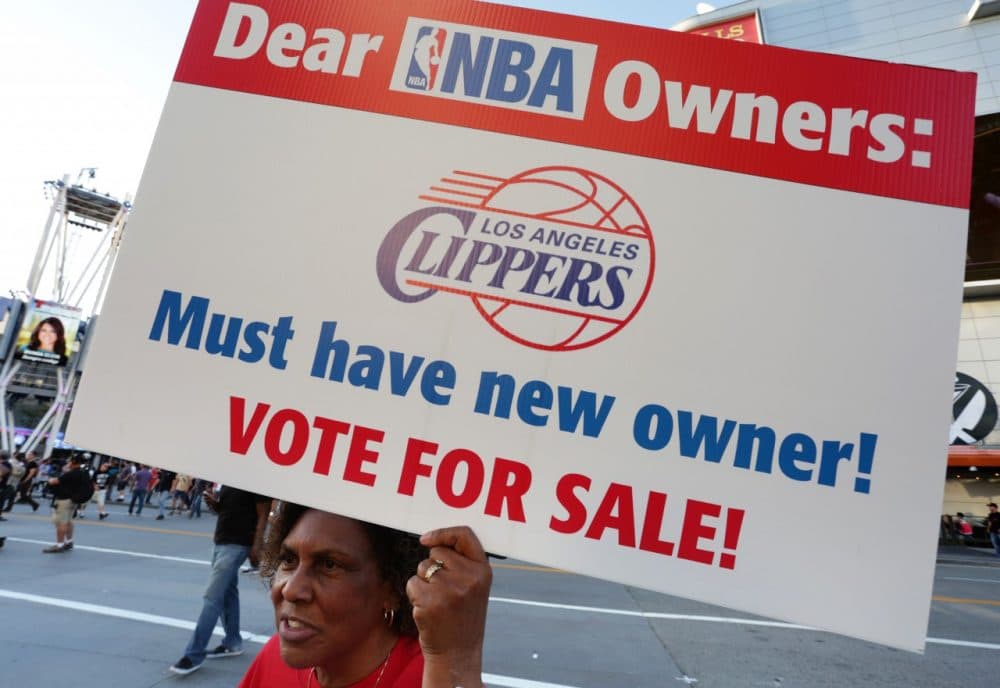 This article is more than 7 years old.
What kind of person is Donald Sterling? And given his track record as a landlord and an employer, are his critics correct when they say the NBA should have given him the boot a long time ago? Peter Keating wrote an article about Sterling for ESPN The Magazine in June of 2009 and joined Bill Littlefield to discuss the current events.
BL: Donald Sterling earned his initial fortune in Los Angeles real estate. How did he do that and what kind of landlord has he been?
[sidebar title="Who's Next?" width="330" align="right"] Who will be the next owner of the L.A. Clippers? The Wall Street Journal's Stu Woo weighs in.[/sidebar]PK: He was a classic buy-and-sell investor in LA-area real estate just as the market was zooming in California in the early 60s. He was born Donald Tokowitz. He changed his name to Sterling because it sounded classier and newly minted. He married the daughter of the owner of the furniture store he worked in as a young man.
He couldn't get a job as a lawyer at a prestigious law firm because he was Jewish, so he hung out his own shingle and tried thousands of personal injury and divorce cases. That's where he made some of his initial money. He put it into buildings. He held on to them. He expanded his holdings. The thing is, as he made more and more money, my take has been, he listened to fewer and fewer people. He was less accountable. He said and did whatever he wanted. And that made conditions miserable for some of his tenants who he didn't want in his buildings according to testimony they gave in housing-discrimination suits against him.
BL: You have written that Sterling has always been ready with a "hefty cash settlement" whenever he's hit with a sexual harassment suit or a housing discrimination lawsuit. Has he always felt entitled to behave the way he behaves?
PK: I think he acquired this ability to feel like he could be heedless and in a lot of the depositions that we got to in these cases against Sterling most of them settled confidentially. Sterling paid one of the largest monetary settlements ever reached in a housing discrimination case in 2005. And then he paid the largest settlement ever to the Justice Department in a housing discrimination case in 2009.
BL: According to your 2009 article, Sterling certainly has always bought low, but he didn't sell high because he didn't necessarily sell at all. You quote him as saying "I never purchase anything I don't think I'm going to keep for a lifetime." In five short years, that comment has taken on certain irony don't you think?
[sidebar title="Learn More About Vivek Ranadive" align="right"] OAG's Doug Tribou sat down with Sacramento Kings owner Vivek Ranadive earlier this year. [/sidebar]PK: It sure does. It applied to his buildings. It applied to the Clippers during the years — decades — when they were bad. I mean the LA Clippers were the worst team in North American sports throughout his tenure until the past couple of years. A couple of his draft picks have worked out. The team got Chris Paul and the Lakers are not good. So all of a sudden the Clippers are the toast of the town, so their value has accelerated. It's zoomed. It pays to buy and hold in few other areas like it does in sports ownership. Because franchise values are always rising cause you have monopoly, territory rights, you have media revenues whether or not your team is good or bad. Then it got good and now its worth even more money.
BL: Mr. Sterling purchased the San Diego Clippers for $12.7 million back in 1981. Even before that his behavior was sometimes extraordinary. What were some of the eccentricities he displayed?
PK: I mean when he first bought the team, he welcomed himself to town on big billboards. He used to run out to the middle of the court sometimes with his shirt open sometimes holding a glass of wine to hug the players when they won.
This is kind of funny. There was a free throw contest and the local citizen who hit the free throw had to sue Sterling and the team in order to get his $1,000 prize. So I think he developed a reputation as almost a fun eccentric or maybe a renegade owner. The league tried to  force him to pay a $25 million fee when he relocated the team to Los Angeles and he sued the league and he got the fine down to $6 million. So he's been eccentric and litigious for a long time.
BL: The NBA's Board of Governors will soon vote on whether it will force Sterling to sell the team. But Mr. Sterling is a very successful lawyer with a penchant for litigation as you've mentioned. He reportedly enjoys litigation. Will the league be able to force him to sell?
PK: I know Mr. Sterling's extraordinarily litigious, but I don't think he has a lot of leverage. The players don't want to play. The owners are probably going to vote 29 to nothing against him, and I think he can drag it out, and I think he can make it costly, but here's what's different: in the past, if his alleged victims in the past were poor black and Hispanic tenants or women who worked for him, they didn't really have the resources for a costly fight. This time, the NBA sure does and it has massive public opinion on its side — and the players might not play for him. So I think his position is the weakest it's been probably ever.
BL: Finally, Peter, going forward is there any less on this whole mess for those who own or would own pro-sport franchises?
PK: I think they're probably two big lessons. One is that the ground shifted under Donald Sterling and he didn't realize it. And he inadvertently undermined himself by exposing his worldview too plainly. And the second thing is I think this could be a watershed moment for the NBA because the league has brought in some younger more diverse owners with interesting backgrounds. The future looks more like Vivek Ranadive who was born in Mumbai. He had Magic Johnson by his side at an event after this news broke and was one of the first owners to condemn Sterling's remarks. You know there are a half a dozen or so owners like him and I think they're probably more on the way. And the auction that's going to go on for the Clippers represents a chance for the league to bring in more owners like that.
This segment aired on May 3, 2014.