Bobby Mitchell, Washington's First Black Player, Addresses Redskins Controversy
04:55
Play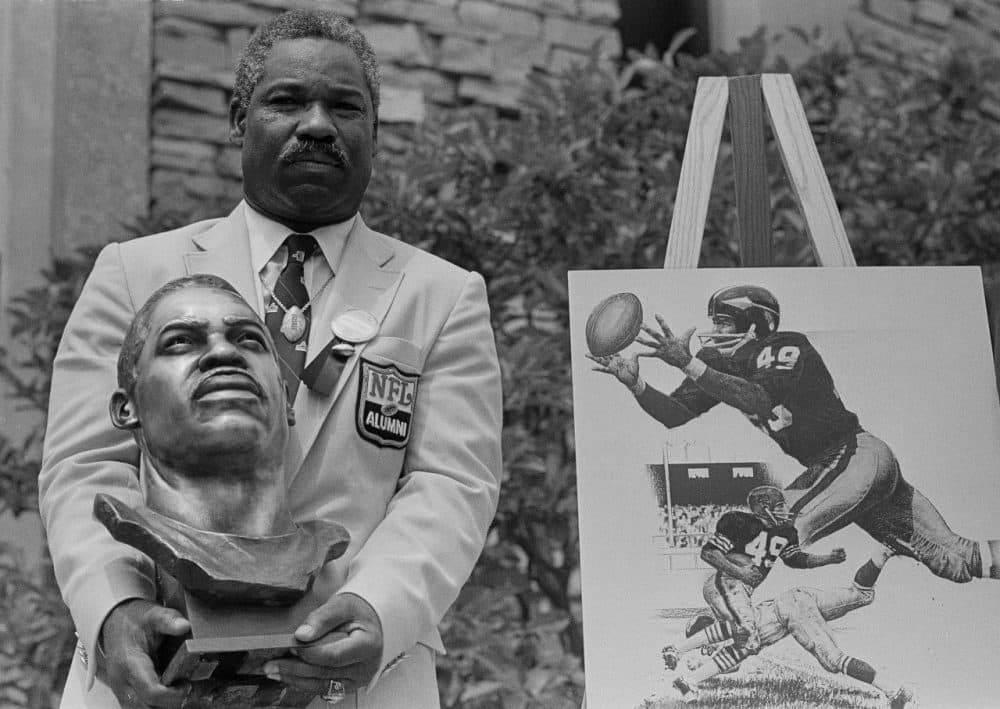 This article is more than 7 years old.
The Oneida Indian Nation and the National Congress of American Indians want the NFL team in Washington to change its name. On Wednesday, the groups wrote to all NFL players asking them to support the campaign. A week earlier, 50 U.S. Senators also asked the team to drop the nickname. In a written response, Washington General Manager Bruce Allen said quote: "The Redskins team name continues to carry a deep and purposeful meaning."
This isn't the first time Washington has struggled with issues of race. In the 1962 NFL season, the team –- under different ownership — became the last franchise to add a black player to its roster. His name is Bobby Mitchell and he's now a member of the Pro Football Hall of Fame.
At the Hall of Fame Fan Fest event in Cleveland earlier this month, Mitchell spoke to a small group of reporters. Only A Game's Doug Tribou asked Mitchell about the Redskins nickname controversy and the 78-year-old addressed the issue for the first time.
A History Of Speaking Out
In 1967, some of the nation's most prominent black athletes gathered in Cleveland for a summit with Muhammad Ali. Bobby Mitchell joined a group that included his former Cleveland Browns teammates Jim Brown and John Wooten, and the NBA's Bill Russell and Lew Alcindor, known today as Kareem Abdul-Jabbar. After the meeting, the athletes publicly declared their support for the boxer and his refusal to join the U.S. Army on religious grounds.
Mitchell recalled the tension of that moment.
"As a black man, I understand what the Indians are saying."

Bobby Mitchell
Mitchell's Pioneering Moment
Mitchell's role as a pioneer began several years before that meeting with Ali. Drafted by Cleveland in 1958, Mitchell was a football Swiss army-knife who played halfback, flanker, and wide receiver in addition to returning punts and kicks. After the 1961 season, the Browns traded Mitchell to Washington. Two other black players were added to the roster, but Mitchell was the only star. The transition to D.C. wasn't easy.
"No matter what the situation is, you're still responsible for what happens. It's easy when someone says something or do something, to go berserk," Mitchell said. "So you gotta step back and kind of say, 'What is this? Why is this? And can I do anything about it?' I went through some things in Washington that I didn't expect. And I had to be able to handle those things."
When Mitchell arrived in the nation's capital, the city was still adjusting to desegregation and the Civil Rights Movement was bringing even more social change. Team owner George Preston Marshall didn't sign a black player voluntarily. Washington was playing in what was then known as D.C. Stadium and it was owned by the federal government. President John F. Kennedy's administration made it clear to Marshall that his team needed to integrate. In a story he's never told publicly before, Mitchell remembered his first meeting with Marshall –- and his first impression of the name Redskins.
Mitchell says as the team's popularity exploded in the 1960s, players and fans didn't give the name much of a thought.
"When I got to Washington there was no problem with saying 'Redskins.' Everybody [said it], you know, and I was no different. Because at that time, Redskins — everybody was going nuts," Mitchell said. "Mr. Marshall never had a empty seat in his stadium during those days because every train coming up from the South was full of fans."
A Career Beyond The Field
Mitchell's ties to the franchise run deep. After his playing career ended in 1968, Mitchell held front-office positions with Washington until retiring in 2003. The 78-year-old says the pressure on current owner Dan Snyder will not let up anytime soon.
"This is a difficult, difficult situation. Dan Snyder has to answer to it a little better than he has because things do change. Things do change," he said.
"When I hear 'Redskins,' I still feel the same way about it as I did when I came here and [during] all our glory years. It's just that now, when you say 'Yeah, yeah, Redskins!" you say, 'Yeah, yeah ... [voice trails off] Redskins.' You can't help it, you know? Because as a black man, I understand what the Indians are saying. I understand. So, I don't know how this will work out."
This segment aired on May 31, 2014.