'Duel For The Crown' Captures Legendary Triple Crown Rivalry
Play
This article is more than 8 years old.
For the first time since 1978, thoroughbred horse racing may have a Triple Crown winner. California Chrome, winner of both the Kentucky Derby and the Preakness, is favored to win the Belmont Stakes. The most recent horse to win the Triple Crown was Affirmed. Under jockey Steve Cauthen, Affirmed beat Alydar in each of the crown's three jewels.
In Duel for the Crown: Affirmed, Alydar, and Racing's Greatest Rivalry Linda Carroll and David Rosner explore the lives of the horses themselves, the tracks where the contests took place and the unforgettable people surrounding the events. Carroll spoke with Bill Littlefield about her book and the possibility of a new Triple Crown winner this year.
---
Highlights from Bill's Conversation with Linda Carroll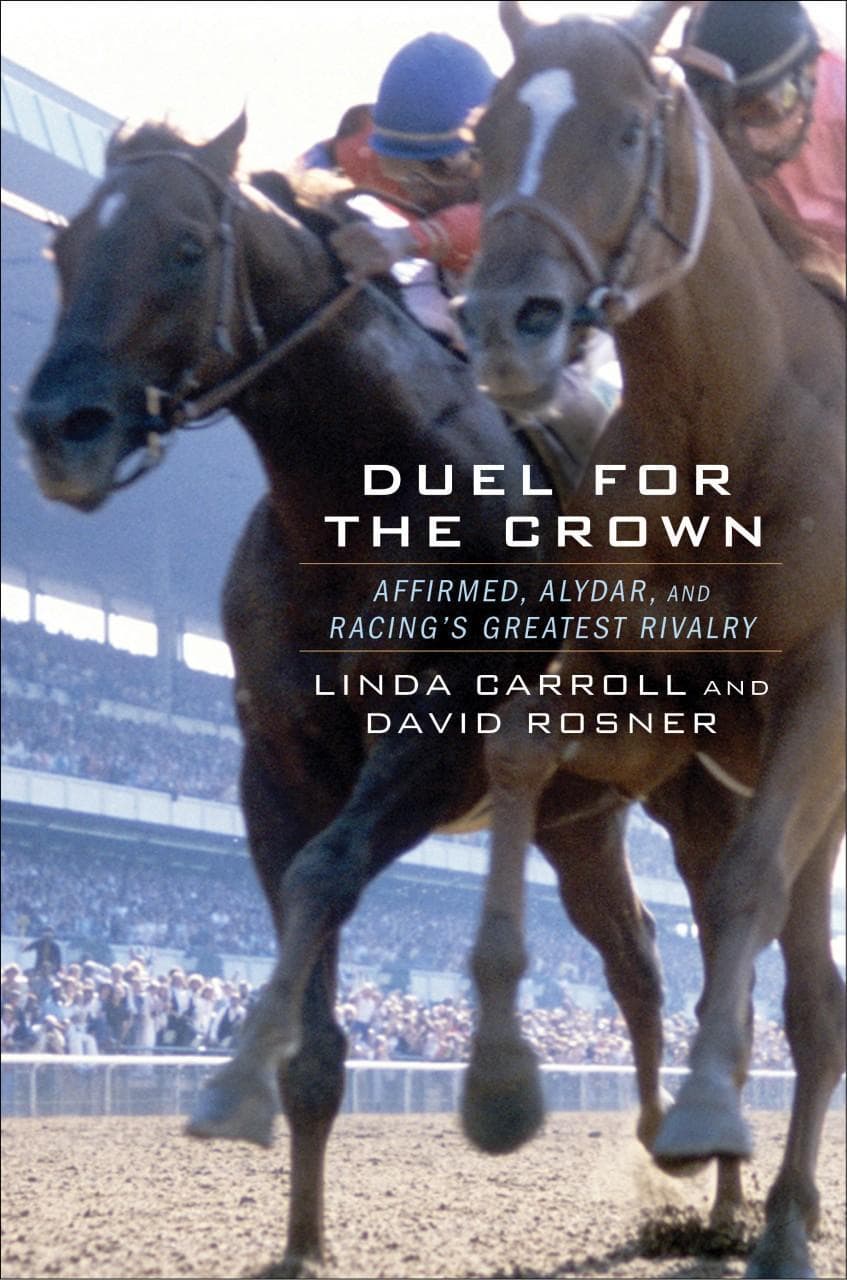 BL: After Affirmed and Alydar ran against each other as two-year-olds in Belmont's Great American Stakes, which Alydar won, Affirmed's trainer Laz Barrera said, "We've got to get him away from that big monster," meaning Alydar. Why was that?
LC: I think he wanted to build Affirmed's confidence, and he was worried that if he kept racing with [Alydar], his horse would never develop the confidence that he could win. So, he shipped him out to the West Coast and developed the confidence that he could beat everything else.
BL: Describe how close those three Triple Crown races in 1978 were.
LC: Well, the Derby wasn't as close as the other two, but it looked like in the Preakness that Alydar could maybe catch Affirmed. He got pretty close. But the Belmont was an amazing race. Alydar's trainer told the jockey, "You get up really close, and you push him because I think we have the horse that can do the distance better." And Alydar moved up after about a half-mile into this 1.5 mile race, and from that point on they were competing. That's a long way to be duking it out.
BL: Affirmed beat Alydar four of the six times they ran against each other before the 1978 Kentucky Derby, and three of those races required photo finishes. So, people who followed horse racing must have anticipated a great duel at Churchill Downs.
LC: Well, I think they did, and as it turned out, Alydar was the favorite despite the fact that Affirmed had a great record on the West Coast. There was this attitude that if the horse prepped on the West Coast, there was no way that it was going to be able to compete with "better horses" on the East Coast, kind of like today. It's interesting, because for me California Chrome is so reminiscent of Affirmed. When I first saw him in the two-year-old preps, all I thought about was, "This horse is so like Affirmed. Maybe this is the one that's going to do it."
BL: This year, California Chrome beat Commanding Curve and Danza in the Derby, and Ride On Curlin and Social Inclusion finished second and third in the Preakness. So, what California Chrome doesn't have is a clear rival. How likely is it that we'll ever again see the great two-horse rivalry that Alydar and Affirmed provided us?
LC: I think it's highly unlikely. This year is the first year that I feel like it's really a possibility, but the idea that we would have two horses that are so closely matched, that's one in a million.
BL: So, do you like California Chrome in the third jewel of the Triple Crown?
LC: Superstitious creature that I am, I hate to say, but yeah. I bet him for the Derby, I bet him for the Preakness, and I'm betting him for the Belmont.
---
Bill's Thoughts On Duel for the Crown: Affirmed, Alydar, and Racing's Greatest Rivalry
[sidebar title="An Excerpt From 'Duel for the Crown'" align="right"] Read an excerpt from Carroll and Rosner's Duel for the Crown.[/sidebar] In '78, Affirmed secured his place in racing history by winning the Triple Crown. Alydar earned a more singular distinction by finishing second in each of the three Triple Crown races.
Duel for the Crown presents the back stories of both horses as well as detailed accounts of their encounters on the track, the first of which was won by Alydar. After that race, Affirmed's trainer, headed west rather than immediately risk another loss to "that big monster."
After his horse beat Alydar at Churchill Downs, Pimlico, and Belmont Park, the same Laz Barrera opined that Affirmed was "greater than Secretariat, or any Triple Crown winner, because only Affirmed had to face Alydar." Railbirds can debate that assertion, but it's difficult to argue with the subtitle of Duel for the Crown, which asserts that the two horses combined to provide "racing's greatest rivalry."
This segment aired on May 31, 2014.