'The Big Fix' Explores Soccer's Betting Scandals
05:57
Play
This article is more than 5 years old.
Over the next month, gamblers around the world will have the opportunity to bet on every detail of the World Cup, from the number of red cards in a match to the final scores. But with growing concerns over bribery and match-fixing, some wonder if the greatest tournament of them all could be under suspicion of tampering.
Brett Forrest's The Big Fix: The Hunt for the Match-Fixers Bringing Down Soccer delves into a world of elite match fixers, some of whom work at a surprisingly low level of soccer. Nonetheless, Forrest says, their tampering calls into question the entire $1 trillion international betting industry. Forrest joined Bill Littlefield.
---
Highlights from Bill's Conversation with Brett Forrest
BL: Foremost among the fixers, or would-be fixers, is Wilson Parumal of Singapore, unless he's calling himself something altogether these days. Tell me about him.
BF: Wilson is the most infamous match-fixer there is. He is the field operative for a well-known Singapore syndicate, which is funded by pan-Asian organized crime, and he has over the years developed an international network across dozens and dozens of countries in every continent which manipulates players, referees and officials for the purposes of illegal betting.
BL: Unless I've misread your book,  Parumal hasn't been especially successful in his chosen trade in at least one regard. This is a guy who appears to have spent as almost much time in prison as outside the walls, correct?
BF: Yeah, Wilson is a career criminal. And he has been very successful in the fixing world, but even there we see how his own demons get the better of him because he himself is a big gambler. And even though he made millions of dollars, he couldn't help but gamble it away on matches that he didn't fix, such as NBA or Premier League matches.
BL: We're not talking about somebody who just slips a couple of players some money to lose a game, how does someone like Parumal go about fixing a soccer match?
BF: In any number of ways, but in his most sophisticated iteration he formed a promotional company, and he would approach national soccer federations in impoverished nations and say, "Let's make a contract, I'll pay you roughly $100,000 and in return I will name the referee for your international friendlies.
BL: Your thesis seems to be that, "if the individual games were corrupt, than the entire game of soccer was called into question." But at the highest levels, the World Cup, La Liga, the Premiership, is there any evidence of rigged games?
BF: No, not in the leagues that you mentioned. However, we see in Serie A in Italy, there are cases there. In the second league in Germany there was a landmark case called the Bochum trial. Even now, the head of security at FIFA, Ralph Mutschke, has said in recent weeks that we should be careful for the latter games at the group stage, because  that's when you'll have teams that are already eliminated. A lot of these teams will be from impoverished nations, and they'll be vulnerable to an approach from a fixer.
---
Bill's Thoughts On The Big Fix: The Hunt for the Match-Fixers Bringing Down Soccer
In The Big Fix, Brett Forrest does not ignore FIFA's failure to take seriously the scandal of fixed matches, but his main concern is the activities of Wilson Perumal and various other individuals who've paid off officials and national soccer federations in order to create opportunities to bet on games without having to gamble…because, to paraphrase the late, great W.C. Fields, it isn't gambling if you know who's going to win.
As Forrest reports, Perumal and others have taken advantage of financially strapped soccer programs in African countries and elsewhere, providing them with money in return for the opportunity to organize games in which the fixers would pick the officials and, in some cases, dictate not only the winning team but the score. Sometimes these matches are so obscure that the players and fixers outnumber the fans. Most of the victims of these scams are the people who bet on the games on internet sites on the assumption that they are legitimate, and bookmakers who aren't in on the arrangement.
Readers hoping to learn of crooked games involving teams in the Premiership or La Liga will perhaps be disappointed by The Big Fix, but lower division games in Germany and elsewhere have apparently not been immune from tampering by fixers, and Forrest maintains that "if individual games were corrupt, then the entire game was called into question."
This segment aired on June 14, 2014.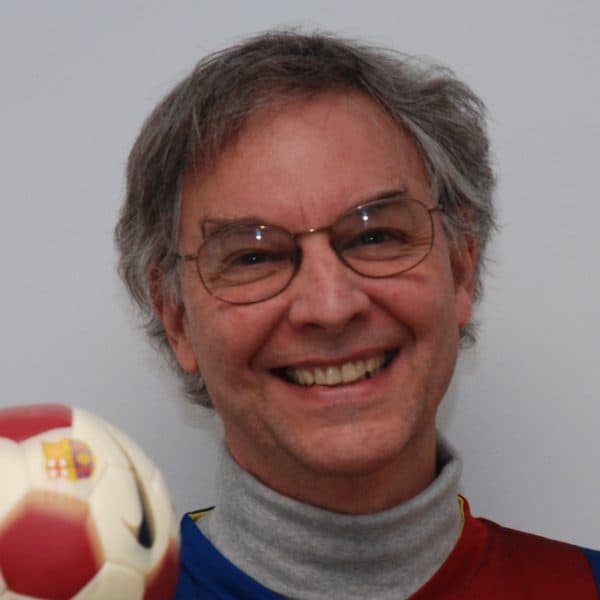 Bill Littlefield Host, Only A Game
Bill Littlefield was the host of Only A Game from 1993 until 2018.