Pete Rose Returns To Baseball (Sort Of)
05:51
Play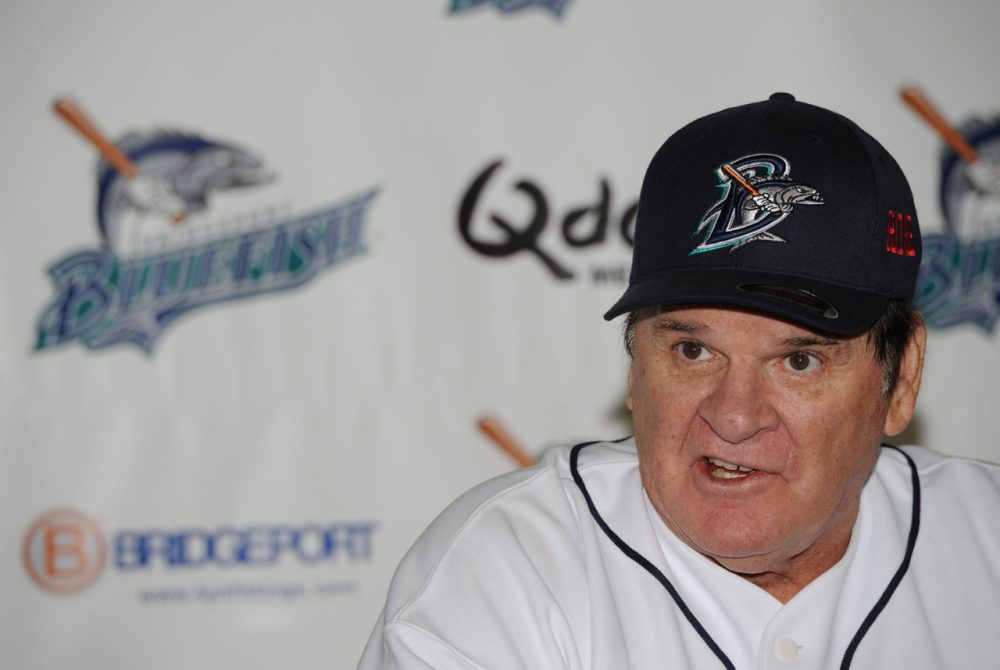 This article is more than 6 years old.
Batting practice is batting practice, whether in New York or Los Angeles or Chicago – or in Bridgeport, Conn., which is where I was watching it on Monday night, in the company of Bridgeport Bluefish pitcher Tim Gustufson and a few others.
"Yeah, this is probably an everyday thing for us," Gustufson joked. "Uh, just hordes of media and fans just knocking down the doors. It's, you know, no big deal."
[sidebar title="'Pete Rose: An American Dilemma'" width="330" align="right"]In March, Bill Littlefield spoke with author Kostya Kennedy about his new book about Pete Rose and his complicated life on and off the field.[/sidebar]The Bluefish, unaffiliated with a Major League organization, have the worst attendance in the Atlantic League, which includes teams in Lancaster, Pa. and Camden, N.J., among other burgs. But on Monday night they doubled their usual 2300 or so fans by inviting Pete Rose to manage the club, with the able assistance of their regular manager, Willie Upshaw. Rose's appearance was a promotion Gustufson could appreciate.
"Ah, I have eaten at his restaurants a couple of times in South Florida," he said. "But my wife's grandfather – I asked if he wanted an autograph, and he said, 'Shoot, yeah. I want to show it around to my buddies at home,'" Gustufson said. "So there is meaning to a certain generation and that's all that matters."
The manager-for-a-day was Major League Baseball's Rookie of the Year in 1963, the National League's Most Valuable Player in 1973, and the World Series MVP in 1975. He was banished from baseball in 1989 when then MLB Commissioner Bart Giamatti determined that Rose had bet on games when he was managing the Cincinnati Reds. A year later Rose went to prison for cheating on his taxes. But lots of the fans who showed up at the Ballpark at Harbor Yard on Monday night didn't know that, or they were willing to forget it. Scott Hockford, resplendent in a Pete Rose Cincinnati Reds jersey, had never before seen the Bluefish play.
"The [MLB] ban's gonna outlive me."

Pete Rose
Before the game, Rose addressed the press from behind a table in right field. He was interrupted at times by the trains passing behind and above the outfield wall. He tapped and thumped on the table and fiddled with a watch that looked as if it weighed about eleven pounds. One of the first questions had to do with Rose's return to the dugout, at least for one night. How was managing the Bluefish different from managing in the bigs?
"How's this different when I managed the Reds?" Rose replied. "When I managed the Reds, I had pants on. Baseball pants, I mean."
And cue the rim shot. For the record, Rose, considerably wider than in his playing days, was wearing a pair of dark slacks.
Rose denied that the appearance in Bridgeport had been calculated to encourage MLB commissioner Bud Selig to welcome him back to baseball. In fact, he denied that he had anything against the commissioner, and referred to a couple of meetings he'd had with Selig as "cordial."
"We're sitting in his office, just [Selig] and I, and the phone rings," he recalled. "And he picks it up and he talks. And he hangs it up, and I says to him, I says, 'Well, I know the postmaster don't work in this town. It's nice to know that the phones ring.' And he said, 'It's all according to who's calling' because he never answered my calls or answered my mail. And he just laughed. So he's got a good sense of humor, you know. I was about ready to kick his ass, but they made me get out of there."
At another point in during the press conference, Rose mentioned that he, his agent, and his attorney had obtained Commissioner Selig's approval for the Monday night gig. This provided the temporary manager with another opportunity to protest that being on the field in Bridgeport had nothing to do with his 25-year-long attempt to re-enter Major League Baseball's good graces and become eligible for election to the Hall of Fame.
"The ban's gonna outlive me," Rose said. "I wish I could be 113, applying for reinstatement, but there again, I'm the one that screwed up, so I'm not sitting here whining about being reinstated. You guys are the ones that brought that up. If I'm ever reinstated, I won't need a third chance."
The screw-ups to which Pete Rose referred were many and varied. They included betting on baseball and denying that he'd done it, then acknowledging that he sort of had sometimes, but not often and never on his own team, and finally admitting that he'd bet on the Reds. Rose says that these days he works four and a half hours a day in a mall in Las Vegas, signing his name. Without being asked, he defended the venue. In Las Vegas, he said, the customer turnover is constant. In Bridgeport, for one night, the drill was similar. Signed Rose bats went for $150. A ticket to the luncheon at which he had entertained earlier in the day was $250.
Most of the fans who showed up that night just wanted to get a glimpse of the man who'd collected more Major League hits than anybody else, but one of the paying customers, Bryan Clark, had come with a dream. He said he hoped Rose would put himself into the game as a pinch hitter and hit one over somebody's head.
"Absolutely," Clark said. "If he can come out on the field and get a base hit, oh, yeah, then I could die and I'll be happy. Yes."
Was that a possibility? Not in front of a mere 4500 fans. But what if reinstatement ever happened, and the circumstances were just right?
"I don't think anybody is going to get 4,257 hits as long as I'm alive," Rose said. "It would be hard. And I never did retire, so I'll keep that option open in case someone does. These pitchers today, I can get one more hit. I can scramble one up the middle and crawl to first base."
The Bluefish, sort of managed in part by the hit king, beat the Lancaster Barnstormers on Monday night, 2-0. So in Bridgeport, at least, Pete Rose is 1-0.
This segment aired on June 21, 2014.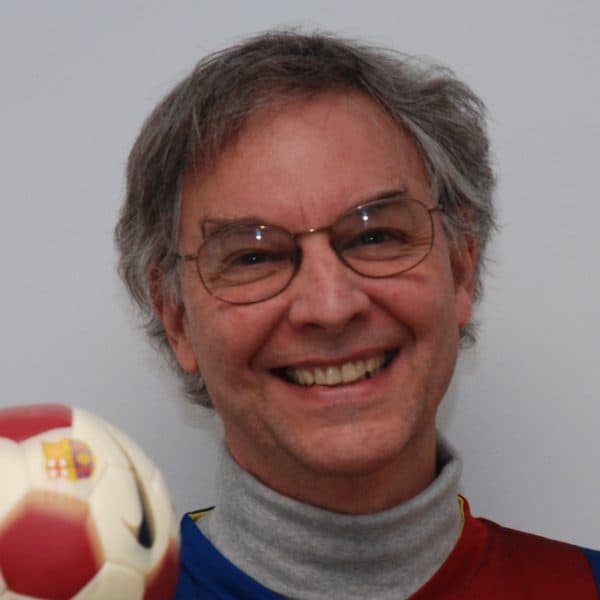 Bill Littlefield Host, Only A Game
Bill Littlefield was the host of Only A Game from 1993 until 2018.