World Cup Fever In Los Angeles: One City, Many Fan Bases
Play
This article is more than 8 years old.
Even though west L.A.'s Café Brasil restaurant and nightclub is — you guessed it — Brazilian, the crowd that turned out for the group stage match between Brazil and Croatia was very multinational.
"I'm from Greece. I'm Alex."

"I'm Alex, too. I'm from Ukraine."

"I'm Volokh from Turkey."
"That's what the World Cup is for, to unite different nations, right?" said Alex from Greece. "Where else can I hang out with a Turk and a Ukrainian at a Brazilian club? That's unique."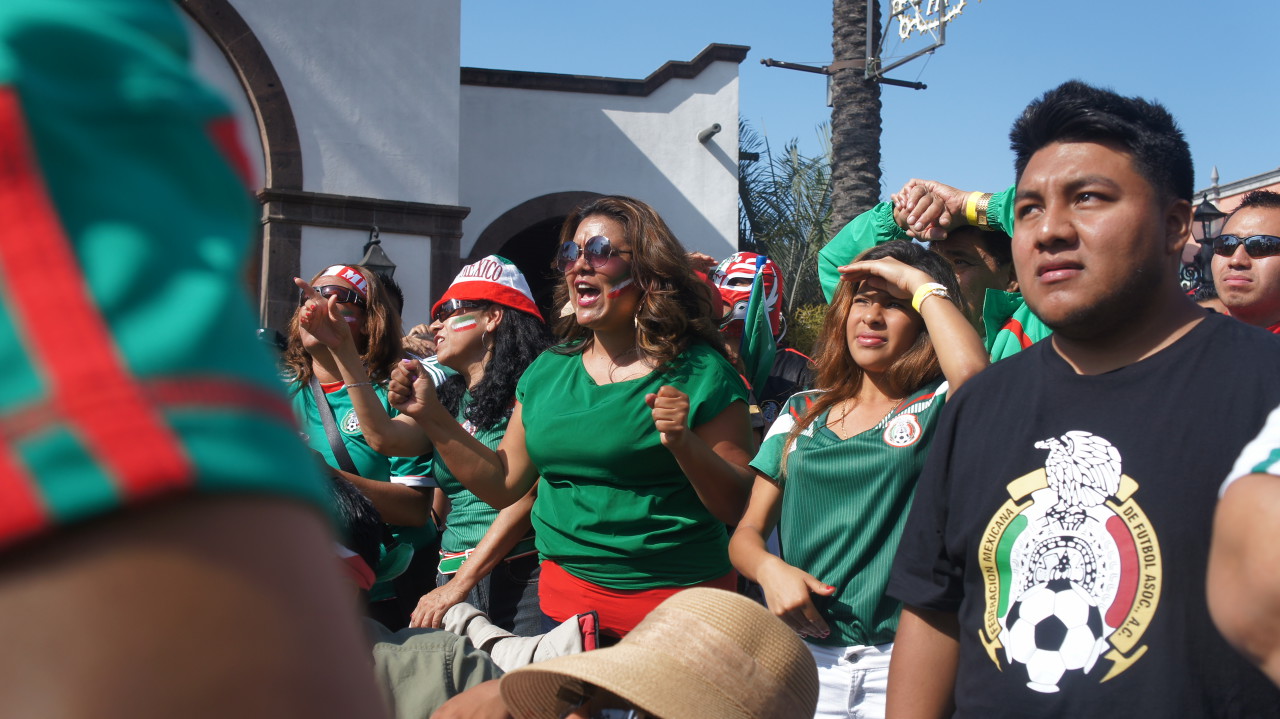 A Soccer Melting Pot
Since the World Cup kicked off, L.A. has been in the grip of Cup fever, best expressed in an abundance of viewing parties across the city, where people gather to watch the action in Brazil on screens big and small. Because L.A. is a city of immigrants, a lot of fans are cheering on other national teams instead of the U.S.
At L.A.'s Gualaguetza Mexican restaurant, the cheers are pretty much all for Mexico as they take on Cameroon. Carlos Robles was one of the loudest in the crowd.
"My loyalty to Mexico is 100 percent. I'm not split like a lot of people, half Mexican and half U.S. I'm a 100 percent Mexican! I'm born in Mexico, but [I've lived in the U.S.] half my life. I've been here for 30 years, but you know, it's my team," Robles said with a laugh.
"You can change your wife. You can change anything. But your team, you never change your team!"
Just a couple of miles away, in the heart of L.A.'s Koreatown, you'll find very different soccer loyalties. With Korean pop music blasting, hundreds of people gathered at an outdoor viewing party to cheer on the Korean national team as they played Russia.
"For me, coming from a Korean background, our culture, our parents are born in Korea. They are raised in Korea and they pass that down to us," said Korean-American Ray Park. "And that includes sports. So we definitely have to come out, show our spirit, show our dedication, show our everything!"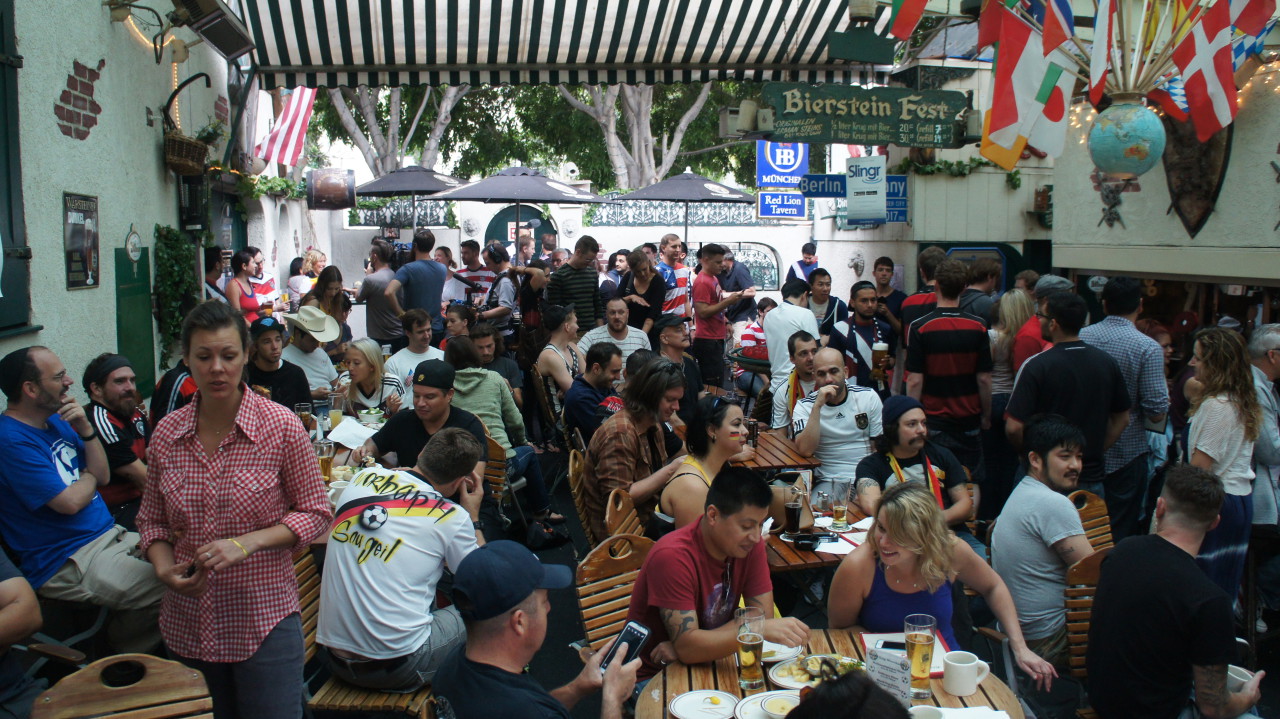 'You Have to Cater to Every Single One'
Of course, a lot of fans watching the World Cup are showing their team and national pride by buying swag. Lots and lots of swag. At L.A.'s simply named Soccer Store, jerseys from a variety of national teams are briskly selling. Salesman Derrick Olson knows it's important to keep them all in stock for the Cup.
"I mean, every four years it starts to pick up," Olson said. "You have to get all of the national team jerseys in because you have people from all different backgrounds, especially coming from California, and so you have to cater to every single one."
How many countries? Quite a few, it turns out.
[sidebar title="How Other Countries Watch The Cup" width="330" align="right"]There are a lot of ways to watch World Cup matches here in the U.S., but some other countries have had to take more drastic measures to ensure fans can see the games.[/sidebar]"South American countries are always huge," Olson continued. "Those are the big ones. Everybody loves Brazil, people love Argentina. The big one from Europe is always Germany."
While shopping for a jersey, Armenian-American Cerrell Garibian said his soccer heart belongs to Argentina, a bond forged when first watching the game with his dad.
"The first thing we ever watched was England, and England and Argentina were archrivals," Garibian said. "So I thought, I can't [be] on my dad's side, so I picked Argentina. So here I am and just loving it."
The Art Of Soccer 
Even some cultural institutions in L.A. are capitalizing on World Cup fever. Just in time to coincide with the games in Brazil, the Los Angeles County Museum of Art is hosting "Futbol: The Beautiful Game," an art exhibition about soccer.
Museum visitor Margie Simkin believes that, for Americans at least, this World Cup feels different compared to previous ones.
"Years ago, no one came and watched in America, and now this year, for the first time, I feel like everyone is involved," Simkin said. "We just came from a restaurant and the TV is on everywhere."
"Where else can I hang out with a Turk and a Ukrainian at a Brazilian club? That's unique."
But one multimedia work of art showing video of screaming soccer fans here reminds Simkin of what makes her nervous about the game.
"That piece made me realize why I am frightened to go to a soccer match — all the crazy fans," she said.
For the next few weeks, soccer and the World Cup will continue to dominate L.A.'s sports attention, but Robles said that's natural for a city of immigrants who have brought their love for the game to America.
"That's the beauty of Los Angeles," he said. "You can enjoy all the games with all the nationalities. You can enjoy with Arabians, you can enjoy with Russians, with French people, everybody."
This segment aired on June 28, 2014.