Senior Hockey Tournament Honors 'Peanuts' Cartoonist On Home Ice
05:30
Play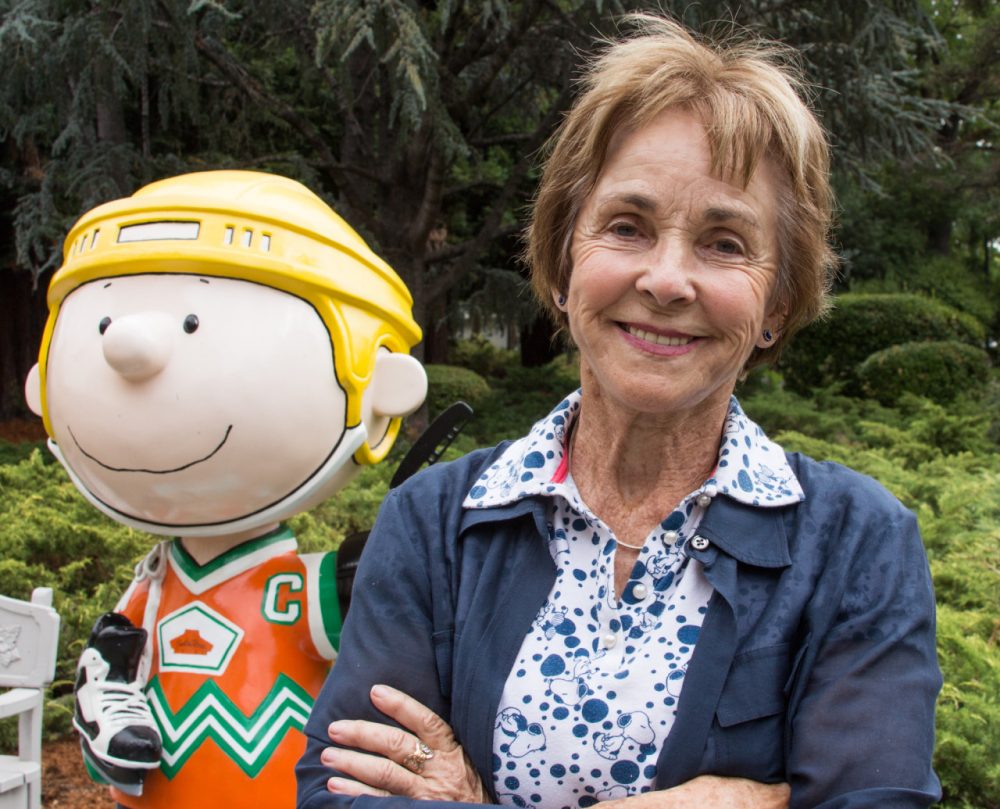 This article is more than 7 years old.
Less than a year ago, 69-year-old Gary Powdrill was having a quintuple bypass open-heart surgery. But right now, he's focused on a tight game between his hockey squad, the Central Massachusetts Rusty Blades, and the hometown Woodstock Flyers. And things aren't going so well.
The Rusty Blades are one of 68 teams playing in "Snoopy's Senior World Hockey Tournament," an event created by "Peanuts" cartoonist Charles Schulz – "Sparky" to his family and hockey buddies – at the beautifully eccentric arena he and his first wife built.
The tournament is for players from age 40 and up, with divisions set aside for 50, 60 and 70-year-olds.
Steve Lang, one of the thousand or so players who has suited up this year, is skating for the Woodstock Flyers – the name refers to Charles Schulz's little yellow bird character. The Flyers and Rusty Blades are fighting for third place in a division for players 60 and up. But unfortunately, according to Lang, the Flyers "don't fly like the bird."
"We're playing 60, but we've got ages from 76 down to 62," Lang said. "I'm 75. You know, we think like rabbits, skate like turtles."
This isn't the NHL. The rules don't allow checking or slapshots, and penalty minutes count against you in the standings. But this is hockey, and the play – focused on position and passing – is still demanding.
New Yorker Bob Santini is 82, and playing on an age 60-and-up squad for the "New York Apple Core" team. He's played in the Snoopy's Tournament since Sparky Schulz first brought it to Santa Rosa in 1975.
I try to do the best I can, but the most important thing about a tournament like this is the camaraderie," Santini said. "I've been coming here for nearly 40 years and seeing the same people that come here and meet old friends I see like once a year, and the camaraderie is the probably most important thing."
Jean Schulz, Sparky's widow, says that's just the way her husband wanted it.
"He just wanted people to have a good time and really enjoyed it," she said.
She says everything about the tournament is set up to encourage that – a relatively leisurely game schedule – leaving lots of time to socialize – or visit the nearby wine country. Jean says her husband wanted to give something to his fellow hockey fanatics.
"He said all these people who came, most of them have contributed to hockey in their communities," Schulz said. "They've been coaches, they've been referees, they've supported the junior hockey club. He used to say, 'This is their reward, their summer camp for old hockey players.'"
The arena was also her husband's gift, she says, to anyone who loves skating. At the insistence of his first wife, Joyce, the facility was designed with a Swiss village motif, complete with meticulously executed murals of alpine countryside.
"Sparky was always proud that this was not just a sheet of ice in a warehouse, but a beautiful setting to skate, also," Schulz said.
Local hockey players still remember Schulz as a competitor and friend. Phil LeBrun is one of those who still comes to "Snoopy's Home Ice" every year to mark the cartoonist's passing.
"We get out in the center of the ice and do a quick memorial service for him and thank him for everything he's done," LeBrun said.
LeBrun is captain of a Schultz-sponsored team aptly named The Great Pumpkins.
"I didn't have a team to play on and he said, 'Put one together,'" LeBrun continued. "He built this ice rink for people to have fun. He did the tournament for everybody. There's not another tournament like this in the world. There's a lot of hockey tournaments, but there's not one like this, where the goal is to have, it's about making friends and seeing those same friends year after year."
Rich Haskell from outside of Austin, Texas, hopes to return, too. He started playing hockey at age 12, a whopping 65 years ago, but has had a couple goals this year for the Rusty Blades' age-70 team.
"I just love the sport," Haskell said. "As long as I can, I'm gonna [keep playing]. You know, one day they'll carry me off the ice, and that'll be fine."
This segment aired on July 26, 2014.