Drama And Heroics At Wiffle Ball All-Star Game
Resume
At about 8:30 last Sunday morning, a half-dozen Wiffle Ball enthusiasts began assembling the field that would host a three-game series of All-Star games between the most accomplished Wifflers in Massachusetts and New Hampshire and their counterparts from New York and Philadelphia, dubbed, vaingloriously, the World All-Stars.
The field, which took up most of the front yard of a large home in Danvers, Mass., featured black, cylindrical outfield walls which had to be inflated with a leaf-blower. There were yellow canvas lines tacked to the grass to distinguish singles from doubles and a backstop featuring a metal target and a couple of corporate logos. According to Jason Doucette, a player who'd driven down from Laconia, N.H., the logos were a little misleading.
"Not a lot of people sponsor wiffle ball," Doucette said. "Money-wise, we stick together. We try to help each other out."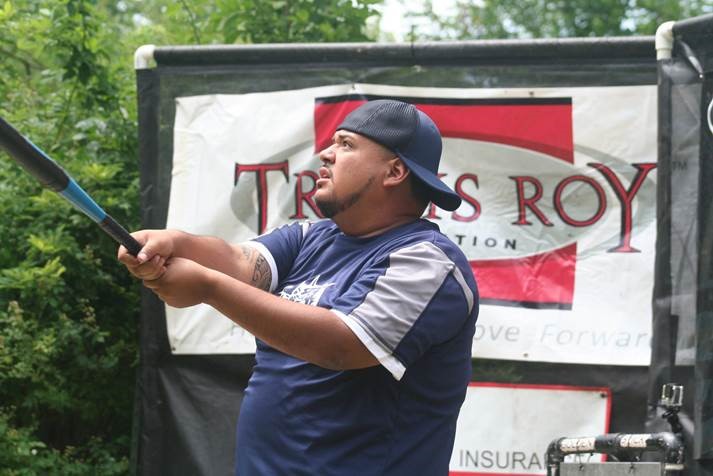 Wiffle ball began with the marketing of the white plastic ball and yellow plastic bat in 1952. Sixty years later, a league called "Golden Stick" was born in that very yard in Danvers. So much for the past. According to Pat Vitale, a 62-year-old pitcher, the future of the game is exceedingly bright.
"Next year there will be a true professional draft, and we will draft pro teams for the first time," Vitale said.
When asked if that meant the game's best players would actually be able to identify themselves as pro athletes — meaning they'd receive actual paychecks — Vitale was equally optimistic.
"At least on a part-time basis they'll be able to do that," he continued. "The picture for it is a tour that's similar to pro beach volleyball. We'll take a traveling road show, we'll go to major cities, we'll do these mini-tournaments and crown a winner at the end."
Betting on that golden vision might be a risky proposition. Certainly some of the players who would benefit from its realization weren't letting dreams of wealth and fame distract them from the business at hand on Sunday: the All-Star games.
Perhaps in part because of a recent cancer diagnosis, Vitale was only scheduled to pitch one inning for Massachusetts/New Hampshire. But after Vitale had retired the New York/Philadelphia — a.k.a. "World" side — in order, team manager and president of Golden Stick Wiffle Ball Lou Levesque was asked if he would follow that plan.
"No, no, by no means. We're leaving him in there," Levesque said. "He'll go right up to the full three if he keeps playing like that."
Would he yank Vitale if he didn't keep playing like that?
"Oh, yeah. Absolutely," he said. "Cut throat. This is the All-Star game."
Vitale was similarly impressive in the second inning, baffling hitters with curves and sinkers that pinged the metal target on the backstop for strikes. So when he took the mound for the third, I wandered over to the opposition's side of the field and asked a player named Eric, who had come up to Danvers from Brooklyn, if he was concerned.
"He's really good," Eric replied. "A lot of good players out here. I think we'll get to him, when we see him a couple of times. But yeah he's--"
Just as Eric made that declaration, one of his teammates belted a home run.
"I knew we'd get to him eventually, and the Foodman did it," Eric continued. "So, it's the love of the game, it's passion and competition, so that's what it's all about."
That, and tying the score, which is what Eric's teammate had done with one swing of his Wiffle bat.
The man who hit the home run was Anthony 'Foodman' Diorio.
"I am pretty well fed, so that's why I'm the Foodman," he explained.
The Foodman's home run provided him with the opportunity to run the bases. Guys hitting singles doubles, and triples don't do that. As Lou Levesque explained, that's one of the many distinctions between various other manifestations of baseball and Wiffle Ball, or at least the Golden Stick version of the game.
"When you hit a home run, you trot," Levesque said. "We used to have a rule that if you were ahead by five, you couldn't, because it was showboating, and then we agreed that we liked showboating. So now it's limitless running."
The Massachusetts team was out-homered, hence, out-trotted, in Game One of the series. They lost to New York/Philadelphia, 12-6. But the New Englanders bounced back to win the next two games. The final was a pitchers' duel and ended, 3-2.
Observers of that All-Star series — and they were pretty much limited to close friends and family members in lawn chairs and a couple of dogs — can debate the extent to which Sunday's games moved the sport toward the establishment of a professional league. At least for Pat Vitale, the Foodman, Lou Levesque and the rest of Sunday's All-Stars, the dream lives.
This segment aired on July 26, 2014.