Ray Guy: The First Punter To Reach The Hall Of Fame
Resume
This weekend in Canton, Ohio, the Pro Football Hall of Fame's Class of 2014 is taking its place among the immortals of the gridiron. That group includes Derrick Brooks, Claude Humphrey, Walter Jones, Andree Reed, Michael Strahan, and Aeneas Williams. This year's class also includes a first for the Hall: a punter. Ray Guy – who played for the Oakland / Los Angeles Raiders from 1979 to 1986 – is the only full-time punter to be elected.
In 1973, Oakland made Guy the first punter ever chosen in the opening round of the NFL Draft. He would go on to play in seven Pro Bowls and won three Super Bowls with the Raiders.
At the Hall of Fame's Fan Fest event in Cleveland in May, Only A Game's Doug Tribou spoke with Ray Guy about his career, the frustrations of seeing punters excluded from enshrinement, and his relationship with Jan Stenerud, the first –- and only — full-time place kicker in the Hall of Fame.
DT: What do you think about finally having a punter get in [to the Hall of Fame]?
RG: The deal is, you gotta have a full team. We did not have a full team up until this year. And I don't see really, basically, what the issue was about it — why they never did that before. Because I guess they figured, "Well, punters are not appreciated. They're not athletes. It don't take anybody special to do it." But it does. I'm glad I'm the first one. Hopefully this will set a trend and a new avenue for [punters].
DT: I grew up rooting for the Raiders and in my mind I can picture you snagging high snaps and everything else. That's an argument — just the athleticism it takes to do what you were doing at that time.
RG: Well, my deal was I grew up doing everything. I wasn't starting out like the new generation — now you've got to be a specialist in high school because you've got an offense and you've got a defense, whereas I played both sides of the ball during the whole game. I actually did all the punting, the kickoffs, the extra points, the field goals, even in college. So from the athleticism [standpoint], I've always been able to play, and that helped me a lot.
DT: When in your career did it become obvious — I know you kicked in college — but when did you know, "I've got a special talent for this?"
RG: I knew that back [when I was] seven years old. But it's something that I didn't set out to do. It wasn't my dream. I didn't focus on going to the NFL. I mean, I could have played baseball. I was drafted five years in a row. So it wasn't one sport I was looking at. It was just the way it happened now, and whatever [was] thrown at me, I took it and ran with it. And I enjoyed playing it all those years. I'd have probably enjoyed playing baseball, but football was my chosen life, and I had to go from doing pretty much everything to doing one thing.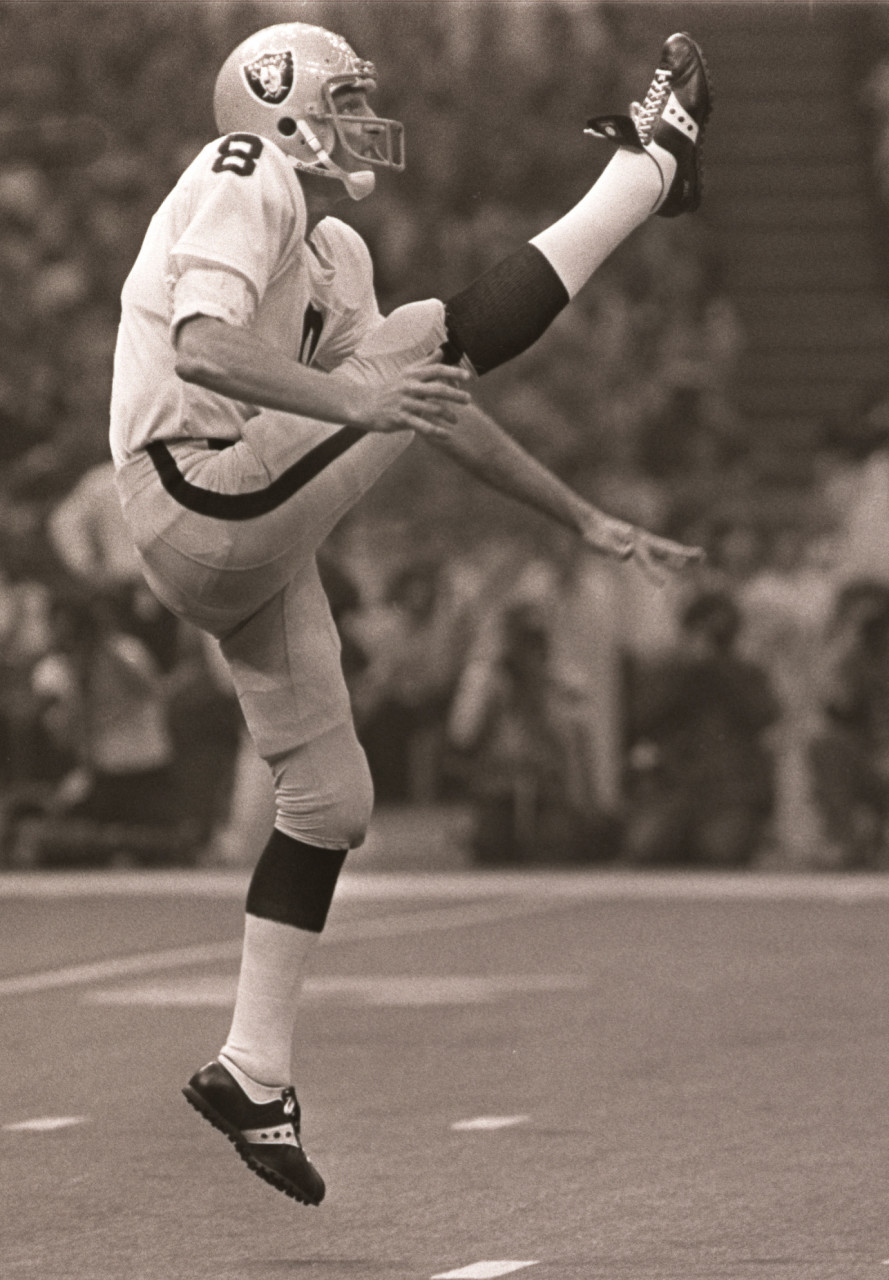 But that one thing was very important because I knew all through my life how important it was. I made it into a — I wouldn't call it dominating position — but I knew I could change field position and help the team win, in any circumstances where it's in the middle of the field or backed up in the end zone. That didn't bother me. Let's bring it on, let's go with it.
DT: I interviewed [Hall of Famer and former Raiders cornerback] Michael Haynes about six months ago for a story on the old AFC West. The first person he mentioned as somebody who should have been included in the Hall of Fame was you. Is there somebody that you feel has been overlooked that you'd like to see get in?
RG: Oh man, there's a ton of 'em. I mean, you talkin' about [quarterback] Kenny Stabler, you talkin' about Tom Flores — as a coach. I know they're Raiders and all that — Jerrel Wilson who was a punter back before me. But during my era there's a ton of them out there that need to be considered. I think we need to alternate it, maybe one year the younger generation then the older generation. But we've got to get these guys brought forth and put into the enshrinement where they belong because they changed their position, too.
DT: Do you see changes in the punting game now versus what you did? Or is that the one thing that's largely unchanged?
RG: Well no, it's changed, yes. The only...change that I really see is now with the style of formations and the style of the punter themselves — [a] more rugby-type deal. I'm not begrudging that but I don't think it's very consistent.
DT: When you say rugby, in the style of…  
RG: When they run out and kick it on the run, you know, things like that. But if I could still punt right now, I could probably win that battle of consistency out of bounds, inside the 20. But everything's changed. You can't hit nobody, you can't touch 'em. To me it's not the old football. Three yards and a cloud of dust.
DT: Have you had a chance to meet [Hall of Fame kicker] Jan Stenerud?
RG: Jan and I go way back. I held for him two or three years in the Pro Bowl. So Jan and I go back, yeah.
DT: You guys are kind of a club of two.
RG: Well, I remember, he went in because I was on the final list too. And I was proud for him, and he got the announcement down in Tampa at the Super Bowl down there, and I was down there with him. So it's a great honor for him, but it's taken a long time for them, too.
DT: What are the favorite memories you have of your years with the Raiders? You played in a great era.
RG: I can sum that up in one sentence: every one of them. I don't have a great game. I don't sit and dwell on all that. I look at it as a whole. And to be able to become a part of that Raider family and that tradition of that way. And so I've got a lot of family. All the years I played — 14 years I was there — every one of them been great.
This segment aired on August 2, 2014.