As Culture Shifts, Gay Games 9 Looks To The Future
04:09
Play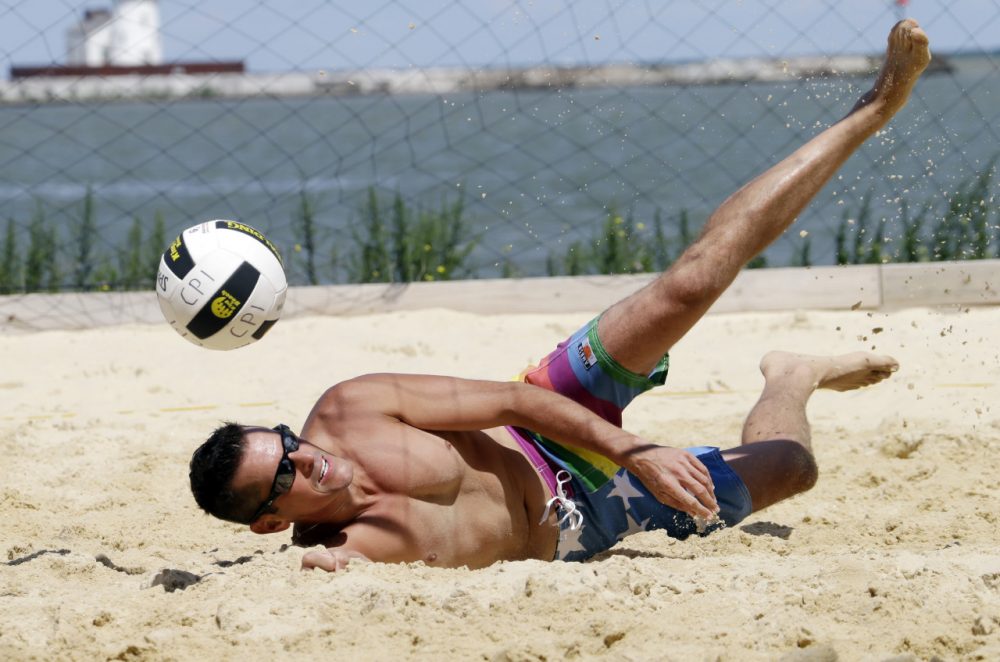 This article is more than 6 years old.
Add Edward "Chip" Sarafin's name to the list of gay athletes in high-profile sports. The Arizona State offensive lineman is the first openly gay Division I football player. Sarafin's announcement happened to coincide with Gay Games 9 in Cleveland.
The Games were formed to promote acceptance of gay athletes. Now that acceptance is growing, Afi Scruggs asks what's next for the quadrennial competition.
Looking To The Future
Cyd Zeigler has seen his share of Gay Games: Sydney in 2002; Chicago in 2006.
Zeigler, who covers gay athletics on his site, OutSports.com, says that few games have made a stronger statement than this week's Gay Games 9 in Cleveland.
"Walking around here in Northeast Ohio and seeing the rainbow flags everywhere and talking to the police and business owners and just strangers on the street, they are incredibly welcoming," he said. "And this is still a state that is, at the end of the day, discriminatory against us."
That's the impact Dr. Tom Waddell envisioned when he founded the Gay Games back in 1981. He wanted the Games to change minds about gay athletes in particular and gay people in general. But with more athletes coming out, will future Gay Games be about competition and less about making a statement?
Raymond Moore thinks so. He traveled from Los Angeles for badminton — not politics.
"We're not here to say, 'Hey, we're out and proud,' even though we are, but that's not why we're here," he said. "We're here just because we want to play the game amongst different competitors across the country and to meet people from other countries that actually came here to play."
The Games have helped open the gates for high-profile professional athletes. The NFL's Michael Sam came out in May. WNBA player Brittney Griner came out last year. So did the NBA's Jason Collins.
"As a society we've grown so much, and now we have so much more acceptance of gays and African Americans," Moore said. "I think just in general because we're such a diverse culture now in the United States, I think being gay isn't — you don't have to be a statement anymore because nobody's beating you down on the street."
In the United States, yes. But international athletes have to be vigilant.
A Different Story Overseas
Olesya came from Moscow to play badminton in Cleveland. She couldn't tell her family the real name of the Games she's attending. That's why she asked only her first name to be used.
"To us, just the word 'gay' is extremely unacceptable," she said. "People don't even have a neutral attitude when they hear that word."
Fifty-two countries were represented at the games. Because of hostilities at home, organizers guard against accidentally outing people, says Kurt Dahl, the co-president of the National Federation of Gay Games.
[sidebar title="WNBA's Pro-LGBT Campaign" width="330" align="right"] The WNBA is cashing in with its pro-LGBT campaign. [/sidebar]
"And we give them the option where they don't even want their name or their picture shown because they're afraid of what will happen when they go back home," he said.
"While we look at Europe as incredibly inclusive, a lot of their sports are behind our sports," Ziegler said. "European soccer is desperately racist and homophobic."
Ziegler said Paris organizers wanted the 2018 Games there because they could change attitudes.
"They feel there is a lot of work still to be done, even in places like Paris," Ziegler said. "They believe the cultural impact and political impact in sports and politics that we can have there as a group can be very powerful."
Ironically, growing acceptance of gay athletes in the United States has made the Games a victim of its own success. Organizers are having problems recruiting young people.
"The youth don't know the history — what the Gay Games have gone through; what we've accomplished over the last 30-plus years — so they don't understand what the Gay Games are, and that's what we need to focus on," Dahl said.
Dahl said the federation will spend the next four years helping local sports clubs recruit younger members.
More:
This segment aired on August 16, 2014.