Goodell Announces New NFL Domestic Violence Policy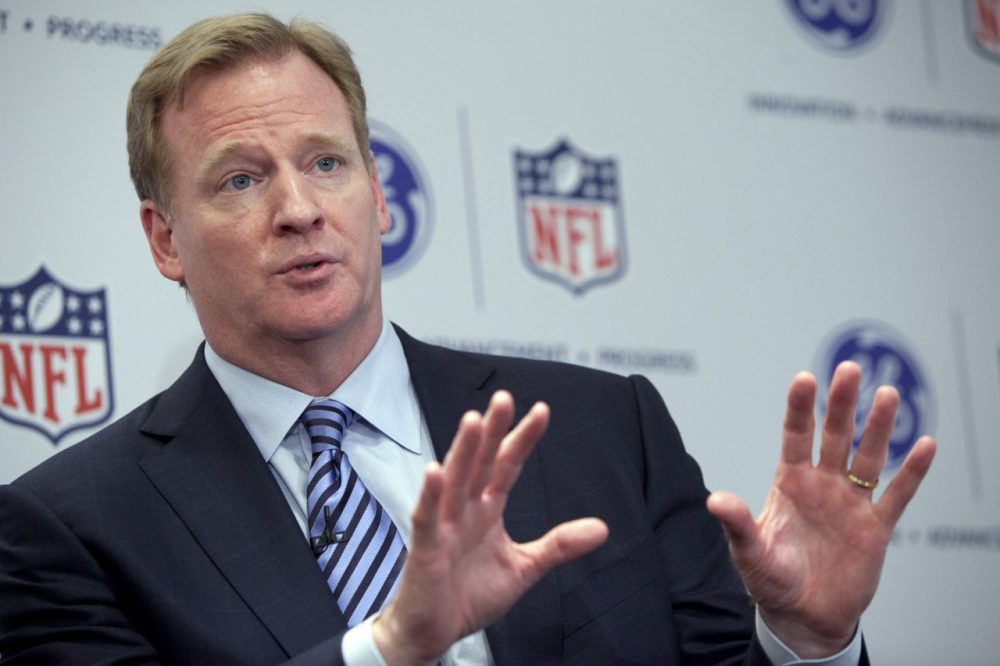 This article is more than 8 years old.
NFL Commissioner Roger Goodell announced new policies on domestic violence Thursday in a letter to team owners. Acknowledging his heavily criticized handling of an incident involving Baltimore Ravens running back Ray Rice, Goodell wrote, "I didn't get it right. Simply put, we have to do better. And we will."
Under the new guidelines, a first offense would result in a minimum six-game suspension with allowances for "mitigating circumstances." A second offense would lead to a lifetime ban from the league. Players may apply for reinstatement after a year, but Goodell noted that "there will be no presumption or assurance that the petition will be granted."
Goodell also wrote:
"We allowed our standards to fall below where they should be and lost an important opportunity to emphasize our strong stance on a critical issue and the effective programs we have in place. My disciplinary decision led the public to question our sincerity, our commitment, and whether we understood the toll that domestic violence inflicts on so many families. I take responsibility both for the decision and for ensuring that our actions in the future properly reflect our values."
In February, Rice and his then-fiancee Janay Palmer were arrested after an incident at a casino in Atlantic City, N.J. (Rice and Palmer got married in March.) A hotel video showed Rice dragging Palmer, who was unconscious, from an elevator. Charges against Palmer were dropped, but Rice was eventually charged with third-degree aggravated assault. He has since entered a diversion program that could lead to the charges being dropped.
In July, Goodell rendered his verdict on behalf of the NFL: a two-game suspension. The decision was widely criticized and even attracted attention in Congress. On July 31, as reported by the Huffington Post, a group of U.S. Senators wrote to Goodell saying, "Mr. Rice's suspension reflects a disturbingly lenient, even cavalier attitude towards violence against women."
As noted in the Los Angeles Times earlier this month, Goodell defended the Rice suspension as recently as Aug. 1, saying, "We've dealt with it in a serious manner, and we're very confident that this young man understands where he is and what he needs to do going forward."
But in Thursday's letter, Goodell outlines several steps the league plans to take to address the issue of domestic violence among players and NFL staff (the new policies apply to all league personnel), including:
Working with experts to expand the scope of education on domestic violence and sexual assault for all NFL personnel — players and non-players.
Training for teams' player engagement directors, human resource executives, and other personnel training to help them understand and identify risk factors associated with domestic violence and sexual assault. Any person identified as being at risk will be afforded private, confidential assistance.
Staffing the NFL LifeLine and NFL Total Wellness Program with personnel trained to provide prompt and confidential assistance to anyone at risk of domestic violence or sexual assault – whether as a victim or potential aggressor.
Expanding educational components in the league's college, high school and youth football programs that address domestic violence and sexual assault.
Earlier: