Fast Cars And Homework: NASCAR's 15-Year-Old Rising Star
Resume
It's mid-July, and Kaz Grala is having a bad day. It started yesterday, when he qualified for the Granite State 100 on a sick engine. NASCAR didn't give the go-ahead to swap it out until late last night, and he started today's race at the New Hampshire Motor Speedway in 30th place with no time to break in his new setup. He's having trouble controlling the car, especially on the turns. But somehow Grala's managed to move up 10 spots to 20th place.
Kaz Grala's grandmother, Rose Callahan, is also having a bad day. This is only the second time she's seen Grala in a race like this, and the noise alone is enough to make her nervous.
"First, I thought the first race was bad, but it was a much smaller track," Callahan said. "But when I walked in here I was so overwhelmed at the size and everything about it. And this is a big race."
"[Danica Patrick] is a household name. I'm hoping my name will be like that someday."

Kaz Grala, driver
It's hard for Callahan to imagine that the driver of car No. 31 is the same well-mannered boy who, when it's not the racing season, comes to her house once a week to have dinner and watch TV.
"When he doesn't have that race suit on, and he has a t-shirt and Bermuda shorts, he's my 15-year-old grandson," she said. "But when I see him out here, among all the other drivers, he looks 25 to me. It's unbelievable."
Getting An Early Start
Kaz Grala wasn't always a 15-year-old stock car driver. He was once a four-year-old go-kart racer. His father first introduced him to the sport.
"Just about every lap I'd pull into the pits and ask my dad for a snack and a juice box, so he didn't think I really had what it takes for racing at that point," Grala said. "But eventually I was competitive and I started enjoying it and trying to win — not coming in for juice boxes anymore."
Once Grala resolved to leave the juice boxes in the pits, he started moving up through auto racing's ranks. When he was 10, he switched to Bandoleros, which he describes as smaller stock cars. He moved up to K&N this year, as soon as he was old enough, and he has to wait until he's 18 to race full time in any of NASCAR's top three series. But Grala sees that extra time as an advantage.
"Kids that are older than me, like 20 years old, there's a little more of a rush for them because they are already old enough," Grala said. "But being as young as I am, at least I don't feel rushed. So hopefully I'm ready to move up when I'm old enough to move up."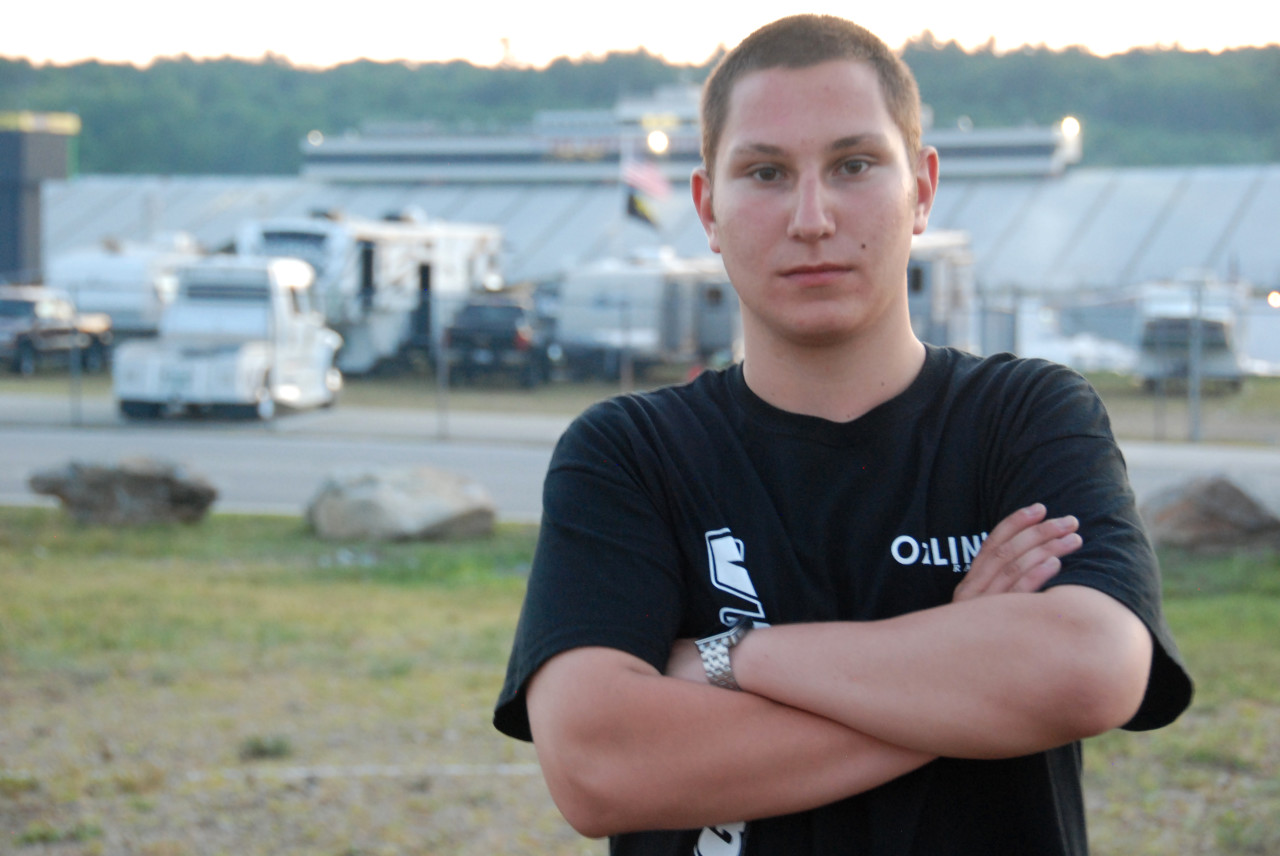 Grala's not the only 15 year old on the racing circuit. Many young drivers are home schooled so they can focus on their sport. But Grala attends an academically rigorous private school near Boston where he's on the honor roll despite missing about 20 percent of his classes. He doesn't fit the NASCAR "bad boy" stereotype, but he does have big NASCAR dreams.
One day he hopes to be famous enough to be known only by his rather unusual first name.
"I guess I really don't necessarily need a last name. It's kinda like Danica. She's a household name. I'm hoping my name will be like that someday."
Grala has a long way to go before he's as well-known as Danica Patrick. And for a 15-year-old, he has surprisingly mature reasons for why he'd like to be a race car driver when he grows up.
"They get to race every weekend, but they get to be home with their families all week as well," he said. "And then their offseason is in the winter. So if I have kids, they go to school. When they're in school, I'd be off. It just seems like it would be the perfect job. For me it wouldn't really get any better than that."
Grala's currently ranked sixth in the K&N Pro Series East, with the second-to-last race of the season coming up next weekend. But it's not like the other drivers are going to give him a break just because he's the youngest.
"When it comes to race time, the green flag drops, nobody's going to spare anybody a little extra room on the racetrack. Everybody's going as hard as they can," he said.
During the closing laps of the Granite State 100, drivers jockey for position at 160 miles per hour. Grala's mom, Karen, crosses her fingers and waves them in front of her eyes, as if blocking her view will keep anything bad from happening. It's a superstitious tic she developed when her son was 10.
But after watching her son battle from 30th place all the way up to finish 10th in New Hampshire, Karen Grala isn't worried about what will happen when her son gets his driver's license.
"No, actually, I am really confident," she said. "In fact, I wish he could find a way to get messages out to other teen drivers because I think teen drivers get into accidents because they don't know what to do when they lose control of the car, and that's what he knows [how] to do."
Kaz isn't so confident. After all, he's been breaking all the rules of the driving test for the past 11 years.
"I drive with my hands at 3 and 9, which I think most people do, but I've heard to pass your driving test it has to be at 10 and 2," he said. "I use two feet to drive, one for the gas, one for the brake. You can't pass the test like that either. Obviously the speed, that'll be a big adjustment, but I should be able to control the car pretty well. That's a plus."
Karen Grala said her son isn't too keen on getting his driver's license, but he is eagerly awaiting his birthday in December. She says there's a certain go-kart facility in North Carolina where all the NASCAR drivers go to train, but they're only allowed on the track after they turn 16.
This segment aired on August 30, 2014.