Andy Murray, Amelie Mauresmo And Tennis' Glass Ceiling
04:00
Play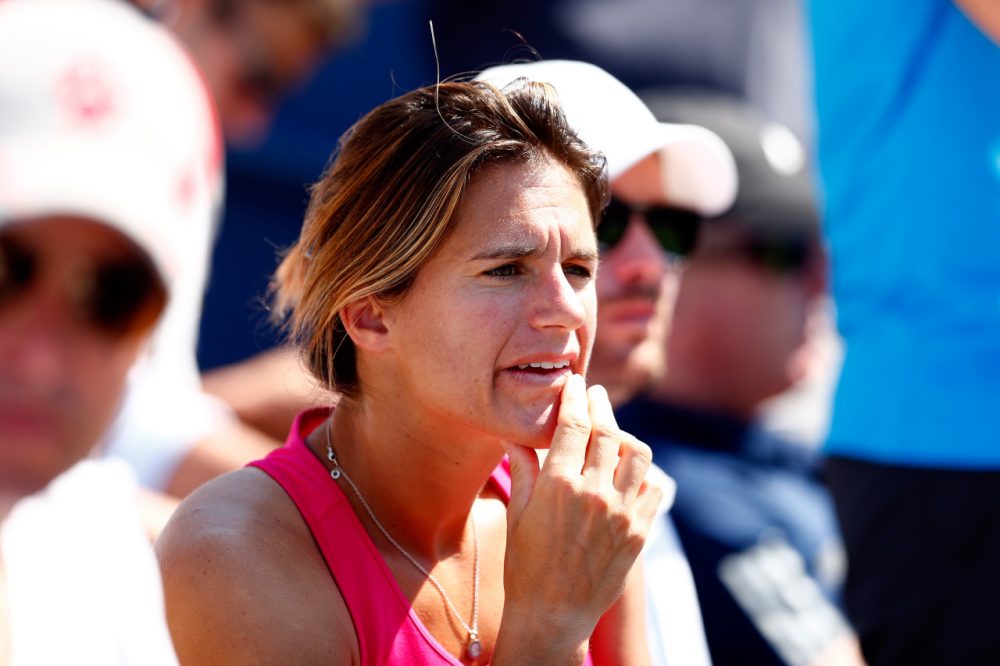 This article is more than 7 years old.
Andy Murray, who has been ranked as high as No. 2 in the world among male tennis players on a couple of occasions, has had six different coaches over the past nine years. The gender of his current coach has brought Murray to the attention of New York Times writer Juliet Macur.
Macur joined Bill Littlefield on Only A Game.
BL: Andy Murray's first five coaches were all men. Number six is Amelie Mauresmo. How unusual is it for a top tennis player of either gender to be coached by a woman?
[sidebar title="Billie Jean King On OAG" width="630" align="right"]In May, Only A Game's Karen Given sat down with tennis legend Billie Jean King to discuss her work for equality and inclusion.[/sidebar]JM: You know, you would think it would be very common considering women pretty much dominate the game and are international superstars, but it's actually not common at all. Andy is one of the first really top-level players to have a woman exclusively coaching him, and he's very rare on the circuit.
BL: You have characterized Andy Murray as "a friend to women's tennis." And it was Murray who contacted Mauresmo rather than the other way around when Murray's former coach, Ivan Lendl, quit. Have you a sense of what Mauresmo has brought and can bring to Murray's game?
JM: People are waiting for him to win another Grand Slam [tournament]. And of course that'll validate Amelie Mauresmo's coaching a little bit more. Right now, people are sort of deciding what she can bring to his game and how far he could get in Grand Slams. He lost again in the quarterfinals and hasn't won anything since they've paired together. So it's sort of a question marks still.
BL: Your Times' article "With Every US Open victory, Andy Murray Advances Gender Equity" ran earlier this week when Andy Murray was still alive at the U.S. Open. As you say, he lost in the quarterfinals on Wednesday. Does that mean gender equity is stalled for now — or at least has gotten kicked backwards a little bit in tennis?
JM: Well, not necessarily. I mean the good thing about Andy Murray when he's moving forward in these Grand Slams with Amelie Mauresmo as his coach — you know they cut to the coach throughout the television broadcast, and when you see a woman there, I think that younger players might see that and think, "Well, maybe I should have a woman, too" or "Maybe I should feel more comfortable with having a woman as a coach."
I talked to Billie Jean King earlier last week, and, as she said, to see a woman in that spot is to almost will a woman to be there in the future. So, the more women that we're seeing coaching these high-level athletes especially on television will possibly encourage younger players to go with that woman coach if they have a choice.
BL: You spoke with Taylor Townsend who is coached by Zina Garrison, once the No. 4 player in the world, and Townsend told you she thought that female coaches are better at "getting players through tough situations." I wonder, do other players subscribe to that theory?
[sidebar title="Was 'The Battle Of The Sexes' Rigged?" width="630" align="right"]In 2013, Pulitzer Prize winner Don Van Natta Jr. examined new allegations that the 1973 tennis match was fixed.[/sidebar]JM: Well, several of them that I talked to said that that's true. But I guess it depends on the person. It depends how you're motivated and who exactly will be a good fit for you. I know Andy Murray chose Amelie Mauresmo because he thought she would be a good fit for him.
I don't think that she's a very warm and fuzzy coach and some women might be motivated or helped along by other women who might be more nurturing. So that might be more appealing to some women who are looking for that.
BL: Will Andy Murray be remembered not only as a Brit who won at Wimbledon but also as a pioneer in terms of his choice of coaches?
JM: Definitely. I think that it was a huge choice for him to make. And he, of course, was criticized at the time for it and is still being criticized because obviously he hasn't won a Grand Slam since they paired together, even though it's somewhat of a recent pairing.
You know, the reason why he made it, perhaps, is that his mother taught him the game to begin with. So he was comfortable with women to begin with, and he's comfortable about tweeting about the women's game and tweeting for equality — that women should be able to play five-set matches at Grand Slams, and he's constantly doing this. I think it makes him somewhat of a pioneer when it comes to pushing gender equity forward in a sport that's way behind the times.
More Tennis Coverage On OAG:
This segment aired on September 6, 2014.