A Year of Disappointment For New York Baseball
04:06
Play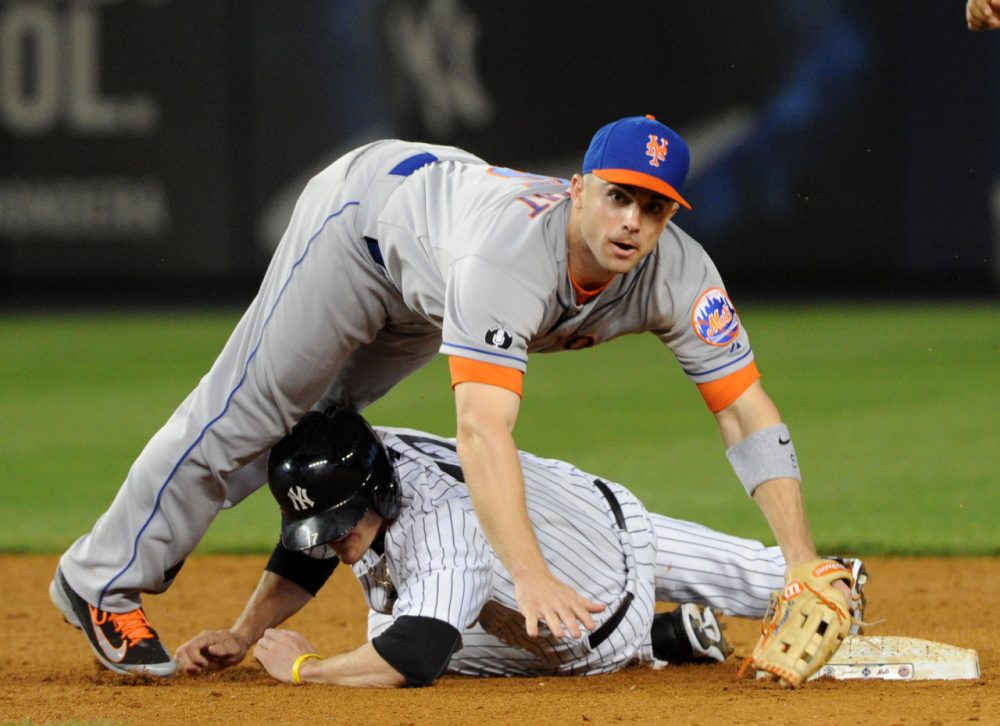 This article is more than 6 years old.
It doesn't take sabermetrics to realize that there will be no Major League Baseball in New York this October. But while Yankees fans have Derek Jeter's spectacular send-off to savor, Mets fans can look forward to another offseason with a bad taste in their mouths.
Mike Vaccaro, a columnist for the New York Post, joined Bill Littlefield on Only A Game to look at what went wrong for the Big Apple's teams.
BL: Which postseason elimination was tougher on New Yorkers: the Mets or the Yankees?
MV: Well, seeing as how the Mets' came unofficially around May 4,  I think they had time to deal with those disappointments. I think the Yankees, obviously, always think they're going to be playing October baseball, and when they don't it's kind of a shock to the system, especially because they obviously had a pretty famous player whose days are dwindling down to a precious few.
How [Mets fans] get by season-to-season, year-to-year is by hoping for the best, expecting the worst and then making fun of themselves the whole way.

Mike Vaccaro, New York Post
MV: You know what, Bill, it's been a continuing problem for the Mets that they're kind of out of touch with their fanbase. And if they didn't know that they were the proud owners of some of the most self-loathing fans in professional sports then that's shame on them. Now, how they get by season-to-season, year-to-year is by hoping for the best, expecting the worst and then making fun of themselves the whole way.
BL: Earlier this month you wrote that Mets fans were hoping for two miracles: a playoff run and the ouster of owner Fred Wilpon. They didn't get their first wish, obviously. But with the commissioner retiring, is there any hope that a new commissioner might help with the second?
MV: Well, I'll put it this way: I think the if chances of the Mets changing owners were 0.0 percent under Bud Selig. Maybe it's now more like 2 or 2.5 percent under Rob Manfred. I don't think he's going to necessarily go out of his way to oust Wilpon's ownership, but I will say that I think that if there are any more missteps — and there have been plenty in the last five to 10 years — I don't think they're necessarily bulletproof under the new commissioner.
But unless there's a serious case of mismanagement I have hard time seeing how they're going to be forced to sell the team. Now, they may still well at some point reach a determination that they just can't do it anymore, but it's going to take a lot more than a couple bad years for them to reach that conclusion.
BL: Heading to the other side of the East River, the Yankees have been celebrating Derek Jeter's 20th and final season all year long. Despite his last at-home at-bat — a walk-off single — Jeter's batting average is around .250 for the season. But will his retirement make the Yankees worse in 2015, and who's going to replace him?
[sidebar title="1924: When Baseball Ruled Washington" width="630" align="right"]For D.C. fans, the Nationals are a relatively new phenomenon, but 90 years ago another baseball team was all the rage in the nation's capital.[/sidebar]MV: That's the one thing that was always a counter-argument to a lot of people who wondered, you know, "Should he have been dropped in the batting order?" "Should he have played DH more than shortstop this year?" — is the fact that, look, Brendan Ryan was essentially his replacement. Brendan Ryan is hitting [.176].
No, they're not going to be as good at that position. I mean, I think one guy they would have liked to have replaced him with possibly is Stephen Drew, but Stephen Drew's hitting [.163]. There's nobody that's going to have the same kind of presence that Derek Jeter had, even in his declining days, and I think that's going to be a big challenge for the Yankees.
BL: As the season has ended, some people have said there's been too much celebration of Derek Jeter. Others have said it's not possible to celebrate Derek Jeter too much. How are you going to remember his career?
MV: I'm going to remember him for the moments. You start with the flip play because I think what that does is it really kind of illustrates both aspects of who Derek Jeter was: both the tangible and the intangible.
The other one I think which is really symbolic is the famous play in 2004 where he dove into the stands in the extra innings against the Red Sox.
Whenever you see the picture of him in the stands, you see Alex Rodriguez right behind him with his hands in the air. If the camera were to pan back even more, you would see Nomar Garciaparra in the dugout. He didn't play that day, and those were his two contemporaries when they all broke in together in the late '90s. You know, you look now where they are; Derek Jeter's clearly a level above — for any number of reasons — the other two. So I think those two plays really illustrate in a small, microcosmic way what Derek Jeter was.
This segment aired on September 27, 2014.