Baseball's Playoff Mythbuster: 'It's An Exciting Month And Also Sort Of A Sadistic One'
04:18
Play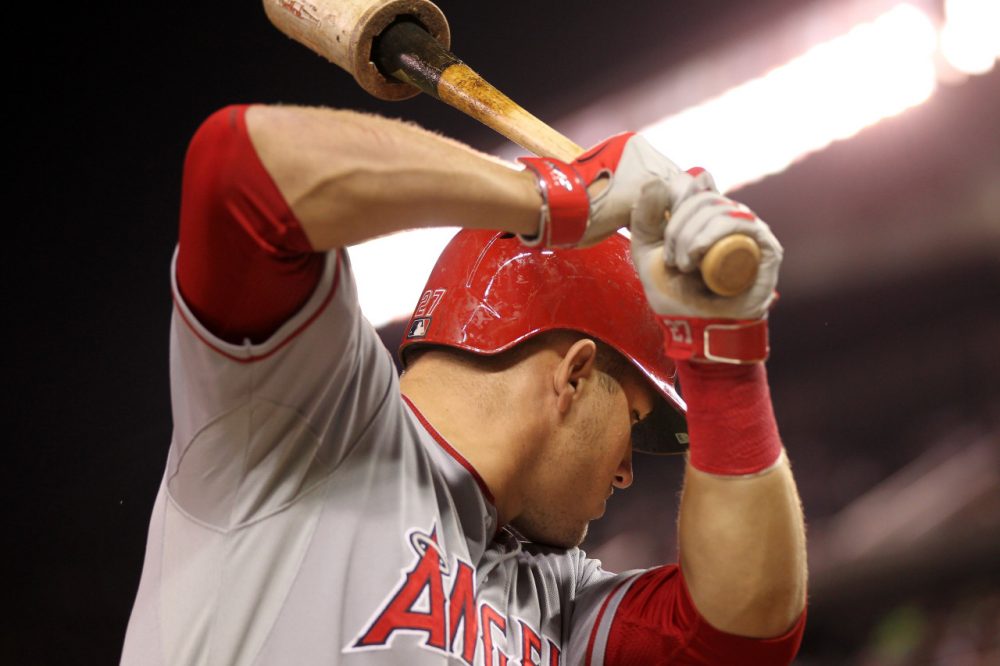 This article is more than 6 years old.
As MLB's regular season comes to a close, we all know that to go deep into the playoffs, teams need to get hot at the right time. And to win it all, veteran players with postseason experience are a must. And of course, pitching and defense win championships. Except it turns out none of those things is necessarily true.
Grantland staff writer Ben Lindbergh wrote about MLB playoff myths this week, and he joined Bill Littlefield.
Littlefield: Ben, as teams are trying to clinch playoff spots late in the season, we hear a lot about teams that are out of contention playing the role of "spoilers." But spoiler alert: you report that spoilers are a myth.
[sidebar title="NYC's Disappointing Year" width="630" align="right"] Neither the Yankees nor Mets are playing this postseason. We take a look at the teams' futures. [/sidebar]
Lindbergh: Right. Well when you think about it, it's kind of a silly idea, right? Because you're saying that certain teams have an ability to, despite being bad teams throughout the year, spoil a good team's season by say, outplaying its true talent. We're saying that the bad team is motivated by the prospect of keeping this other team out of the playoffs but was not itself motivated throughout the year by the idea of doing well itself. And so when you look at the actual numbers, there's no actual ability to outplay one's record or one's true talent just because you have this incentive of keeping another team out of the playoffs.
Littlefield: Let's look at the myth you call, "As Goes the Second Half Or September, So Goes The Postseason." So are you saying that limping into the playoffs isn't such a bad thing?
There's a lot of uncertainty, and that's just something you have to accept going into the playoffs.

Ben Lindbergh, Grantland
Lindbergh: Yes, I am saying that. It's tempting to believe that how a team has done leading up to the playoffs, whether it's over the last week or two weeks or month — or second half of the season, even — would predict how well it does in the playoffs. If you look at teams historically that have come in on a winning streak, everything firing on all cylinders, they're just as likely to suddenly slump as a team that has been cold for a while is to turn it on all of a sudden.
Littlefield: This time of year, we hear a lot about veteran players and teams that have "been there before." Is there any evidence that playoff experience translates to playoff wins?
Lindbergh: There isn't. And this also seems like it should be a compelling idea. It seems sensible — there's more pressure in the playoffs, and, theoretically, if you've been there before and you know what that's like that you should be able to handle it better.
But when you look at the numbers, either on an individual-player level — when you compare guys who do or don't have playoff experience and what happens to their stats in the playoffs — or when you look at a team level — and look at the percentage of team plate appearances, say, that go to players who have been in the playoffs before — there's no effect over and above the team's regular season record that would suggest that having experienced players helps. And even if you look at, say, a player's first plate appearance in the postseason, when theoretically you'd think that he'd be a bundle of nerves, there doesn't seem to be any indication that that's the case.
Littlefield: Playoff teams with two or three top-flight starting pitchers tend to get a lot of buzz. But even you were surprised to find out that having a few aces is not always aces.
[sidebar title="Oakland's Ups And Downs" width="630" align="right"] Oakland had the best record in baseball on Aug. 15. Since then the team has played well under .500. [/sidebar]
Lindbergh: The schedule in the playoffs is a little bit different. You have more off days and therefore you can skip, say, your fifth starter or some of the worst guys in your bullpen and you can give a higher percentage of your innings to good pitchers — the guys you want to be in there all the time.
And theoretically, that should favor the teams with a top-heavy rotation or a top-heavy bullpen, but that also doesn't seem to be the case. There doesn't seem to be any great benefit there and most likely that's because if you are a playoff team with, say, weak pitching, you have to do something else right. So you must be a strong hitting team — this year's Angels, for example, who've clinched a playoff spot already. They don't have much of a strong starting rotation, but they've got the best offense in baseball.
BL: Ben, I need something to cling to during the postseason. Is there a baseball truism that's actually true in October?
Lindbergh: Well, that's where the danger comes in. Because we don't want to believe that this is entirely random — that we've invested six or seven months in rooting for a team, and then suddenly three games later it can all be over. We want to blame that on some flaw in the roster that could have been foreseen and could have been corrected.
All that teams have in their favor is that regular season record helps. So if you are a better team in the regular season, then you would tend to be a better team in the postseason. But even there there's a lot of uncertainty and that's just something you have to accept going into the playoffs. It's an exciting month and also sort of a sadistic one.
More MLB Coverage:
This segment aired on September 27, 2014.