Fenway Park Says Goodbye To Derek Jeter
02:39
Play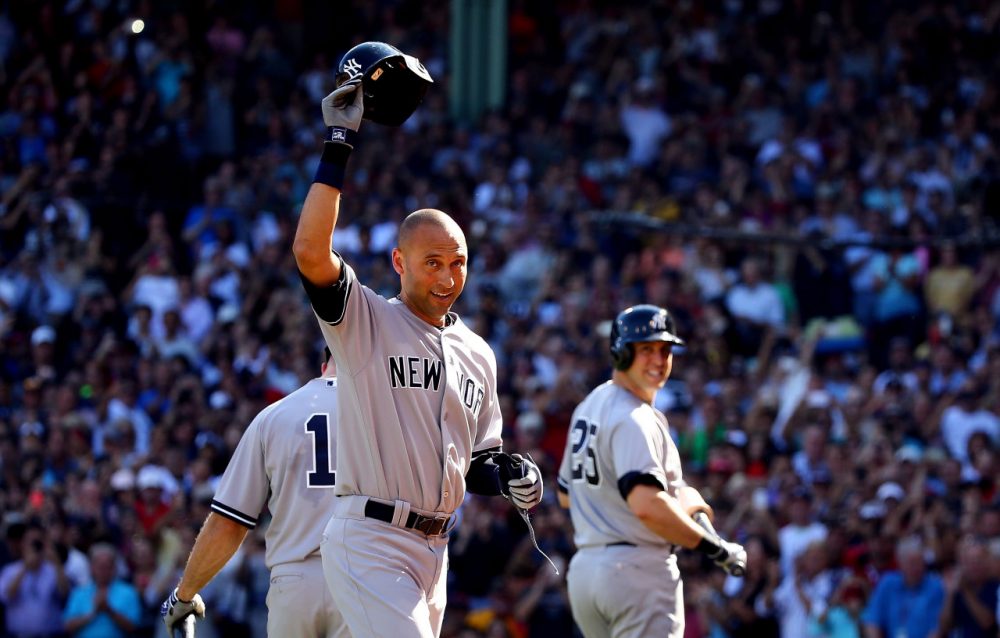 This article is more than 6 years old.
The final game of Derek Jeter's MLB career may have been 200 miles from Yankee Stadium, but the crowd at Fenway Park did its best to make the New York Yankees shortstop feel right at home.
From batting practice to his final plate appearance, Jeter was showered with cheers — and the crowd of nearly 37,000 featured enough pinstripes and navy blue to make Boston feel like the Bronx.
"It's insane," said Judy Johnson — a face painter and balloon artist at Fenway — a few minutes before the game. "There's about a 4-to-1 ratio: Four to New York, and one Red Sox."
In addition to her usual white and red balloons with the Red Sox logo, Johnson was making heart-shaped inflatables with Jeter's No. 2, which she offered to fans as they walked by.
But it was Jeter who came away with the most swag.
In a pre-game ceremony featuring former Sox greats, the Red Sox gave Jeter a piece of the Green Monster, signed by the 2014 team, featuring the word "RE2PECT."
Jeter said the ceremony exceeded his expectations.
"This is a place where, you know, we've been an enemy for a long, long time," Jeter said at a post-game press conference. "And for them to flip the script this last time coming here, it made me feel extremely proud and happy that I was a part of this rivalry."
After the ceremony — once the game started — Jeter still had one last chance to leave his mark on the rivalry.
He lined out to short in his first at-bat, but in the top of the third he came to the plate with a runner on third base.
Jeter slapped a ball down the third-base line and reached first safely.
Yankee Brian McCann came on to pinch run. Jeter trotted across the field, tipped his hat and walked off the diamond for the last time.
"I was just happy," Jeter said, "that I ended my career with a hit."
The Yankees beat the Red Sox, 9-5. It concluded a disappointing season for the defending World Series champs, who finished the season 25 games back of the Baltimore Orioles in the AL East.
This segment aired on September 28, 2014.