Pea Shooting: A Sport For Everyone
06:02
Play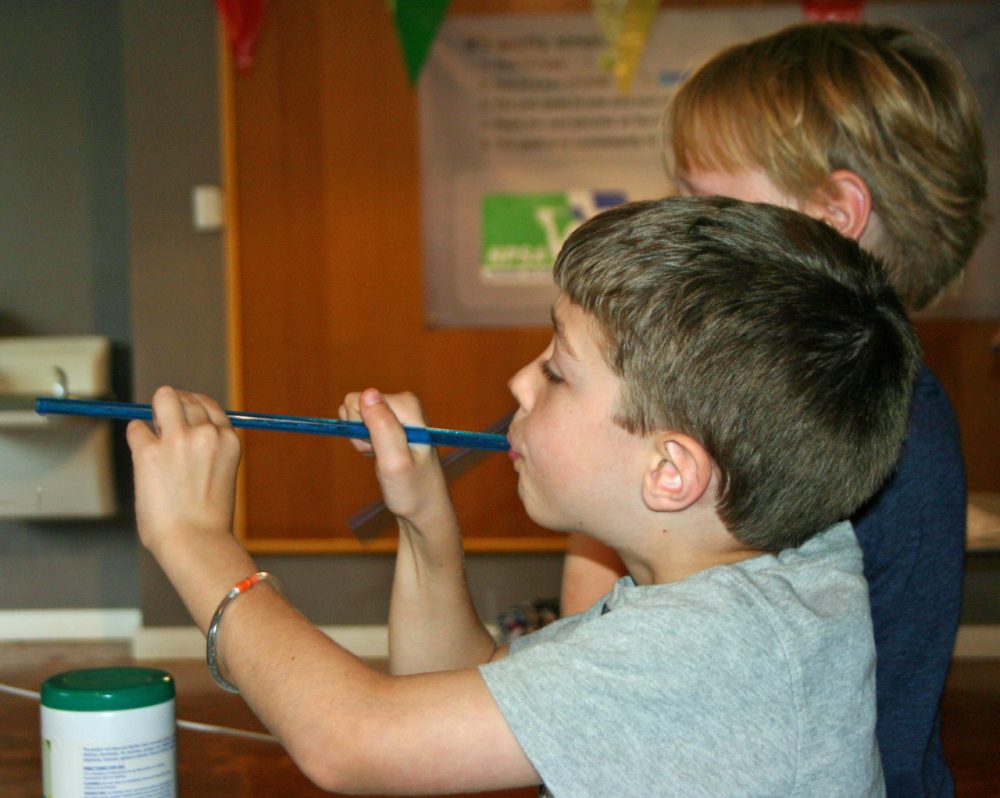 This article is more than 6 years old.
Pea shooting -- the act of blowing dried green peas through a straw or tube — has long been popular in the U.K. In fact, the World Pea Shooting Championships have been held there for the past 44 years. This unique sport has been picking up steam in America, and earlier this month, the first U. S. National Pea Shooting Championship was held in a mall in Roanoke, Va.
Degrees Of Skill, Degrees of Chance
Downtown Roanoke's 16 West Marketplace is not usually the place locals go to learn a new sport. But as the venue for the championship on Oct. 11, it was.
[sidebar title="More Wacky Sports?" width="630" align="right"] From gerbil pageants to demolition derbies, check out Only A Game's complete coverage of wacky sports. [/sidebar]
Children and adults alike lined up to learn pea shooting. James Rosar, from Roanoke, has been shooting peas for decades. He said he probably started out 40 years ago with just a straw, and therein lies the sport's initial appeal -- most people have actually tried it before, perhaps without really knowing it.
"I think that's the important part of this, is that it is very accessible," Rosar said. "I have a lot of happy memories of being driven around in my mother's car where I was the passenger on the passenger side and I'd be able to roll down the window and 'plink' at signs, and Mom was willing to go along with that."
Blowing spitwads is fun, he said, but pea shooting can make for some pretty serious competition. He takes his shots using a 12-inch brass tube purchased during his youth that he rigged with a homemade sight.
"I have a clear plastic item that I'm using here as a sight," Rosar said. "It's about, I guess, three inches wide by about 10 inches tall, and I just put — you know, like one goes to the optician to find out how wide your pupils are apart — they put little dots of marker on your lenses — and I'm doing much the same thing: I'm putting dots where I'm looking through it when I'm actually sighted in on the target."
But he cautioned that a highly calibrated shooter can only take one so far. The ammunition consists of irregularly-shaped whole-dried peas.
"It has a degree of coordination," Rosar said. "And not only is it something that you can exert a lot of control over, but it's not entirely deterministic. There's a level at which it's just random peas that have uncertain shapes and sizes. So there's not only a degree of skill but also a degree of chance."
How It Works
Rain forced competitors inside to an upstairs mezzanine that's used as a food court. Stairs on both sides of the room allowed a constant stream of people to stop by for a look — or to try their hand at the sport. Shoppers walked by; some pointed, laughed and continued on, while others stopped and watched for a while. Peas were flying everywhere. The area was roped off so no one was pelted with stray legumes.
Contestants shot at a 12-by-12-inch target made of wood. Dough made of flour and vegetable oil was applied to the target with a trowel, and concentric circles were scored into the surface. The targets hung at a distance of 15 feet for adults and 10 feet for children.
In the qualifying rounds, the shooter was required to get 30 percent of their peas within the large 10-inch circle. As the rounds progressed, the targets narrowed to five inches and then down to two inches.
It is a sport that you can gain some skill in a very short period of time. And that's what we like about it.

Dan Wensley, championship organizer
Mike Burbridge, from Vinton, Va., attended the championship with his daughter, and both tried their hand at shooting. Burbridge's strategy was to cram all the peas in his mouth and shoot them one by one.
"I've never done this before, so I'm just trying whatever I think works," said Burbridge, who confessed to being a class clown as a youngster. "Oh, yeah, spitwads, the whole gamut of childhood missiles."
The Burbridges advanced as far as the quarterfinals before being eliminated.
Like Burbridge and his daughter, most of the newcomers used $3 blue plastic pea shooters, which look like heavy drinking straws. Using a laser sight, 65-year-old Ron Sachs from Roanoke got 16 peas inside the five-inch target within the allotted 60 seconds during the semifinals.
"It's a collimated light," Sachs explained. "It just goes straight out and the line of the pea follows it pretty much. I don't know, it's a sight. It's sort of a rough insight, and then I turn it off and just shoot by natural instincts. I'm trying to."
His strategy going into the finals?
"Try to remain calm, but I'm not."
The Pea Shooting Finals
By the final round, the crowd and number of competitors had dwindled. Bystanders cheered on their favorite contestants. A thrilling three-way, triple-overtime shootout determined the winner of the 5-to-11 age group. Nine-year-old Jackson Wills, who had shot his first pea that morning, came out on top.
"In the timed ones, I'd just pick up one, put it in my mouth, shoot, pick up one, put it in my mouth,"  Wills explained. "In the not timed ones, I'd pick one up, try and take my time, but sometimes I'd just get really nervous and start blowing really fast."
In the adult category, Rosar triumphed by placing five of his 25 peas inside the two-inch circle.
"I never shot with such jitters before," he said. "I was very excited."
Event co-producer Dan Wensley hopes that excitement continues beyond the community in the next year. Organizers plan to branch out with regional competitions throughout the year before holding the nationals again next fall in Roanoke. Targets will be digitized for accuracy and to determine the speed of the pea.
"The two kids that won today were shooting dried peas into a two-inch circle from 10 feet away, and they hadn't shot peas before today," Wensley said. "It is a sport that you can gain some skill in a very short period of time. And that's what we like about it; it's just fun."
More:
This segment aired on October 18, 2014.