For Five Decades, Jim Boeheim Has Been 'Bleeding Orange'
14:31
Play
This article is more than 6 years old.
Coaches are hired to be fired — except for Jim Boeheim. He's been the head basketball coach at Syracuse since 1976. Before that he was an assistant coach there. Before that he played for Syracuse.
With Jack McCallum, Boeheim has written Bleeding Orange: Fifty Years of Blind Referees, Screaming Fans, Beasts of the East, and Syracuse Basketball. He spoke with Bill Littlefield about his coaching career, recruiting, NCAA investigations and meeting his boyhood hero.
---
Highlights from Bill's interview with Basketball Hall of Famer Jim Boeheim
BL: You start Bleeding Orange by writing that fear is with you most of the time...that, in fact, "I have a fear of failing every day." How do you make that work to your advantage?
JB: Well, I think you can have that fear as long as it doesn't hold you back or cripple you. I came here as a walk-on [in 1962]. I was worried that I couldn't make the team. I believed I could, but I worried about it. When I got the head coaching job, I was worried about lasting out a year or two, but you know, you use that to drive yourself, to push yourself. I don't think it's a bad thing.
BL: You contend that you enjoy recruiting. When the very best players you and other coaches recruit are likely to go to the NBA after as little as one college season, as Carmelo Anthony did after the Orange won the national championship in 2003, I would think that recruiting today would be very frustrating.
JB: It's more of a "really plan what's ahead." And when we recruited Carmelo, we thought he could be a one-and-done player. So, we made sure we had some other guys here — Gerry McNamara, Hakim Warrick — good players, who were not McDonald's All-Americans, but they were good players. So when that one-and-done guy leaves, you can still be good.
BL: You've sent lots of players to the NBA, made four Final Four appearances, but in the chapter titled "The Twilight Zone," you talk about how, in 2009, an upset loss to Le Moyne College – a Division II program also there in Syracuse, became a positive turning point for the team. Tell us a little bit about how that can happen.
JB: [Laughing] There's no question. We played both man-to-man and zone [defense] and we just really thoroughly got outplayed the whole game. After that game, we decided we're gonna stick with our [2-3] zone. We went right down and beat North Carolina two weeks later, and Roy Williams was quoted as saying, "That Le Moyne must be some team." It did change what we were doing, and we've really, I think, used that to have some of best seasons the last few years because of that one game. It was a lesson not only for that year, but for a few years.
JB: Oh, it's definitely going to change. There's no question. There's already a strong move afoot to pay college athletes the full cost of attendance, which can be between $2,000 and $5,000, plus their full scholarship, plus help with their healthcare costs going forward. I think those things are all good.
As far as paying athletes, who do you pay? Just basketball or do you pay football? If you pay men's basketball, do you pay women's basketball? I think the best solution is to improve the benefits, but not to pay [the players].
BL: You're aware, I'm sure, of the recent stories about an academic department at the University of North Carolina that enabled basketball players, among many others, to acquire academic credits without attending classes. Were you surprised with that story? 
JB: Yeah, I certainly was. I know North Carolina. I know it's a good school. I don't know how that happens. We've had issues in our investigation about some extra help from tutors. You watch that and you try to be aware of it, but it does happen. But when you start talking about getting grades for not doing anything... and I think, unfortunately some people think that happens a lot. I don't think it does, and I believe North Carolina will correct this.
BL: There's a section in the book about your former assistant coach Bernie Fine, who two former Syracuse ballboys accused of abusing them when they were children. Fine was not prosecuted. Last month, New York's highest court ruled a libel suit filed by those men against you could move forward. What led you to speak out in support of Bernie Fine when the allegations first came out?
JB: I knew nothing about what had happened or didn't happen between Coach Fine and two young kids. I still don't. What I was reacting to was knowing somebody for 46 years as friend and we traveled together 150 days a year. I was loyal. I still am loyal to this day. Nothing [about Fine] has been proven differently.
And I wasn't speaking out against victims in general. I just felt in this case it just was not true, in my opinion. Two courts, an appeals court and a judge, ruled that I'm entitled to my opinion. The last court ruled that another court is going to take a longer look at this.
Again, this is an issue that probably will never be resolved, and I know Coach Fine. I believe in him. He ran our basketball camp for 36 years. We have 1,200 kids at that camp every year. We never had a complaint, never had an issue. From experts in that field [of child abuse], that's highly unusual.
BL: I want to get back to something else that really surprised me in Bleeding Orange. You write that the best perk to come your way was the opportunity to meet Hank Aaron. Tell us how that encounter went.
JB: Well I grew up loving the Braves and Hank Aaron. You have idols, we all do — he was my idol. As I got to know his career and all that he stood for, how he played, his whole persona, you had the utmost, highest regard for him here. I don't know if we have a better role model for us as coaches and players. Sometimes you shouldn't hold a player to being your role model — it should be your parents, your teachers, people like that — but it's nice when you have a Henry Aaron.
And when I first got to meet him, I was just ... the ultimate starstruck. I think I met him just after we won — or I think it was earlier; we just lost in the national championship — and he congratulated me on being a great coach. And that was just the best thing, I think, ever, in my life.
BL: Finally, coach, I have to congratulate you and Jack McCallum on the symmetry of Bleeding Orange. It begins with the discussion of your fear of failure, and then it ends with you saying of the upcoming season, "Right now I'm not sure we can win a game." Gee, coach, does it really look that bleak?
JB: I think that's a slight exaggeration. [Laughs] I think we are going to win a game. But it's exaggeration to prove a point. That we're still worried. We still think about it. It's something that is so very important that we're going to give it our undivided attention. And that's really the key for anybody in life. If you're going to do something, you need to start out like we do: "We're 0-0. Let's make sure we get this year right. Don't think about what we did last year or yesterday, because it's not going to help this year." And be a little nervous about it, be a little apprehensive. But respect it.
---
Bill's Thoughts On Bleeding Orange
Bleeding Orange provides a mostly chatty tour of the world of college basketball in general and Jim Boeheim's program at Syracuse in particular.
Of the Big East Conference, Boeheim writes: "Somebody once said that if a popularity poll had been taken among the Big East coaches of the 1980s, we would all finish last."
[sidebar title="An Excerpt From 'Bleeding Orange'" width="630" align="right"]Read an excerpt from Jim Boeheim's new biography Bleeding Orange.[/sidebar]Remembering the highlights of his team's first season in the ACC, he writes: "We won a highlight game against Duke that people will be talking about for years. (We also lost a highlight game against Duke that people will be talking about for years.)"
Like virtually all of the men who coach at Division I schools where men's basketball matters a great deal, Boeheim has lost a lot of players to the NBA. Like almost all of his colleagues, he thinks a lot of those players would have been better off if they'd played at least one more season of college basketball, though he doesn't bend that conviction into the assertion that college basketball was better in the old days.
My own favorite moment in the book comes 276 pages in when Boeheim mentions that his 900th win came just three days after 20 children and six adults died at the Sandy Hook Elementary School. He felt uncomfortable celebrating "when all this was going on." At a post-game press conference, he spoke out powerfully for a ban on assault weapons, concluding his remarks with the assertion that "if we can't get this thing done, I don't know what kind of country we have."
This segment aired on November 8, 2014.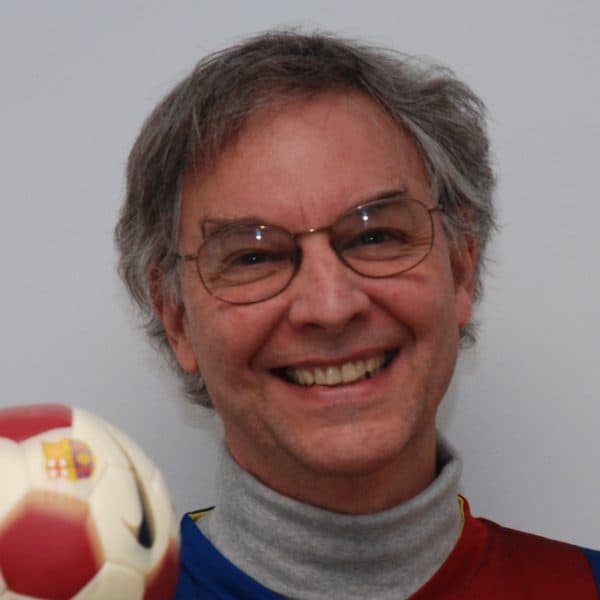 Bill Littlefield Host, Only A Game
Bill Littlefield was the host of Only A Game from 1993 until 2018.