9-73: The 1972-73 Sixers Were 'Perfectly Awful'
Resume
Perhaps the most surprising statistic from the Philadelphia 76ers' 1972-73 season comes from one six-day stretch in February, during which the Sixers won three times. Because over the months before that stretch and the months that followed, Philadelphia won only six games. Those Sixers weren't bad. They were awful, which accounts for the title of Charley Rosen's newest book, "Perfectly Awful: The Philadelphia 76ers' Horrendous and Hilarious 1972-1973 Season."
Charley Rosen joined Bill Littlefield this week to discuss his new book.
---
Highlights from Bill's interview with Charley Rosen
BL: You write that by Nov. 1, after the Sixers had begun the season 0-10, the team was "gripped with an abiding sense of gloom." Did everybody involved with that team understand that early just how awful the season was going to be?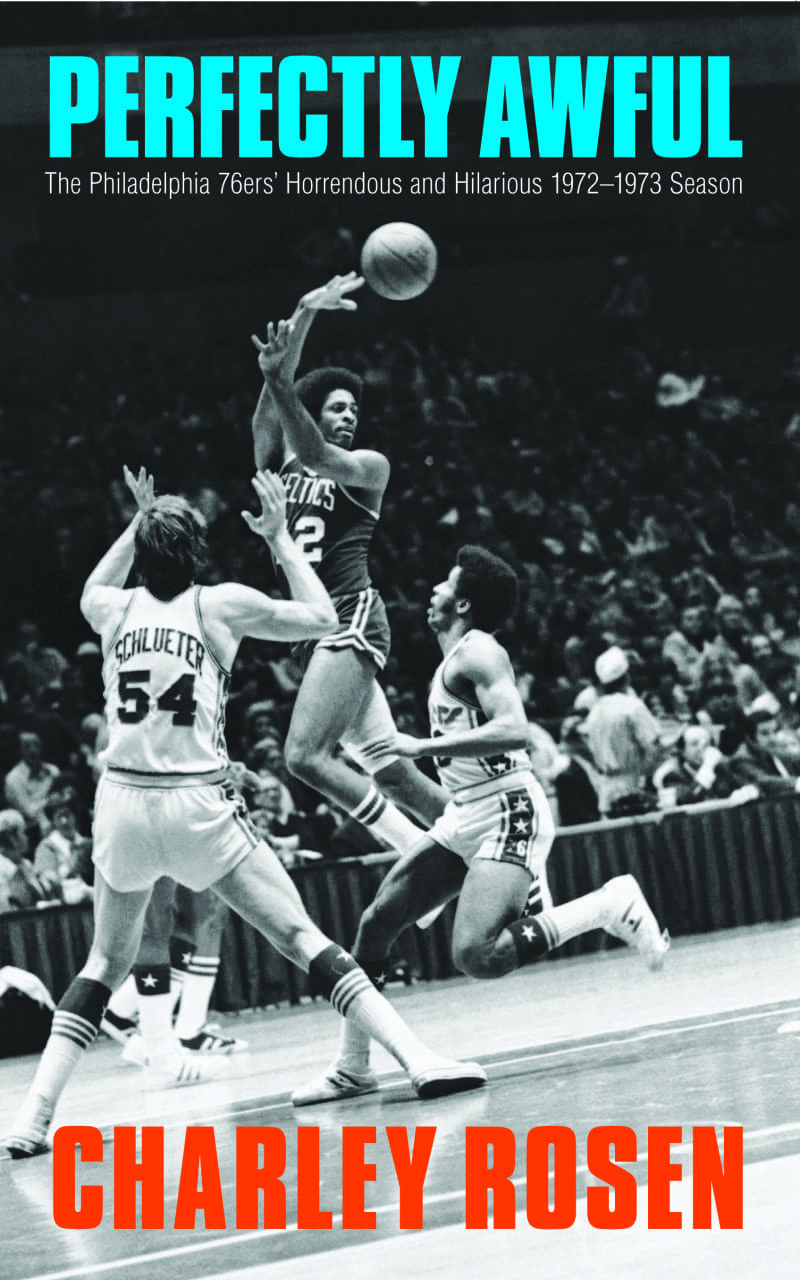 CR: They understood that the first time they met their coach, Roy Rubin, before practice started in training camp, where he went through a whole spiel about what a disciplinarian he was: there was a dress code — no exceptions. He went down the whole list. And then he said, "No smoking in the locker room. No exceptions."
And one of the players, Freddie Carter, who was a veteran, raised his hand and said, "Coach, I gotta smoke. I've been in this league for so many years and it's the only way I can calm down. I have to smoke during halftime." And Rubin said, "Well, OK, you can smoke and nobody else." And the guys looked at each other and said, "Uh-oh. This is going to be a long season."
BL: Because it is perhaps illustrative of the weirdness of the '72-'73 season in Philadelphia, I want you to tell the story of the night Coach Rubin tried to substitute John Q. Trapp out of a game ... and then very quickly changed his mind.
CR: Well John Q. was a strange character. He was a scary guy. One of the writers said he had won a bronze medal in Vietnam, and he was more afraid of Trapp than he was when he was in Vietnam. So Trapp is from Detroit, and they're playing in Detroit, and all his boys are there sitting behind the bench. During a timeout Rubin says, "OK, have a seat. Dave Sorenson, you go in for Trapp." And Trapp says, "No." And Rubin says, "No? What do you mean?" So Trapp turns around, looks behind him, one of his guys stands up, opens up his coat, and shows a gun. And Rubin says, "Oh, OK. Stay in the game."
BL: Eventually and unsurprisingly, Roy Rubin was fired. At the end of January Kevin Loughery became the player/coach. He said, "If we're going to lose, I'd rather lose with good guys." What bad guys got cut and did any of the good guy replacements help very much? 
CR: Well they were on the team bus, heading to the airport, and he told the team he had just cut John Trapp, and they all applauded. So, that was one bad guy he got rid of. They got Tom Van Arsdale in a trade, who really, really helped them — at least kept them competitive.
[sidebar title="Tanking To The Top?" width="630" align="right"] The current 76ers are in their second year of "rebuilding." [/sidebar]But I guess Carter was the favorite. Although the fans kept on demanding that Hal Greer get into the game. He was in his last year, and he really didn't play, and there was a whole hassle about whether he was going to be an assistant coach or not.
But I think the funniest line was when Loughery had his press conference in Chicago at the All-Star game [after] taking over the team. They were 4-47. And some reporter asked him, "What will it take for your team to make the playoffs?" And Loughery said, "Three airplane crashes."
BL: The current Philadelphia team — I hate to say it; and maybe it's too early to say it — but they seem to be channeling the '72-73 Sixers. They have opened the season 0-10. Do you think whatever old-timers remain are rooting for this current team to be better — or I should say worse — than they were 41 years ago?
CR: Strangely, most of the guys I spoke to — and Roy Rubin had said this before he passed away about a year-and-a-half ago — that they didn't want their record to be broken. They wanted to be the worst team of all time. It was something that defined them, that made people talk about them. As I'm sure is happening in Philadelphia now — I'm sure they're talking about that team.
---
Bill's Thoughts On 'Perfectly Awful'
The 1972-73 Philadelphia 76ers began their season by losing 21 of 23 games. Over the course of that season, they won only nine times. Forty-two years after the fact, Charley Rosen is still amazed by that, and he has written an entertaining account of the rolling disaster of that basketball season in Philadelphia.
[sidebar title="An Excerpt From 'Perfectly Awful'" width="630" align="right"] Read an excerpt from Charley Rosen's "Perfectly Awful."[/sidebar]
Whether those 76ers were the worst team ever to take the floor in an NBA team is open to debate. The 2011-12 Charlotte Bobcats went 7-59 in a shortened season. The '72-'73 Sixers might have beaten those Bobcats in a best-four-of-seven series. But Rosen maintains that there's no disputing that Roy Rubin, the man charged with leading the 76ers for much of that gruesome season, was "the worst coach in NBA history."
Rosen replays the dismal season, game by game. One of the more extraordinary entries follows the game against the New York Knicks on Dec. 9, 1972. The 120-97 loss brought Philadelphia's record to 3-27, and the game featured more than the normal amount of pushing, shoving, and elbowing. Of that night, Rosen writes, "the physical belligerency ... was a warning sign that the Sixers were losing their composure." After I read that line, I put the book down for several moments and wondered how a team that had been losing about nine times as often as it won had ever acquired any composure to lose.
This segment aired on November 22, 2014.