For The Toronto Raptors, Patience Pays Off
Resume
From 2010 to 2013, the Toronto Raptors finished at or near to the bottom of the NBA's Atlantic Division. But last year, the team won the division — and, if their strong start is any indication, they may do it again this season.
The Toronto Star's Doug Smith, who has been covering the franchise since its inception, joined Bill Littlefield to discuss the team's turnaround.
BL: NBA teams typically change their fortune either by signing superstar free agents or tanking and then rebuilding through the draft. Can the Raptors turnaround be explained that simply?
[sidebar title="Worst Team In NBA History" width="630" align="right"]The Philadelphia 76ers have gotten off to an 0-11 start. They have a long way to go, though, before they're as bad as the 1972-73 Sixers.[/sidebar]DS: I wish it could, because it would make it way easier for me to write about them. The turnaround was just internal growth. They haven't added a superstar. DeMar DeRozan has emerged as an All-Star player but certainly not top 10 in the NBA. They did it the old-fashioned way.
They built through themselves. They got young kids and let them grow together. They were patient and they had fans that stayed patient with them.
BL: Toronto is, of course, home to the NHL's much-loved Maple Leafs. How are Torontonians dividing their attention between the two teams now that the Raptors are good?
DS: The Leafs are horrible and basketball's almost taking over. It's amazing to see the dynamic up here now because there aren't a lot of people who sit around on Saturday nights with their dad watching the Maple Leafs on TV anymore. The Raptors, they're drawing 19,800 people a night pretty much this season.
Bill, if you remember last year in the playoffs against Brooklyn, they would have upwards of 10,000 people outside the arena watching on big-screen televisions during the games. The city loves a winner and this basketball team since the middle of last year has been consistently winning.
BL: Point guard Kyle Lowry has been in the NBA for 10 seasons, but it wasn't until he came to Toronto three years ago that he started putting up big numbers. As a Raptor, he's averaging 15 points and 7 assists per game. Is this a matter of Lowry getting better after seven years or the Raptors being a better fit?

DS: I think it's mostly maturation on his part. He was a very young, impetuous, moody kinda young fella when he got here and they calmed him down. You know, I think he likes being the leader of a team; he's the undisputed leader on the floor with the Raptors and that plays into his personality.
And the coach, Dwayne Casey, sort of gave him his head: "Go and do what you do best." And he's done it well. The opinion around the NBA last year was he should have been an All-Star last season and it certainly looks like he may be again this year.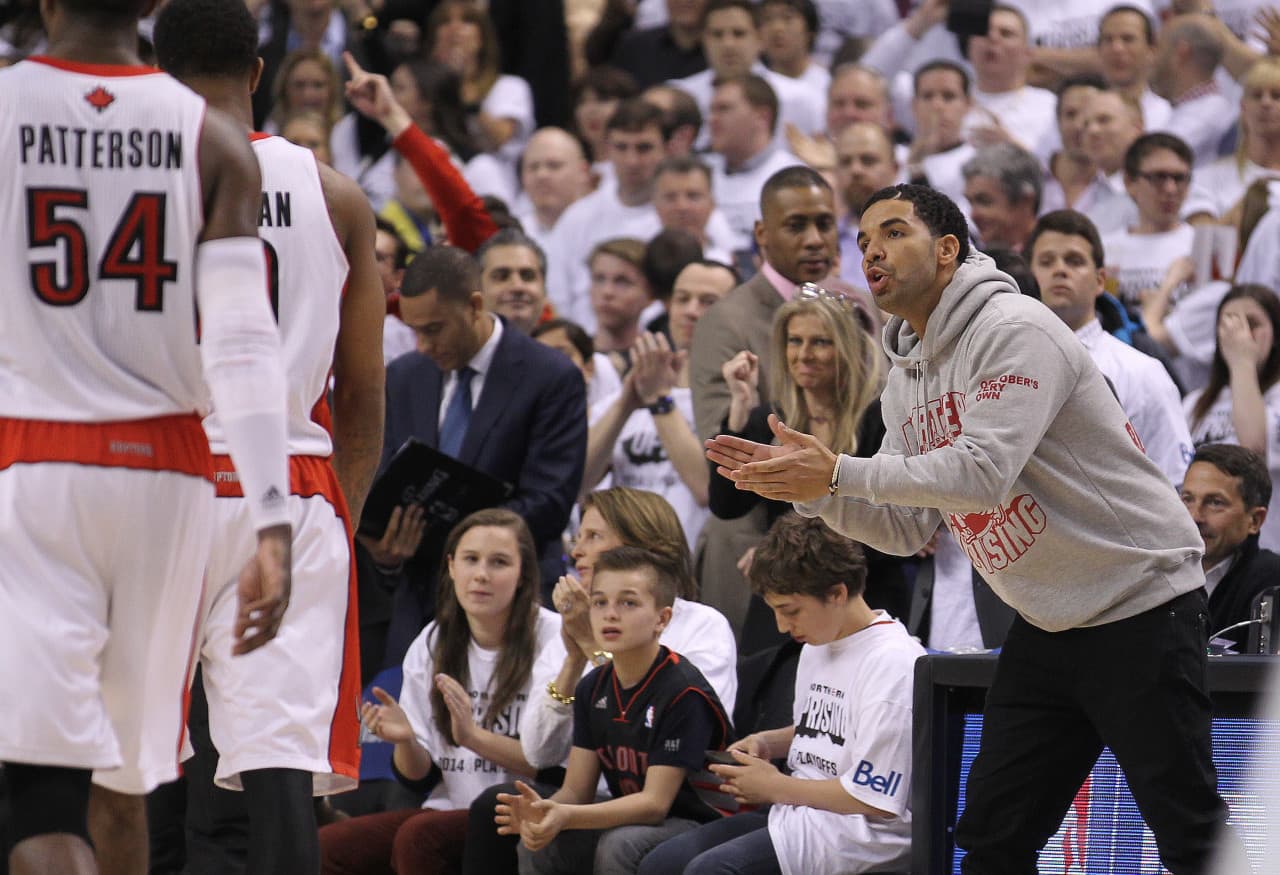 BL: In 2013, Grammy-award winning rapper Drake, who's a native of Toronto, became the team's "global ambassador." Aside from his sitting courtside during games sometime, what does that mean?
DS: It means he sits at courtside during games and handshakes the players when they go on the floor. That's pretty much it. He does give them a cachet. The young kids know him. He doesn't do anything, really. But he's around the team to help out and give it a profile with young fans — and, frankly, with other NBA players. If he's out there meeting with guys who are going to be free agents and being their friend, it certainly doesn't hurt the franchise.
BL: The Raptors have more than a few international players on their roster. Being the lone NBA team outside the U.S., is that something the franchise embraces?
DS: It is. Toronto is such a diverse city that the players who come from Europe or Asia or South America, they fit better in this city than I think they would in a lot of American cities. There's a large population of Lithuanians for instance that help out Jonas Valanciunas and his acclimation in North America. Greivis Vasquez is from Venezuela and there's a big group here to support him. It makes it easier for players to make that transition from Europe or South America to the North American lifestyle.
BL: Last year the Raptors were eliminated in the first round of the playoffs. I know it's still very early but is this Raptors team built to go beyond that first round?
DS: It is. It's more grown up. They know what it takes now to play in the playoffs. There was a lot of deer-in-the-headlight time  last year in the first round of that playoff series that won't be there this year.  You know they're a year older, a year more experienced. And frankly the East probably isn't as good as it was, so this team is built to go at least one round and maybe as far as the Conference Finals this year.
More NBA Coverage On OAG: 
This segment aired on November 22, 2014.