Bellarmine University Basketball's Most Faithful Fan
Resume
On Nov. 23, a rainy Sunday in Louisville, Ky., hundreds of Bellarmine University fans collapsed umbrellas and handed over their tickets at the first home game of the season for the men's basketball team. Inside Knights Hall, the crimson and grey-clad Bellarmine Knights completed drills in their warm-ups while cheerleaders rehearsed in a huddle.
Charli Knauer, a cheerleader with long, blonde hair tied up in a white bow, looked around Knights Hall and easily picked out one of the most familiar faces: a woman at the scorer's table, where the stats crew sits.
"Oh with the short gray hair?" Knauer asked. "Is that who you're talking about? On the end? She's just been here for like every game. She's awesome."
45 Years And Still Going Strong
She is Kaelin Rybak, a petite 62-year-old.  On this day, just like every game day, she wore a Knights polo shirt over a turtleneck.  This season marks Rybak's 45th year on the stats crew for Bellarmine's men's and women's basketball teams. She said in that time the game has gotten more physical -- and that women's ponytails now seem to hang longer, hiding players' numbers.
Men's basketball coach Scott Davenport said Rybak accepts this volunteer role as if having made a vow.
"If I can see their front, it's fine. But if I'm looking at their backs I can't tell; I can't read the numbers as easily. They should all have to wear short hair, that's all," she said, laughing. "Don't have too much of that with the men at least, thank goodness."
That's classic Kaelin Rybak. Practical. When asked why she likes basketball? It's indoors. Not too hot. Not too cold. Why not cheer from the stands? She sings at church. Doesn't want to lose her voice. Why stats? She just likes numbers. With the game about to begin, Rybak stood and clapped.
"This is when the adrenaline starts," she said.
She sat back down and put on a headset.  At center court, the whistle blew and Bellarmine gained first possession.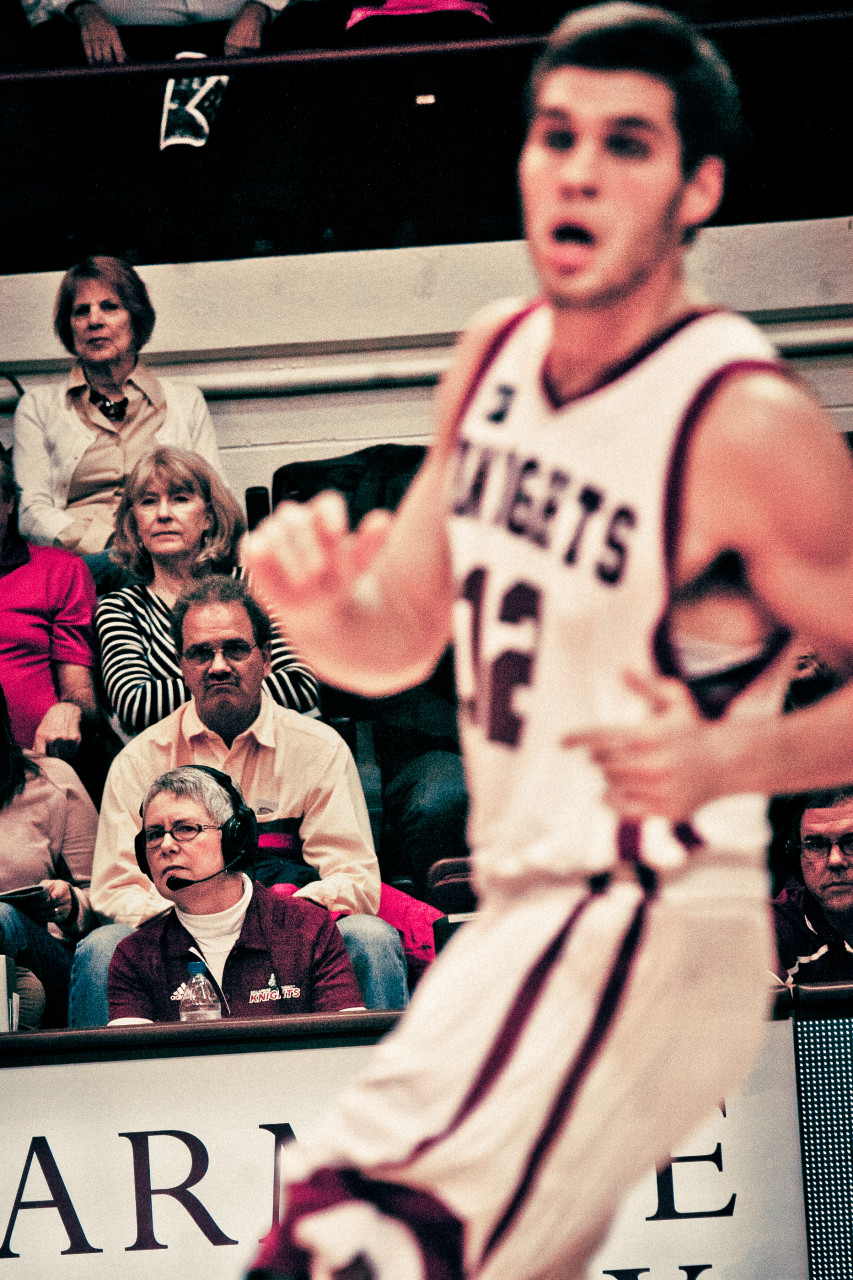 Rybak's blue eyes stayed glued to the ball, her head swiveling up and down the court, only stopping to sip water during timeouts. Back when she started on the stats crew as a Bellarmine freshman she used a typewriter to record stats. Now she calls out each basket, rebound and free throw along with the player's number. A student next to her types it all into a laptop.
"Y, who is it? ... 24, rebound 31, Y 33," Rybak dictated. ("Y" is an attempted three-point shot.)
Rybak often keeps stats for the visiting team, but her loyalties lie with Bellarmine.
A 1,200 Game Connection
Come basketball season, she clears her schedule. No vacations. In 45 years, she's worked some 1,200 games. She's missed two -- a double header four or five years ago when she had a 102 degree fever. Men's basketball coach Scott Davenport said Rybak accepts this volunteer role as if having made a vow.
"I think people that are passionate find voids in their life filled by something that they really, really take a love for," Davenport said. "I think she has unconditional love for Bellarmine and everything Bellarmine stands for."
Rybak was never able to play sports. She was born without ankles. As a child, you could have wrung her ankles like a rag, she said. Casts helped her bones form. But she's always walked with a heavy limp. On the stats crew, Rybak is able to connect to the team, sort of like a parent watching from the sidelines.
When a compact point guard, Chris Whitehead, struggled with his free throws, Rybak grimaced, talking into her headset to others on the stats crew.
"Well, a true point guard isn't necessarily a shooter," she said.
"That's true," conceded a fellow stats worker.
"But ... ," she trailed off.
Visiting University of Findlay seemed to take advantage of Whitehead's off day.
"Foul on zero-three. They'll foul him all day long," she said with a frustrated chuckle. She was afraid Whitehead might be losing confidence. When he finally sunk two free throws, she broke into a cheer.
'A Staple On That Scorer's Table'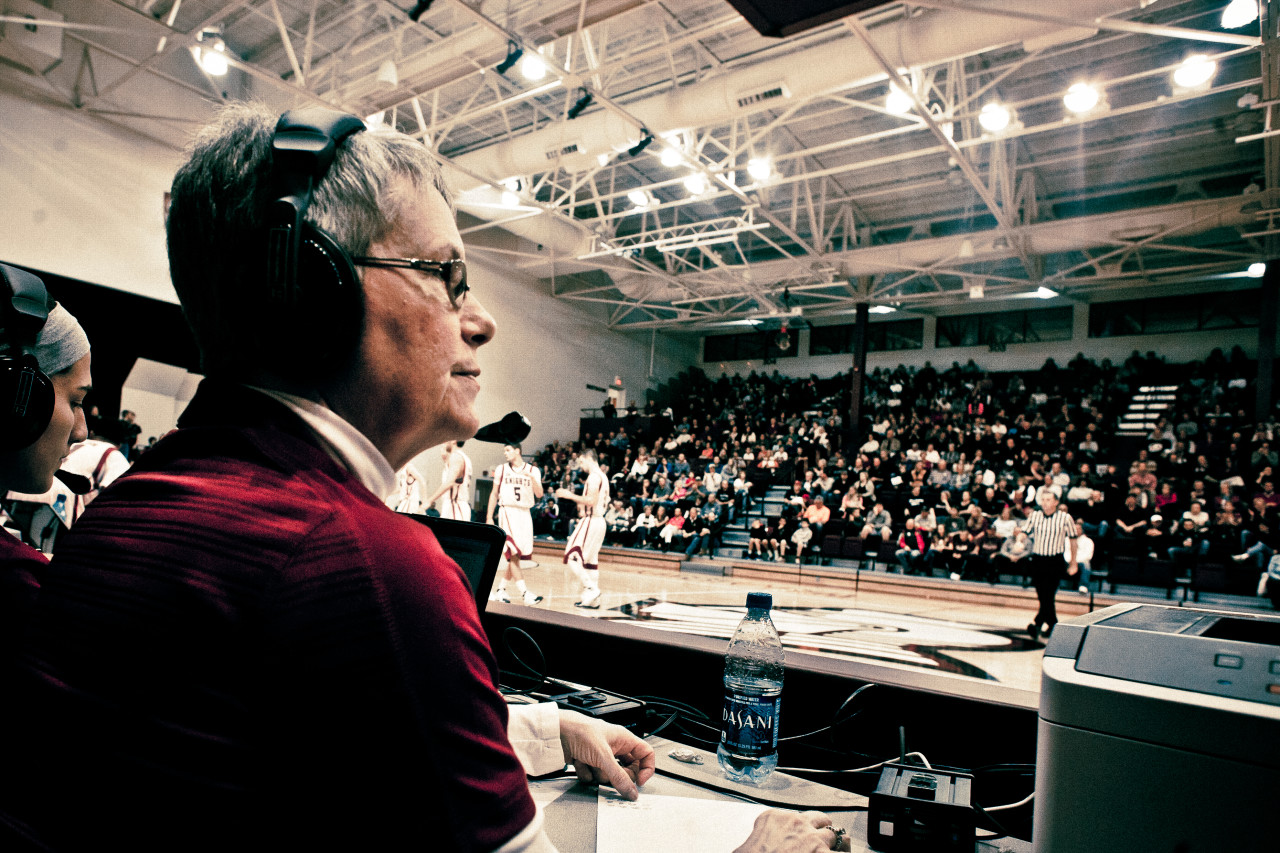 Rybak's personally invested in this team. She and her husband didn't have children. She's grown close to several players. She attends their graduations and gets invitations to their weddings. She celebrates their successes, like when the men's team won the 2011 Division II National Championship. But she's quick to point out Bellarmine's athletes place academics first.
"In some places, they might as well be a farm system of the professional leagues," she said. "But these kids are going to graduate. They're going to be successful in whatever their career field is. They'll be doctors. They'll be lawyers. They'll be teachers."
[sidebar title="Max Lenox's Unlikely Story" width="630" align="right"] Bill Littlefield spoke with Sports Illustrated's S.L. Price, who profiled the Army basketball captain, and to the two men who adopted Lenox. [/sidebar]
Rybak applauds that work ethic. Players appreciate hers. Morgan Clemons is a senior on Bellarmine's women's team and a second-generation Bellarmine basketball player. Rybak took stats for Clemons' mom and dad when they played in the late 1980s. Clemons said if Rybak wasn't in her seat on game day, her team would feel a bit lost.
"We're all just so used to Kaelin being there and being such a staple on that scorer's table, and so it would be weird, and we'd all be very concerned," Clemons said. "And it wouldn't be normal."
On this rainy Sunday, Bellarmine defeated Findlay 63-54. At the end of every game, Rybak's husband, Bill, walked down from the stands to join his wife. He's not sure if she'll ever sit next to him for a game.
"She told me a number of years ago she was going to retire after 40, and, as long as Bellarmine keeps playing basketball the way they're playing, she enjoys it down here more," he said. "She's afraid she'll lose her voice up in the stands."
Rybak noded with a sly grin.
"Amen," she said.
More College Basketball Stories from Only A Game
This segment aired on December 6, 2014.