For College Football, It's Finally Playoff Time
Resume
For the first time in college football history, we can finally say it's playoff time. In the inaugural four-team College Football Playoff, No. 2 Oregon will play No. 3 Florida State, and No. 1 Alabama will play No. 4 Ohio State.
Grantland's Matt Hinton has written about the semifinal matchups, slated for New Year's Day, as well as the 38 bowl games. He joined Bill Littlefield to discuss the postseason.
BL: Matt, for listeners who haven't been following the change, briefly describe the system used for selecting those four teams.
All four teams really look like they have a chance to win it.

Matt Hinton, Grantland
MH: As opposed to the past, which has used a combination of traditional, human polls and computer polls to determine the No. 1 and No. 2 teams — that was the BCS. They scrapped that entirely. This year they've implemented a 12-person selection committee. And as of this past weekend they've put out their final rankings and the top four teams will then play in a playoff to determine the champion.
BL: As we have noted many, many times on Only A Game, the old BCS system — with its mathematical formula — was widely disliked, but I have to think that the new playoff format isn't especially popular in Texas right now.
MH: Not on the I-35 corridor, specifically because the two Texas teams that were in the running — TCU and Baylor -- were left out of the top four. But I feel like the playoffs has been a wild success. I think it has driven a lot of interest in the regular season, and I think people are really going to enjoy these matchups.
BL: You suggest Ohio State may have earned that final spot thanks to its 59-0 win over Wisconsin in the Big Ten Championship. The Buckeyes won that game with their third string quarterback Cardale Jones. He was replacing starter Braxton Miller and backup J.T. Barrett, both of whom are out for the season with injuries. I've heard of depth on a college football team but this is ridiculous.
MH: Yeah, it's really kind of stunning. Cardale Jones had a better game in the Big Ten championship than Miller or Barrett has had in their careers. Just a spectacular performance. I think the surrounding talent has a lot to do with that. I think the coaches have a lot to do with that. Still, going into Alabama with a quarterback making his second start is still a very tall order.
BL: Of the four playoff teams, defending-champion Florida State is the only one that's undefeated. So two questions: Why aren't the Seminoles the top seed? And can they stop the high-scoring offense of Oregon?
MH: Florida State came into the season overwhelmingly No. 1. They were a dominant team last year — didn't lose; won the national championship. So Florida State was expected to keep rolling and as far as the record goes they have. But this team has not played up to its potential at all. They've consistently struggled. They've had to come from behind. They've been pretty uninspiring. That said, with the potential and the talent they have on that team — and with Jameis Winston at quarterback — if they can put that together over a full game for a change they can easily beat anybody in the field.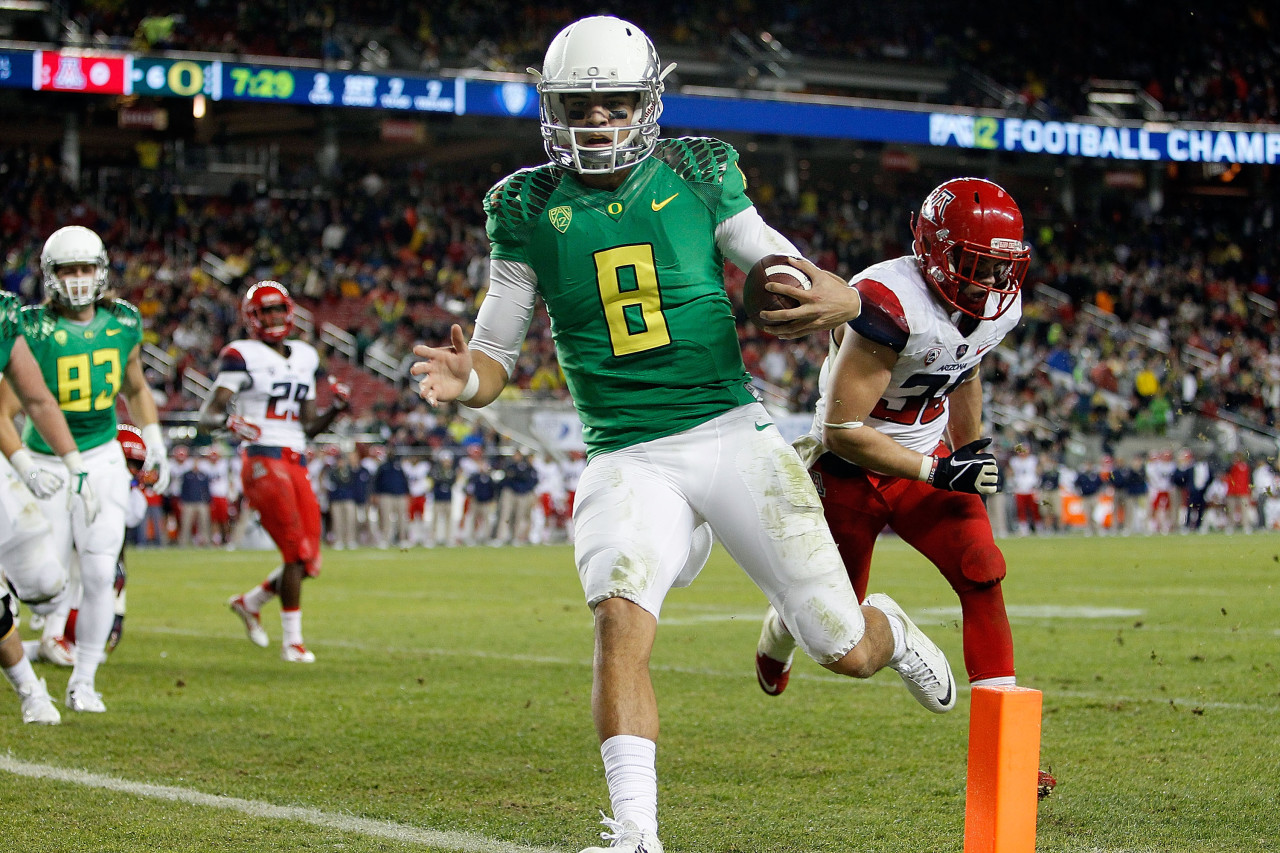 BL: A record 38 Bowl Games will be played this year. You've labeled the Peach Bowl as the "Most Playoff-y Matchup That's Not a Playoff Matchup." But are any of the 38 bowls actually a consolation for a team that didn't make it to the playoffs?
MH: I don't know that I would say it's a consolation because the playoffs was such an all-encompassing goal. So for the teams that were in the running and really had a shot to make that final four, I think all of them are disappointed that they're not going.
BL: Matt, I've got one last question. You can probably guess what it is. Actually, it's a two-part question: Who advances to the championship game? And then who wins?
MH: Alabama over Ohio State and Oregon over Florida State are the favorites. They're pretty substantial favorites. I think it's pretty hard to go against. Alabama looks like the most complete team — the one with the fewest weaknesses. Oregon is a strong team. I don't know that they're a great team, but they do have a great quarterback. Whatever weaknesses Oregon has, Marcus Mariota is able to transcend them. I would probably go with Alabama in the championship, but all four teams really look like they have a chance to win it.
More College Football Coverage:
This segment aired on December 13, 2014.