Atlanta Hawks Are For Sale And Flying High
Play
This article is more than 8 years old.
For the first time since 1997, the Atlanta Hawks have been enjoying the best record in the NBA's Eastern Conference. With star player Josh Smith lost to free agency and an ownership group in disarray, not many people thought that would happen this season.
But TNT analyst David Aldridge says that Atlanta has been "an untapped jewel" in the league for years, and he joined Bill Littlefield to explain.
BL: David, what did you mean when you wrote that?
DA: NBA players love going to Atlanta. You talk to them, Atlanta's one of their favorite cities for a number of different reasons — some of which may interest your audience; some of which may not — but a lot of people have homes there. And so that was always a city that I thought would be able to attract and maintain and keep NBA players if they ever started winning.
BL: How has the dysfunction between the three Hawks' ownership groups hurt the Hawks on the court in the past?
[sidebar title="And At The Bottom..." width="630" align="right"]The New York Knicks currently occupy the Eastern Conference's bottom spot. We talked to a Knicks reporter who is being given other assignments because the team is so bad.[/sidebar]DA: Well, somebody has to be able to make a decision. The owner has to be able to say, "Yes, we're going to make this trade" or "yes, we're going to sign this free agent," "we're going to spend this amount of money," and when you have ownership groups that are fighting with one another, it becomes very difficult.
BL: Let's turn to the team's success this season. You have written, "Any number of Hawks players — [Al] Horford, Paul Millsap, Kyle Korver, Jeff Teague — could be All-Stars. Or, none of them could." Is that what makes the Hawks so good — or does the lack of a superstar hurt their chances as a championship contender?
DA: You know, we'll find out when they make the playoffs. I think this will be a great test to see if in an era where most teams are now trying to get two or three superstars together the way the Miami Heat did for the previous four years, if a team full of good but not great players can beat one of those teams in the playoffs.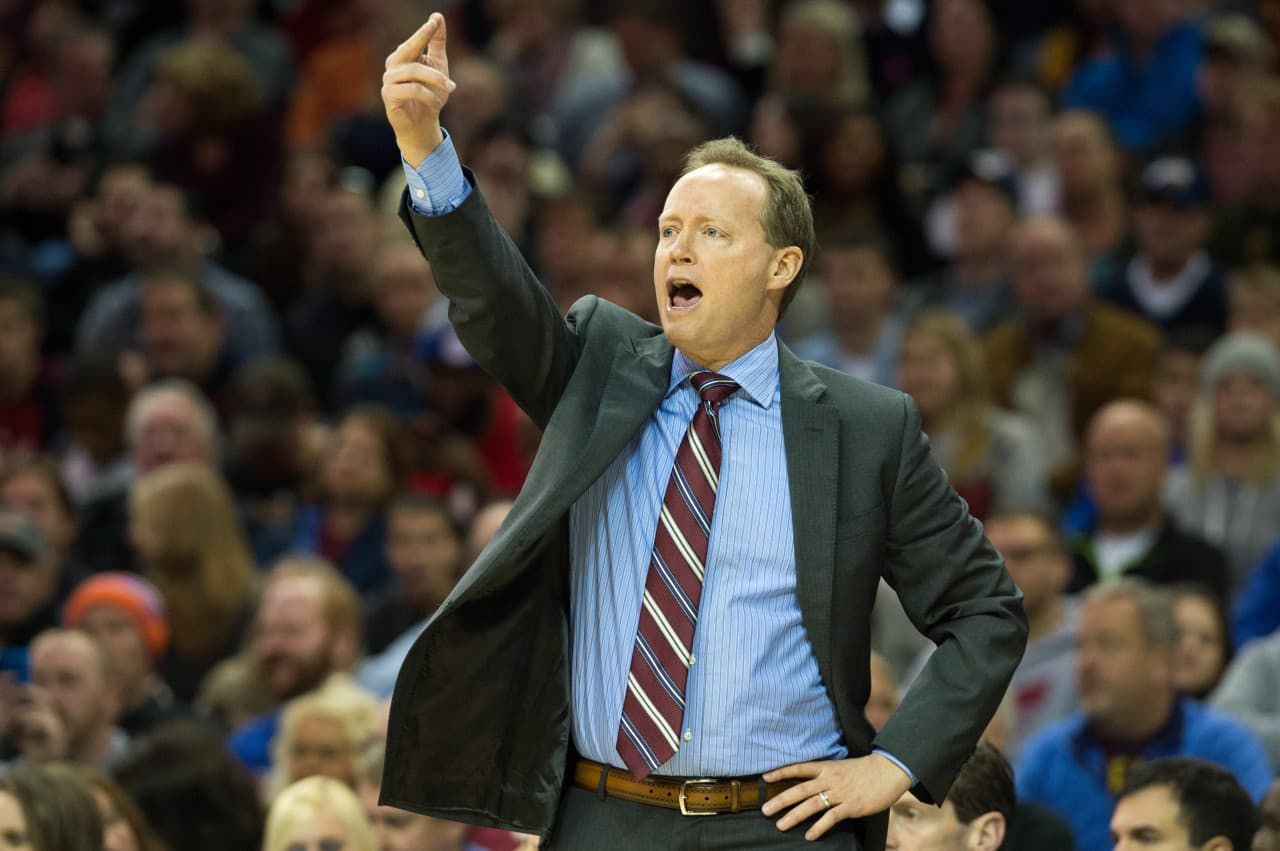 BL: Hawks coach Mike Budenholzer spent more than 15 years as a San Antonio Spurs assistant before he came to Atlanta in 2013. Is he trying to turn the Hawks into the Spurs of the East?
DA: Oh, there's no question. They're doing a great job with their assistant coaches, really developing the team extremely well. It's a no-nonsense group, they play defense, they share the ball  -- all the hallmarks of what the Spurs did. The only difference is, the Spurs have Tim Duncan, who's a first-ballot Hall of Famer and the Hawks currently don't.
BL: Fairly significant distinction.
DA: Exactly.
BL: The owners put the franchise up for sale this week. Majority owner Bruce Levenson had already announced he would sell his stake after an email surfaced in which he complained about the lack of white fans at Hawks games. In a separate incident, general manager Danny Ferry made racist remarks on a conference call. Plenty of room for distraction — how has all of that affected the players?
DA: You know, I don't think it has. You look at their record, you certainly wouldn't think that it had. This is pretty much the same team that was there last season. There wasn't a lot of turnover. There was no turnover in the coaching staff, certainly. So they know how to play with one another now. Last year there wasn't the same trust factor that there is this year and so that comes with continuity and playing with each other for more than a year.
BL: The NBA has announced the Hawks will not be relocating after the team is sold, squelching rumors about Seattle getting the team. What traits would make for the best new ownership group in Atlanta?
DA: Well, the NBA always wants one owner. They want one person to be in charge to write the biggest check and to have control. So, if the team is going to stay in Atlanta, certainly someone with Atlanta roots or has Atlanta affiliations through their businesses is someone that would be preferable. Other than that, the main thing is someone who is willing to spend money to put more money than the sale price into the team — back into the team — and that's what they want to see.
Earlier NBA Coverage On Only A Game:
This segment aired on January 10, 2015.