MLB Film Details Gay Player's Road To Inclusion
05:06
Play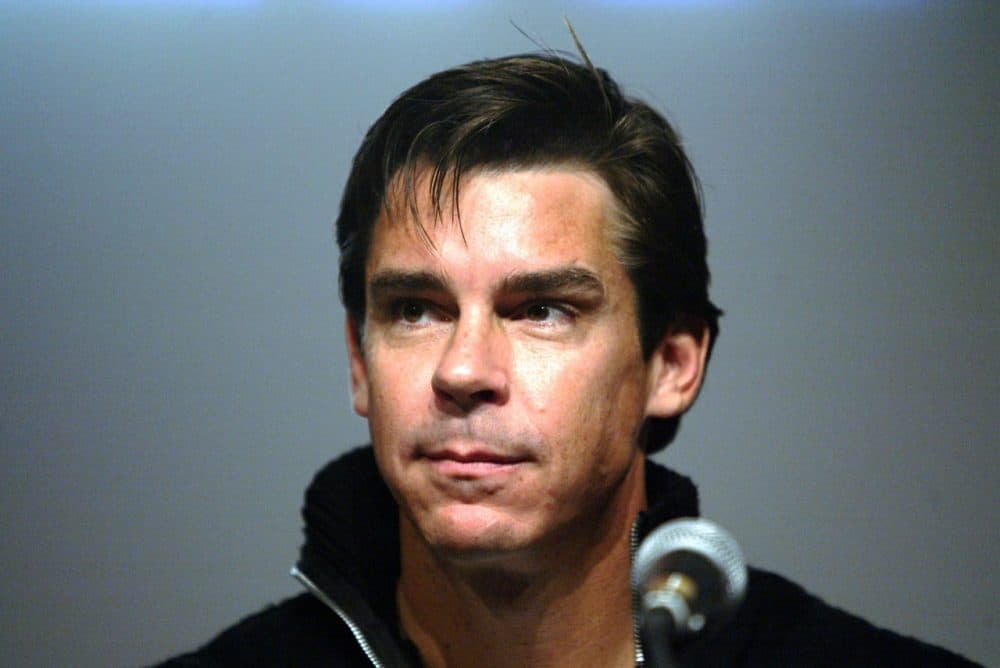 This article is more than 6 years old.
The documentary "The Story Of Billy Bean" debuted on the MLB Network this week. Bean is gay and the film looks at his decision to remain closeted during his playing days.
Today, Bean, former outfielder for the Tigers, Dodgers, and Padres — not to be confused with the general manager of the Oakland Athletics — is Major League Baseball's Ambassador for Inclusion.
He joined Bill Littlefield to discuss his new role.
BL: While you were playing in the major leagues between 1987 and 1995, could you have imagined that one day Major League Baseball would be embracing your story and making a movie of it?
BB: It literally was the thing that I thought was farthest away from ever happening. I was deeply humbled by the care that they took to try to tell the story. It was ... an emotional experience on Tuesday, for sure.
BL: You hid your sexual orientation during your playing days. Tell us a little bit about why you made that decision and then how you managed to stay hidden.
BB: My dad was in the Marine Corps. He was very strict — Catholic, Midwest upbringing. It was a very different era. I grew up in the '70s, and '80s is when I started my athletics. I was married very young. My ex-wife, we were together eight-and-a-half years, so I just never was really outside of that world.
Part of the story that I share, really, on behalf of all players is the way that we are wired — the guys and gals that make it to the top of their sport — you're an athlete before you're anything emotionally. And that's where I think the story is interesting to others, because there's a lot of parallels for people that were hiding a secret in that time.
BL: In that MLB Network documentary, you spoke about having to play baseball on the day your partner died. There must have been many days throughout that time that were difficult but that had to be the most painful.
BB: Absolutely. That day was one that I will never forget. He got sick with HIV, and his health deteriorated immediately. I mean, if just for the fact that someone that I loved dearly passed away and to not be able to tell anybody about it was hard enough. And I just kept thinking like, "OK, I'll deal with this as soon as the game's over." And then when I got to the game I just tried to take a deep breath — and just a warrior mentality or something — to say, "I just got to hold it together for a few hours." But it was hard. It was a really awful day.
BL: In 1999, four years after you retired as a player, you publicly acknowledged that you are gay. Did you hear from former teammates at that time?
The way that we are wired, the guys and gals that make it to the top of their sport, you're an athlete before you're anything emotionally.

Billy Bean
BB: I did. The guys I played with, many of whom were in the MLB story on Tuesday, that were my close friends, I could see their frustration for me all this time later. And that was probably my most emotional reaction was to see that my teammates would have judged me just for me, not for one particular part of my personality. Those guys, we were brothers, and they proved something wonderful to me, and I just feel deep regret that I didn't trust the relationships that mattered the most to me.
So it really inspires me to educate people through my personal experience. And the more positive, strong images that we can provide of people just going about the business of their lives, the better chance we have that someday this won't be interesting in sports anymore. It's just going to be about how good you are.
BL: Tell us a little about what you'll be doing as MLB's Ambassador for Inclusion.
[sidebar title="Michael Sam, 1 Year Later" width="630" align="right"] One year after he came out as gay, Michael Sam is an NFL free agent. Is his sexual orientation the reason teams won't sign Sam? We take a closer look.[/sidebar]
BB: My job is to initiate a conversation with all 30 clubs and allow, on the club level, for them to communicate with me about how and when and what structure that they want to introduce this conversation. And that conversation, to me, begins with all the players and coaches, employees, stakeholders in our sport, understanding what our platform is.
And we have a very simple yet important workplace code of conduct that just mandates that all people will be treated fairly and equitably, and there will be no discrimination based on your race, your gender, your color, your religion, your national origin or your sexual orientation.
BL: Your work certainly is going to benefit players who've had to struggle with their identities — they'll have someone to talk to whereas you did not. But I'd like to get your view on how your appointment benefits Major League Baseball in general.
BB: Generally speaking, we are a business. And for our best product to be on the field, players need to feel completely safe and secure. So if we have two of our 750 players or 20, at least that message — a message that wasn't there when I was playing — that if you need to talk about what's going on in your life outside the lines, that resource is there. They have a place to go, someone to talk to when they need it.
This segment aired on February 14, 2015.