The NFL Combine: An Inside Look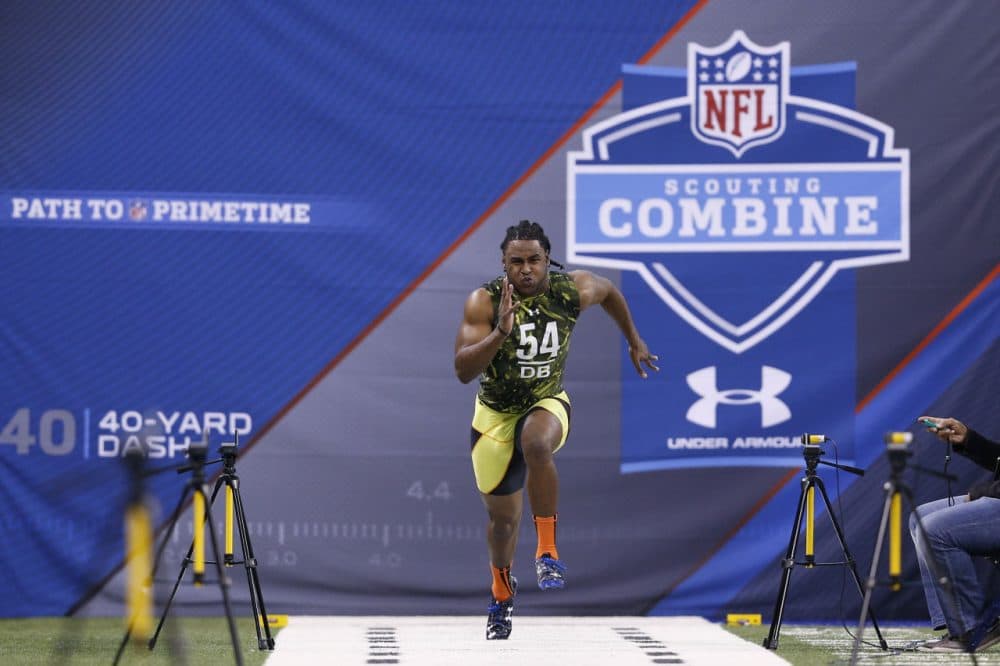 This article is more than 6 years old.
Brace yourself for talk of bench presses, cone drills and 40-yard dashes. The 2015 NFL Scouting Combine began Tuesday in Indianapolis. New York Giants offensive lineman Geoff Schwartz was once among the hundreds of NFL hopefuls trying to impress scouts at the annual event, and he's written a survival guide for the Players' Tribune. In that piece, Schwartz writes, "the real game at the Combine is mental."
The lineman joined Bill Littlefield to elaborate:
[sidebar title="Questionable Combine Questions" width="630" align="right"] In 2013 we took a closer look at allegations that inappropriate questions were asked at the Combine. [/sidebar]
"They really want to test you mentally throughout the week with early wake-up calls, long days, lots of interviews," Schwartz said. "And at the very end of it is when you do your physical testing, when you are most tired, when you just want to go home. They want to see how you perform in those circumstances."
During the Combine, players can have up to 15 private interviews with teams. Schwartz had one with the Seattle Seahawks, and he remembers it well.
"I just think it surprised me how much knowledge they had about me," Schwartz said. "They asked me if I had taken some plays off against a certain team — you know, not played as hard. There's a lot of prospects, a lot of guys that all these teams watch, and to pick something out like that — just show you one play from my season — was eye-opening for me."
Ultimately Schwartz thinks the interviews and medical evaluations are more important than the Combine's physical components.
"As far as the athletic side of it, I don't think it terribly makes a difference," Schwartz said. " My brother, I'll admit this to you, had a terrible Combine. He did not look very good. He was slow. But he was drafted in the second round, so you know sometimes it doesn't really matter what happens at the Combine. It just matters what your film shows."
You can read Schwartz's full column "How to Survive the NFL Combine" here. 
This segment aired on February 18, 2015. The audio for this segment is not available.