In 'Cuba Straits,' Doc Ford Series Takes The Diamond
Play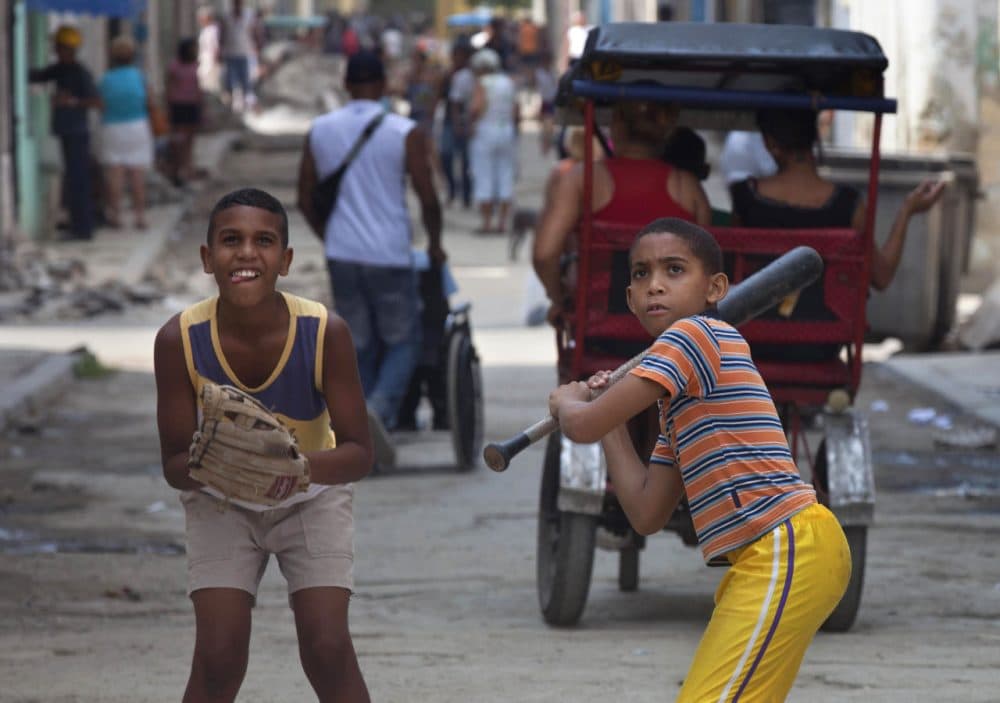 This article is more than 7 years old.
Yasiel Puig is a Cuban Major Leaguer who plays outfield for the Dodgers. He left Cuba with the assistance of smugglers, but Juan Rivera had nothing to do with that…because Juan Rivera is a fictional smuggler in a new crime novel "Cuba Straits," the 22nd book in Randy Wayne White's Doc Ford Series.
Randy Wayne White joined Bill Littlefield to discuss the book and his own travels to Cuba.
BL: The apparent attempt to smuggle Figueroa Casanova into the U.S. to play baseball is only part of a multi-layered plot in"Cuba Straits," but were you inspired by the intrigues surrounding the arrival of various non-fictional players from Cuba?
Nobody loves the game of baseball like Cubans. We had witnessed children playing this game on fields they had carved out by themselves using bats they had indeed carved from limbs of trees.

Randy Wayne White
BL: I understand that sometimes you have been accompanied by one William Francis Lee, the left-hander late of the Red Sox and Expos. Tell us about the Randy White-Bill Lee connection.
[sidebar title="Bill 'Spaceman' Lee" width="630" align="right"]Bill Lee's MLB career came to an end in 1982, but he's still pitching today.[/sidebar]RWW: Bill Lee is one of my dearest friends. Got to know Bill during the short-lived Senior Professional Baseball [Association]. I met Bill in the field. I was catching for one of the teams — the Fort Myers Sun Socks — catching in the bullpen. We struck up a friendship and have been friends ever since.
BL: What did you and Bill learn about baseball in Cuba when you were there?
RWW: We began taking teams to Cuba — so-called teams. Sometimes legally, sometimes not. But we would also take tens of thousands of dollars worth of baseball equipment because as Bill had seen when he was there and as I had seen on a previous trip, nobody loves the game of baseball like Cubans. We had witnessed children playing this game on fields they had carved out by themselves using bats they had indeed carved from limbs of trees, using balls that they had made from asphalt and a bit of twine. And they would wrap it with palm leaves.
So we began taking baseball teams there and also gear. And we would dive around the bus. As we saw kids playing — or adults — anywhere in Cuba, we'd get out of the darn bus, have a ballgame and give away a bunch of gear and take off like the lone ranger. They never knew who we were. It was just awesome. It was such fun.
BL: Would you like to see a Major League team in Havana someday?
RWW:I would love to see that, but I must preface that by saying I know a great many Cuban-Americans who came to this country with absolutely nothing. Not only that, when the Castros came to power, the properties they owned in Cuba were simply taken. Their family members who disagreed with Castro's politics were executed, in some cases shot off a high ledge that looks over Mariel Harbor. A brutal, brutal regime. A brutal takeover.
And the animus Cuban-Americans feel towards Fidel Castro is real beyond my understanding because I didn't experience it. So with that in mind, I would personally love to see a Major League team in Cuba. We know so little about Cuba in this country sadly. And we are easy marks — I will put it that way — in terms of information provided that have given us a very skewed vision of what Cuba's really like and what Cuba is really like, in my experience, for the people who live there. They live in fear. They are afraid every day.
---
Bill's Thoughts On "Cuba Straights"
Randy Wayne White maintains that writing is hard work, but you'd never know it from reading "Cuba Straits." The novel reads as if the author is having a terrific time inventing bizarre characters, then running them through weird and sometimes hilarious circumstances.
Because one of the characters is a Cuban baseball player who got transported to the U.S., there was a reason to talk with Randy Wayne White for Only A Game. And there was another reason: White has traveled to Cuba with former MLB pitcher Bill Lee, in part to distribute lots of bats, baseballs, and gloves to kids who'd been using tree branches to hit baseballs made of tape and palm leaves.
I enjoyed "Cuba Straits," but it comes with a warning label. There's enough violence and menace of various kinds so that perhaps it should be kept on a shelf high enough so that the kids can't reach it.
This segment aired on March 21, 2015.