30-0 = No. 8 Seed? The Plight Of The Mid-Major In Women's Hoops
03:56
Play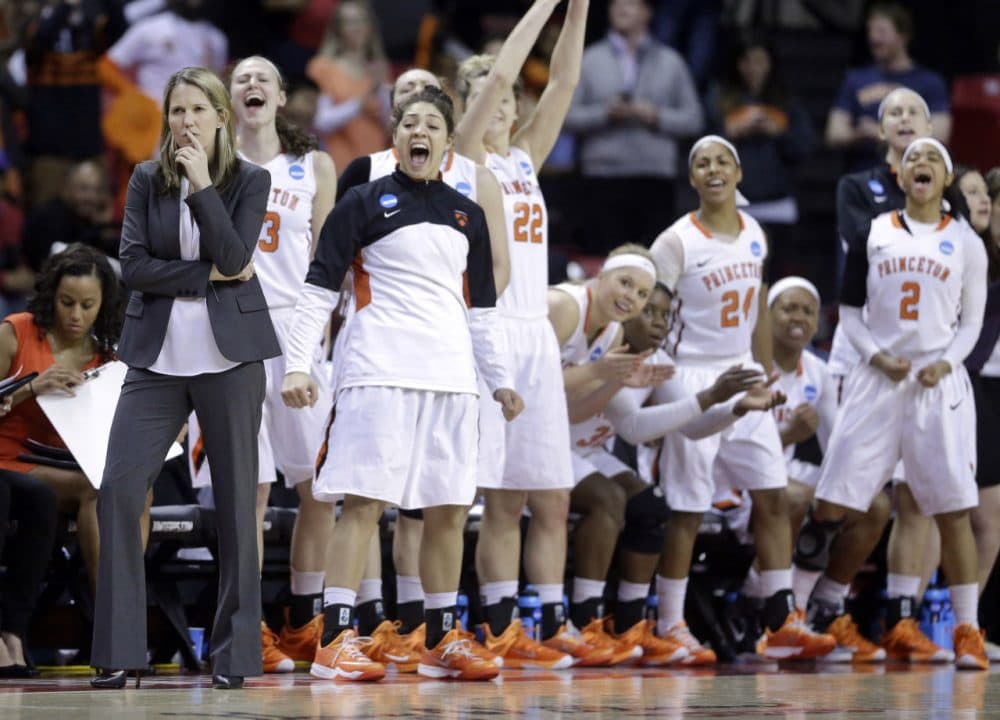 This article is more than 5 years old.
The Princeton University women's basketball team went 30-0, and most of those games weren't close.
Then they got a No. 8 seed in the tournament, which, according to Princeton Head Coach Courtney Banghart, is all too often the fate of very good mid-major women's teams. Banghart joined Bill Littlefield to discuss her team's season.
BL: You led the Princeton women's basketball team to a perfect, 30-0 regular season. Why was "perfect" deemed only good enough for a No. 8 seed once it came time for the tournament?
My second career is probably not going to be in bracketology because I clearly, although pretty well educated, I don't understand how it all works.

Courtney Banghart, Princeton coach
BL: Your team fell in the second round to top-seeded Maryland. But in the first round, you played Green Bay, a team that also had a great season, and they were only given a No. 9 seed. Is there a problem with the way the NCAA selection committee seeds mid-majors in the women's tournament?
CB: My hope is that this year really does force the NCAA to think thoroughly about the mid-major scenario because scheduling, they keep saying, is an important piece of that. And scheduling is a difficult thing because you're only one half of that scheduling battery, and so you need the other opponent to be prepared to play you, and Green Bay and Princeton suffer from the same problem, and that's that we're having a tough time scheduling games.
BL: Well, tell me a little bit about that problem that you share with Green Bay. You try to schedule games outside the conference against good teams, so that your team will get better. Why is that a problem? Why is it so difficult?
[sidebar title="The Origin Story" width="630" align="right"]When Niveen Rasheed and Lauren Polansky arrived at Princeton, the Tigers had never reached the NCAA tournament. That quickly changed.[/sidebar]CB: In the power conferences, their conferences are so tough, so they're trying to pad their records, and so they're not really looking for additional top-25 caliber teams in the non-conference. And so it's hard as a mid-major. It just is.
And you know, I think the success that four or five of the mid-majors have had this year are going to really challenge the thinking and try to think critically about how to grow the game.
BL: Is it a matter of, if you're a top team — a top-10 team — you say we have nothing to gain by beating Princeton and everything to lose if they beat us?
I thought this year was ... hopefully an anomaly and hopefully something that forces the committee to think critically moving forward.

Courtney Banghart, Princeton coach
But as I look at the NCAA, it's a little bit easier to sorta say to the NCAA, "What's going on here?" because the goal is to grow the game. And it's harder to do that. On the men's side, the best underclassmen are often going into the pros, so you have experienced mid-majors against inexperienced BCS teams, so therein lies your parity in the tournament. So I thought this year was a bit of a unique — hopefully an anomaly and hopefully something that forces the committee to think critically moving forward.
BL: You know, after this conversation, I can't wait to see where your team is seeded next year.
CB: Let's get there first. But, yeah, I agree. We're gonna do our best again. We certainly didn't expect a 30-0 year,  but we expected to have success and we expect to have success again next year and hope it gives us a good seed.
This segment aired on March 28, 2015.