Will The NFL, Finally, Return To Los Angeles?
06:37
Play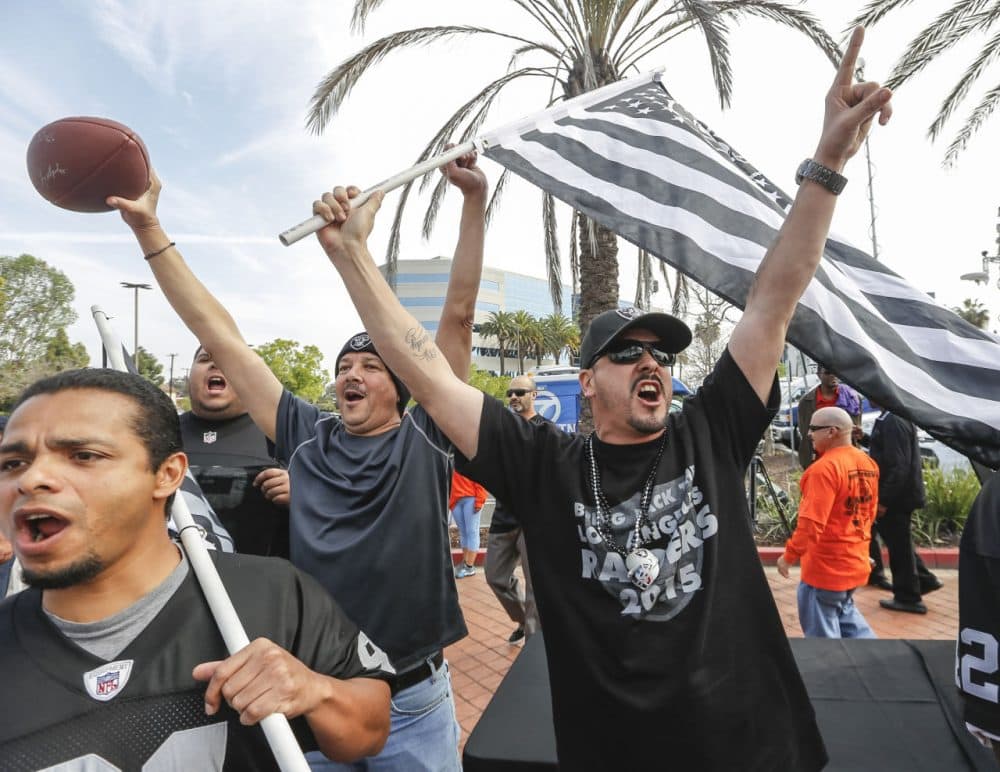 This article is more than 6 years old.
The Major League Baseball season is just starting, but in Los Angeles lots of sports fans, politicians and community boosters are talking about professional football.
That's because after two decades without an NFL franchise, there are two competing stadium proposals and three teams have expressed interest in making a move. As the process plays out, fans and communities near L.A. are developing new rivalries.
The NFL's History In Los Angeles
The last time an NFL game was played in the Los Angeles area was in 1994.
[sidebar title="The Grandaddy of 'Em All" width="630" align="right"]Los Angeles could get one or two new NFL stadiums, but in nearby Pasadena the Rose Bowl has hosted football games since 1902.[/sidebar]For perspective, that's the same year South African voters elected Nelson Mandela president of a newly post-apartheid nation. Facebook founder Mark Zuckerberg was 10 years old. And a TV show called "ER" premiered, co-starring a then-unknown talent named George Clooney.
As the months turned to years turned to decades without a pro football team calling L.A. home, local fans say they learned to let go.
"We didn't sit there and cry about that we didn't have a team," Rams fan Tom Bateman told me. "It just was the situation. There was no sense in crying about it because they weren't going to be coming back."
"Stoic acceptance?" I asked.
"Exactly, stoic acceptance," he said. "You know, we went on with our lives."
But with the St. Louis Rams, Oakland Raiders and San Diego Chargers now looking at possibly moving to the Los Angeles area and two stadium proposals on the table, pro football fever is building again in L.A.
At a recent rally in a shopping mall in the Los Angeles County community of Carson, Raiders and Chargers fans gathered to cheer on the possible move of their teams to L.A.
The two teams, usually bitter rivals on the field, have proposed jointly funding the construction of a $1.7 billion stadium in Carson, a bedroom community just south of Los Angeles.
And that has local fans of both teams elated, especially Raiders fans.
The team played in L.A. between 1982 and 1994 and has kept a strong base of support because of fans like Ace Okeoke, who was decked out in Raiders' black and silver.
[sidebar title="Some Rivalries Just Go Away" width="630" align="right"]When Seattle moved to the NFC, a part of the old AFC West was lost. But in Super Bowl XLVIII, the Seahawks and Broncos renewed their rivalry.[/sidebar]"Ever since the Raiders left, we kept the Raiders strong out here with the Raiders hats, the Raiders logos, the Raiders car stickers," Okeoke told me. "And this is a chance for us to prove that the Raiders should have never left here in the first place. And when they come back they're going to stay."
"You want them to know they are still loved here?" I asked.
"Yeah, of course they are definitely loved here, and they always will be," he said.
But L.A. Rams fans say not so fast. They're supporting a competing idea for the St. Louis team to play in a proposed stadium in the community of Inglewood, 14 miles up the 405 freeway from Carson. It's backed by a business partnership which includes Rams owner Stan Kroenke.
And Rams fans don't think much of the Raiders' claims to the city and region.
"I don't know if the Raiders would appeal to anyone who's not already currently a Raider fan," said Bateman, who's the co-founder of the group Bring Back The Los Angeles Rams.
He says his team has a greater historical claim to Southern California.
"They were the first of the major pro sports teams to be here, coming to L.A. from Cleveland in 1946," Bateman explained. "That was a dozen years before the Dodgers arrived and 14 years before the Lakers arrived, and the Kings came in the late 1960s. So people forget that the Rams were the first ones here and so it has great historical significance. It was a big reason why all of the major professional sports leagues moved out to L.A."
Inglewood Vs. Carson
As supporters of each team stake their claim to L.A., another contest is shaping up: a race between Inglewood and Carson to get a stadium approved as quickly as possible.
At the Carson rally for the Raiders and Chargers, canvassers, paid for by the teams, were gathering signatures from residents to bring the stadium proposal before the city council.
"The site that's been empty for 40 years, they want, at no cost to the taxpayer, [to] build a large stadium," a signature gather said.
You also heard contempt for rival Inglewood's stadium plans from Carson residents like Stacy Pinea.
"And the other town trying to build a stadium and get a team called Inglewood up the freeway — what do think of them?" I asked.
"I don't," she said.
"You don't?"
"Simple," she said with a laugh.
"Out of sight, out of mind?"
"That's it. They don't even matter. They're not even in the equation. It's all about the Raiders."
But the community trash talk goes both ways. About two hours later in Inglewood, I spoke with Jason Bevley who wants a stadium built in his community.
"I think that nobody's really even heard of Carson, so that would be a mistake to put them in the Carson region," Bevley said. "The Carson Rams, who would want that at all?"
"Or the Carson Raiders?"
"Or the Carson Raiders. It doesn't even sound good."
"You don't even acknowledge that city?"
"No. No. I don't acknowledge Carson as a city or as an existence at all."
But as team and community partisans choose sides and hurl insults, here's the thing: the last 20 years of L.A. history is littered with proposed NFL stadiums that all died, and it could happen again with these plans.
"The NFL has played local governments against one another, local politicians against each other and fans against the world for 20 years. And this is, to me, just the carrying out of the same playbook," said D.J. Waldie, who writes frequently about society and government in Southern California for the L.A. Times and Los Angeles Magazine.
"In fact, it's getting rather formulaic. City council members under the leadership of a charismatic mayor announces that a stadium is likely to be built, handsome renderings of a fantasy stadium are shown at a news conference. Drums are beaten, horns are blown. NFL people coyly say maybe yes, maybe no. And so it goes."
But back in Carson and in other gatherings of local football fans across L.A., there's a feeling that it's not a matter of when Los Angeles will get its next NFL team, it's a matter of which team colors will be seen on the gridiron of which stadium.
This segment aired on April 4, 2015.