'Men In Green' Profiles Golf's Legends, Living And 'Secret'
Resume
The Masters Golf Tournament is underway in Augusta. Sports Illustrated Senior Writer Michael Bamberger's attachment to that tournament and to professional golf in general is rooted in his affection for some of the men he's met while writing about the game over the years.
Bamberger's new book is titled "Men In Green," a reference to the jacket each Masters winner dons at a post-tournament ceremony. The author joined Bill Littlefield.
---
Highlights From Bill's Conversation With Michael Bamberger
BL: This book is built around your intention to reconnect with various people on two lists you compiled. One is titled "Living Legends," the other "Secret Legends." How did you decide who made the cut in each case?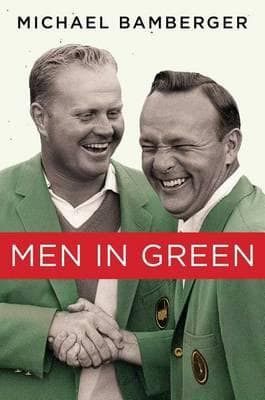 BL: Arnold Palmer appears throughout the book. I assume you were in no way disappointed when you reconnected with the man who — for many people, at least — personifies the Masters.
MB: He personifies the Masters. What he did is remarkable because he was really playing a niche sport. Now we think of golf as almost a major sport, chiefly because of Tiger [Woods] — and some other factors as well but Tiger especially — but in Arnold's day it was very much a niche sport. He turned pro in 1955, maybe late 1954 actually, and he became an American icon. He has an ability to connect with people and make people feel good about themselves that is remarkable. And he's touched hundreds of thousands of lives at this point, in his 85 years. And yeah, I feel very privileged to know Arnold to the degree that I do.
BL: No. 5 on the "Secret Legends" list is Dolphus "Golf Ball" Hull. He was a good golfer, but he made your list as a caddy — though to identify him only as a caddy feels utterly insufficient, right?
Well, I should say one thing about Golf Ball: first off, you wouldn't know the name "Golf Ball," likely, but you might well know the name Raymond Floyd, who's a Hall of Famer; Calvin Peete, who was a very successful golfer; Lee Elder, who's the first African-American to play in the Masters; Pete Brown, who won the San Diego Open. This man caddied in hundreds and hundreds of tournaments and won numerous tournaments but you wouldn't necessarily know his name.
---
Bill's Thoughts On 'Men In Green'
Michael Bamberger set out to create the golf version of Roger Kahn's "The Boys of Summer."
[sidebar title="An Excerpt From 'Men In Green'" width="630" align="right"]Read an excerpt from 'Men In Green' by Michael Bamberger.[/sidebar]The challenge was considerable. The Dodgers about whom Kahn was writing were his contemporaries. They were young ballplayers when he was a young reporter.
Most of the golfers about whom Bamberger writes in "Men In Green" are considerably older than Bamberger is, and he approaches some of them — particularly Jack Nicklaus and Arnold Palmer — with awe. Kahn's awareness of what the ballplayers had become "in their ruin" (another line in the poem from which Kahn took his title) was not obscured by worship.
There are some intriguing stories in "Men In Green," and readers with appetites for golf lore will enjoy the book. But golf is not baseball. The former is gentlemen — or pseudo-gentlemen — striding over clipped lawns after balls that sit still to be hit. The latter is head-hunting pitchers, sneaky base runners, and managers kicking dirt on umpires. Golf, as Bamberger takes pains to establish, is about rules to which gentlemen adhere. Baseball is about spitballs and trying to convince the umpire you've caught the ball when you've trapped it.
Maybe that's another reason why "Men In Green" isn't "The Boys of Summer."
This segment aired on April 11, 2015.