To Hit, Or Not To Hit? NL Pitchers Have Different Opinions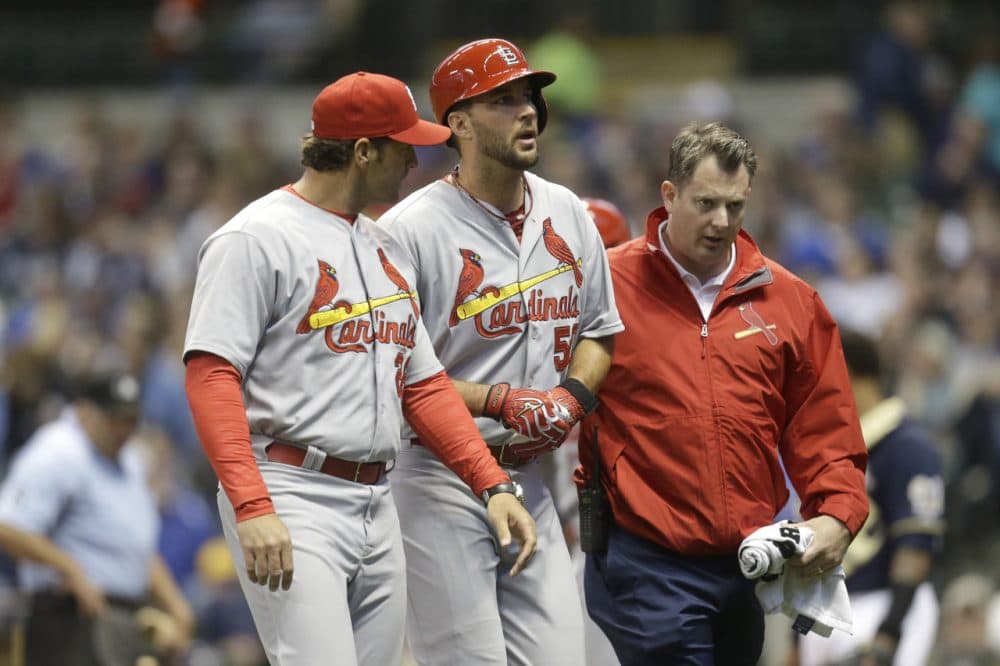 This article is more than 6 years old.
St. Louis Cardinals pitcher Adam Wainwright is out for the season after tearing his Achilles. He sustained the injury in the batter's box as he turned to run out a ground ball.
But Wainwright doesn't blame having to hit (he's a pitcher in the DH-less National league) for his injury.
Wainwright told reporters:
"Baseball, the strategy and the game itself in the National League is just a better game, in my opinion. I hope that people don't look at this — which I know they already are --- and think that we should switch to a DH now. Baseball is a beautiful game. I just hope it doesn't change too much."
Wainwright's comments followed those of another NL pitcher, Max Scherzer, who  injured his thumb while taking an at-bat. Scherzer reportedly said:
"If you look at it from the macro side, who'd people rather see hit — Big Papi or me? Who would people rather see, a real hitter hitting home runs or a pitcher swinging a wet newspaper? Both leagues need to be on the same set of rules."
San Francisco Giants' ace Madison Bumgarner has also entered the debate. In response to Scherzer's comments, Bumgarner retorted: "Oh, well, my wet newspaper is 34½ inches, 33½ ounces, and I'm waiting on some new ones right now."
Bumgarner hit four home runs and two grand slams last season but he also struck out nearly half of his at-bats.
Scherzer has since backed off his comments:

pic.twitter.com/xOTBTsGUq2

— Max Scherzer (@Max_Scherzer) April 28, 2015

In any case, Wainwright's injury and Scherzer's reported comments have added fuel to the DH debate, a debate that's probably not going to end anytime soon.