Why A $1 Billion Weekend Won't Save Boxing
05:10
Play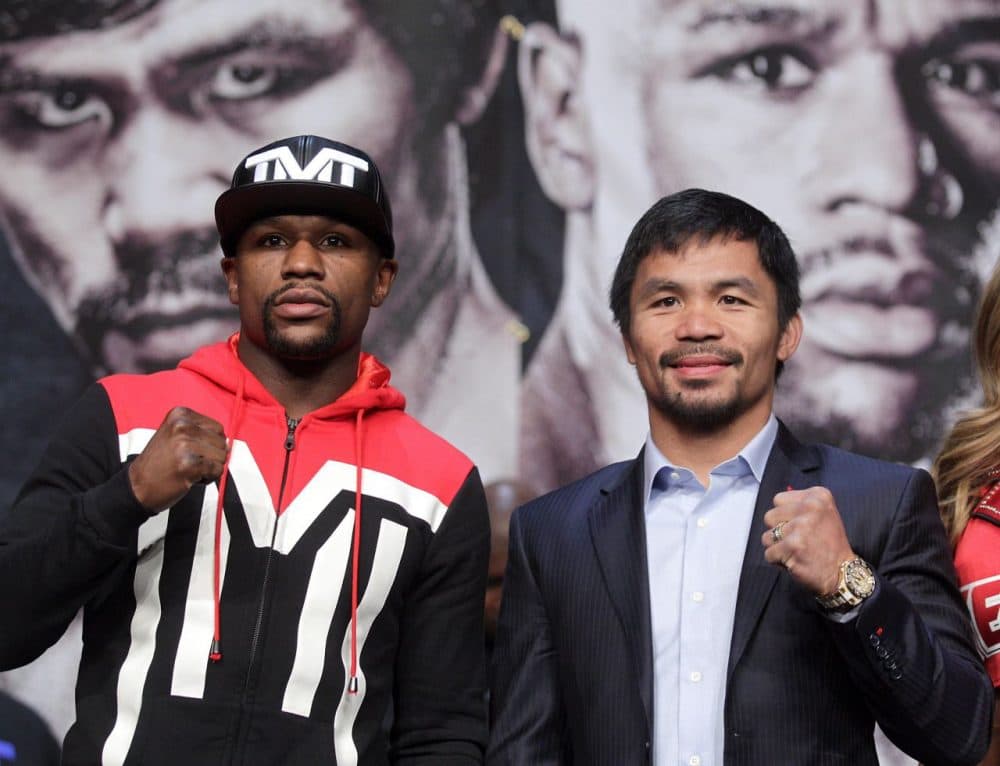 This article is more than 6 years old.
This weekend's fight between Manny Pacquiao and Floyd Mayweather is not the first to be labeled "the fight of the century." But it might be the first to generate $1 billion worth of noise — that's when you factor in the expected $300 million to be split between the fighters, the approximately $100 million to be wagered and the hundreds of millions that the casinos will realize beyond the boxing bets.
But Joe Drape of the New York Times wrote this week that boxing aficionados are sad. He joined Bill Littlefield to explain.
BL: Joe, how could they possibly be sad?
JD: Well, it's a one-punch fight for the industry. $1 billion sounds like a lot of money, and it is a lot, but it's about 12 guys who are gonna whack that up. The two fighters are going to take a bunch of it, the promoters are going to take a bunch of it, the town of Vegas is going to take a bunch of it. But really it gives no bounce to the sport of boxing. It'll go another year, five years, six years without penetrating the mainstream consciousness. I mean, when was the last time you thought about a boxing match?
BL: I'm going to mention Muhammad Ali and date myself in answer to that question.
What we've got is we've got one big weekend, Bill, and we have no signs of life after that.

Joe Drape, New York Times
JD: And that's the problem, Bill. Boxing has sort of faded into the woodwork. There's been no heavyweight champion that we could latch onto. The glory days of [Marvin] Hagler, [Thomas] Hearns, Sugar Ray [Leonard], [Oscar] De La Hoya — those have passed us by. Wladimir Klitschko is the heavyweight champion. He had more title defenses than anybody but Joe Louis and he couldn't sell out Madison Square Garden last week for a bout, and you know that's the soul of boxing, Madison Square Garden.
BL: This, I assume, is why  you have written the epitaph for the sport was "underlined" last weekend. 
JD: Yeah, I have. What we've got is we've got one big weekend, Bill, and we have no signs of life after that. So, it's kind of the last hurrah for boxing.
BL: Manny Pacquiao's promoter, Bob Arum, says boxing is too brutal for most people. He told you "we can't get white middle-class kids into boxing." Is that part of the reason that boxing is struggling?
JD: The sport's definitely struggling because of a lack of interest among white, middle class Americans. It's become a sport that's not accessible to them anymore. Bob Arum said, "I wouldn't let my kid do it." There's the brutality of it. There's the concussions. There's nobody you see in the ring who looks like you up there. And traditionally, the sport has always rallied around ethnicities — the Irish fighters, the Hispanic fighters, the African-American fighters. So, there's really no self-identifying up there.
That has moved the white middle-class — former fight fans — they've moved to wrestling and mixed martial arts because it's a little more snazzier. Wrestling's scripted but you can have a heel and you can have a hero, and it's become more entertainment. And boxing, with its classic two guys standing in the middle of a ring, beating each other's brains out, just doesn't hold the entertainment value anymore.
BL: Al Haymon, Mayweather's promoter, has founded something called the Premier Boxing Champions. What is that group's aim and why have you labeled it "a huge gamble"?
JD: Well, Al Haymon has raised $400 million from venture capital firms. He's trying to reinsert boxing into the mainstream. He's buying network time — NBC, he's got 20 dates on, Spike TV, he's got dates on CBS, and the premium things. His gamble is, "Look, you guys air my product, but I'm going to go out there and I'll sell the advertising myself." He's gambling that NBC, Fox, somebody's gonna want to buy it and pay him rights for it. But right now boxing isn't in vogue enough to command anything as far as rights fees, so he's trying to build a market.
And then the longer play after that is, of these four years, of these nights of fighting, of these series, that you're developing the next Mayweather and the next Pacquiao. And you can then move back into the pay-per-view and have another $1 billion weekend in two, three, four years.
BL: It doesn't sound to me as if you're particularly optimistic about boxing's future.
JD: I'm not particularly optimistic, Bill. I mean look, there's so many entertainment options out there. This is a sport that saw it's heyday in '30s, '40s, '50s. I don't think anybody feels good about watching two guys possibly do fatal damage to each other, long-lasting damage. You've got an audience of 18 on up who really haven't grown up with boxing, think about that. It's just been irrelevant for a long time.
This segment aired on May 2, 2015.