Switzerland For Sports, Tennis Rules And Steph Curry's Daughter
Play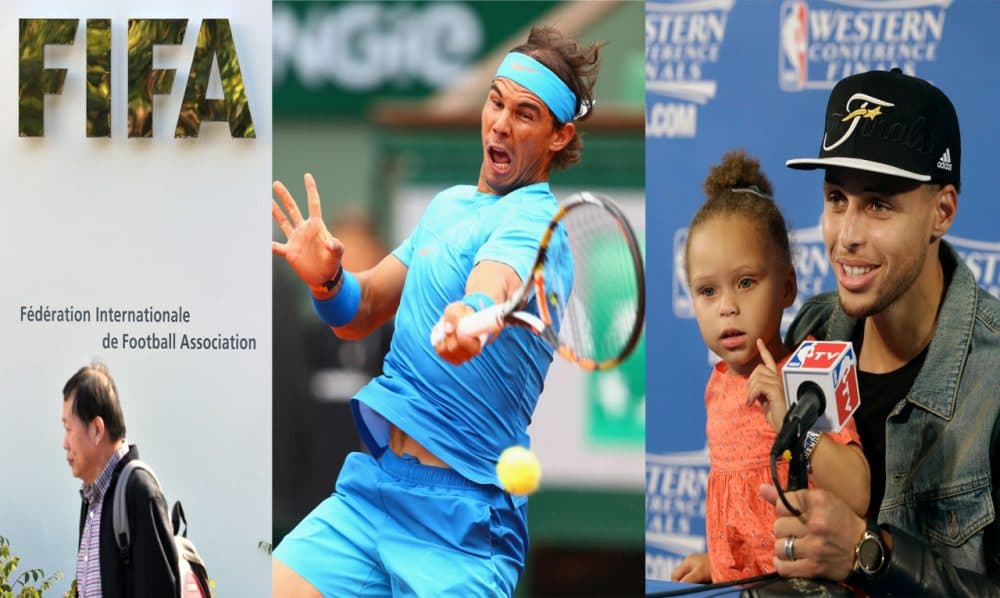 This article is more than 7 years old.
Sometimes the sports stories that aren't getting the most attention are the most interesting stories of all. That's why we've created "3 Stories You Should Know" -- a discussion of the things you might have missed. This week, Bill Littlefield was joined by WBUR reporter Curt Nickisch and Jeremy Markovich, senior writer at Our State Magazine and contributor to SB Nation Longform.
1. Why FIFA (and dozens of other governing bodies) call Switzerland home: 
Seven high-ranking officials from FIFA — soccer's international governing body — were arrested in Switzerland earlier this week. They were gathered in Zurich ahead of the group's annual world congress. FIFA is not the only sports federation based in Switzerland. In fact, the city of Lausanne alone has more than 50 of them, ranging from the World Bridge Federation to the International Olympic Committee. Weighing in from Switzerland, Curt Nickisch offers this explanation:
CN: One reason they're all here is that obviously Switzerland's a neutral, stable country. The International Olympic Committee moved to Lausanne 100 years ago during World War I. So on one hand that's great because you don't want any single country to have too much power over a sport. But in the wake of these FIFA corruption charges, there are growing calls here right now for oversight of global sports organizations. The Swiss parliament happens to be working on a whistleblower law — doesn't have one yet — and so even though there are a lot of calls right now to regulate these, which really are not regulated much at all right now, it's not clear what's going to happen.
2. Rafael Nadal bans umpire at French Open: 
With the French Open underway in Paris, Rafael Nadal has managed to attract attention for more than his play. The defending-French Open champ made headlines when he admitted that he'd requested chair umpire Carlos Bernardes be barred from officiating his matches. Bill Littlefield didn't know that sort of thing was allowed...
BL: I learned from a story by Christopher Clarey in Thursday's New York Times that tennis pros can ask tournament officials not to assign a particular referee to their matches — or at least Rafael Nadal can do that, and he did it at the French Open. This seems very odd to me, and I can't think of another sport in which it would happen.
3. Children at the podium: Harmless fun — or a problem?
Watching NBA MVP lead the Golden State Warriors past the Houston Rockets in the Western Conference Finals was entertaining, but it was Curry's daughter Riley who stole the show when she showed up to a postgame press conference. Don't take our word for it: 
Jeremy Markovich explains why some reporters weren't exactly thrilled.
JM: A very small contingent of reporters were a little bit upset, saying that the time that this happened, it took away from questions that they may have asked. But this has kind of been everywhere all of a sudden on the Internet. But my thought was: does this not go back to the postgame press conference itself? They've kind of become predictable and formulaic. How do you improve on the postgame press conference without bringing Riley Curry to every single one?
To hear more from Curt, Bill and Jeremy, click the play button above.
This segment aired on May 30, 2015.