3,997 Hours To Go: One Man's Quest For Golf Mastery
06:28
Play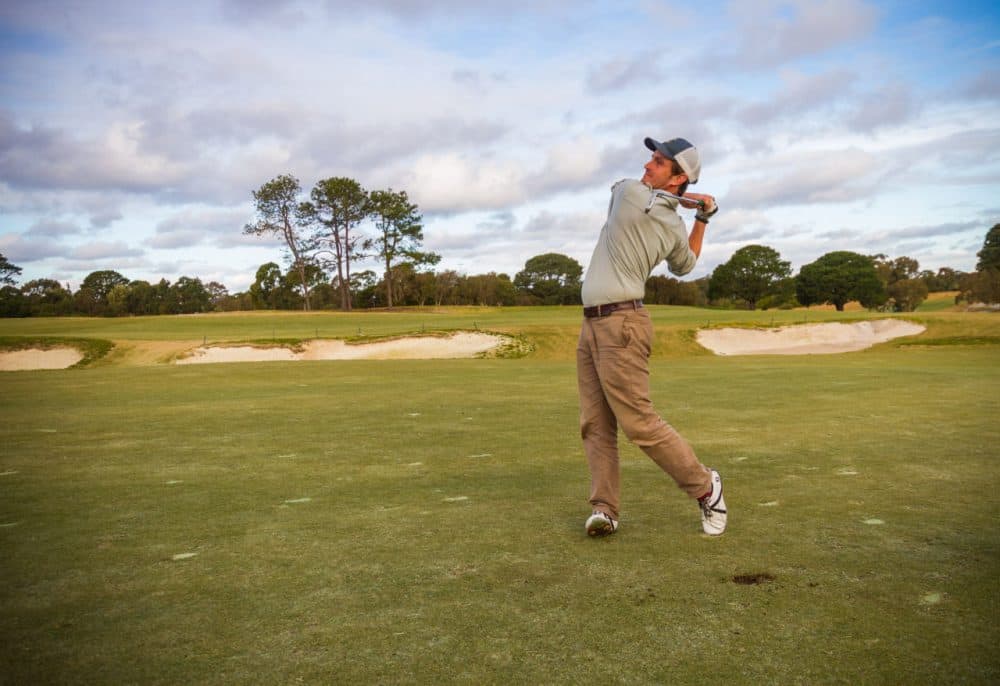 This article is more than 5 years old.
This story is part of Only A Game's "Motivations Show," which looked at stories of motivation in sports.
Dan McLaughlin is the kind of guy you'd want to be friends with. He's cool, laughs at your jokes and for a 35-year-old dude without a job, he's pretty chill.
I wanted to do something I had zero previous experience in. And golf seemed like something that anybody at any size or any age could succeed.

Dan McLaughlin
Dan used to have an office job. But that was five years ago, before he ditched it to play golf full time. So now his job, if you can call it that, is working the "Dan Plan."
McLaughlin is putting the fabled 10,000 Hours Rule to the test on the golf course. The Oregon man had never picked up a club before his project, but that didn't prevent him from having some big aspirations.
"My ultimate, kind of lofty goal is to play in a PGA Tour event — make the cut and play on the weekend," Dan told Only A Game three years ago.
The '"Dan Plan"
Dan lives in his basement and rents out the rest of the house to make some money. He's basically like the golf troll under the stairs.
When Dan's mom Susie found out about the project, she says she had no idea why her son would do that.
"I thought he was crazy," Susie said. "I thought it was just a pipe dream, that he'd never played golf, how was he going to fund this project? And then he kept telling me not to worry; he had it all figured out. And it was just a four- or five-year project.
Right now, Dan has 3,997 hours left. That's roughly four more years of swinging clubs. Susie worries her son is spending his prime years playing golf. But she's not surprised — he's always done his own thing.
"We're proud of him for trying to do something different, to go against the grain, have people tell him, 'Oh, you're wasting your time,' but to do it anyway, just to stick to it," she said.
Clicking The Hours Off?
It was a typical Oregon spring day — it could have poured, or it could have stayed sunny all afternoon. But for the moment, the weather was holding.
This was good news for Dan, who was about to hit some balls at Portland's Riverside Country Club. What was not good news? Dan's back. Specifically, the pinched nerve that had been giving him trouble for days.
"I haven't swung a club since last, last Sunday," Dan said. "I played in a little tournament and I had to get through it. But the whole time I would, like, swing and basically fall down."
But he came out to the range to see if all those trips to the chiropractor had made a difference.
"I'll just start slow and do kind of like a warm-up routine," he said.
Dan grabbed a pitching wedge, squared up to the tee and made a little half swing.
"Ahh, that hurts," he said.
"Where's it hurt?" I asked.
"It's when I twist it, like, feels like my legs are going to fall out from under me," he said. "It's just the lower back."
[sidebar title="10,000 Hours To Golf Stardom?" width="300" align="right"]We interviewed Dan and Golf Magazine's Alan Bastable when Dan was a quarter of the way through his plan.[/sidebar]After a few more swings, his face screwed up in pain.
The average duffer could just take a few months off and get good as new. But for Dan, the injury means he has to take a knee on the "Dan Plan."
"If you can't practice, you can't click off hours," he said. "And it just kind of stagnates in a sense. So you know, I think I've gotten, maybe, 10 hours of practice in the last two-and-a-half weeks. It's going to take a long time to get to 10,000 hours at that pace."
Ten-thousand hours of golf — I have the bandwidth to hit maybe one bucket of balls, max. That's it. Luckily, Dan isn't me.
The inspiration for the "Dan Plan" came from Malcolm Gladwell's book "Outliers," which highlighted research on expertise done by Swedish psychologist Anders Ericsson. The loose idea is that 10,000 hours of focused practice leads to mastery. Even if, like Dan, you're trying something new.
"The only thing I knew about golf is it was something that I watched on Sunday if I really needed to take a nap," Dan said.
But he chose golf anyway.
"Well, I wanted to do something I had zero previous experience in," he explained. "Golf just seemed like something that anybody at any size or any age could succeed. You know, thin, short, tall, fat — there's no archetypes. So it just kind of resonated for some reason."
In light of Dan's recent injury, I can't figure out what's motivating him to stick with it. I mean, it's been five years, and he's now just barely on the back nine of the "Dan Plan."
'More Than A Stunt'
So I called up author David Epstein to get some answers. Epstein included Dan in his book, "The Sports Gene: Inside the Science of Extraordinary Athletic Performance."
"He really brought on board people who made it seem very, very serious," Epstein said. "You know, Anders Ericsson, the founder of the so-called 10,000 Hours Rule, and he got a PGA-certified coach, and so it seemed to me like he was doing more than a stunt, so I did believe he was going to finish."
Epstein told me one key to the project is "deliberate practice."
"When people go to the driving range and they're just swatting balls and they're not kind of cognitively engaged, that's not deliberate practice," Epstein said. "It's about error correction, focused practice and so forth. And so he's doing a very high-quality kind of practice."
Last year, his handicap hit a career low of 2.6. That put him in the top five percent of the country's 26 million registered golfers.
Back at the club, Dan called it a day. After about a dozen swings, his back was on fire. He looked kind of bummed. Without golf, he's unmoored. Boredom will probably creep in. And that 10,000th hour is going to start looking a lot farther away.
"I don't do, like, taking it easy well," Dan said. "So if I'm not out here, I'll look at the yard and be like, 'I could chop that tree down.' But then that just adds to the problem. It's really frustrating not to be able to practice because there's just nothing to do."
It's a well-worn adage that golf is all about the short game. But achieving success often requires taking the long view — something Dan McLaughlin knows better than most.
This segment aired on June 6, 2015.