As Ultramarathoning Grows, Overtraining Syndrome Looms
06:03
Play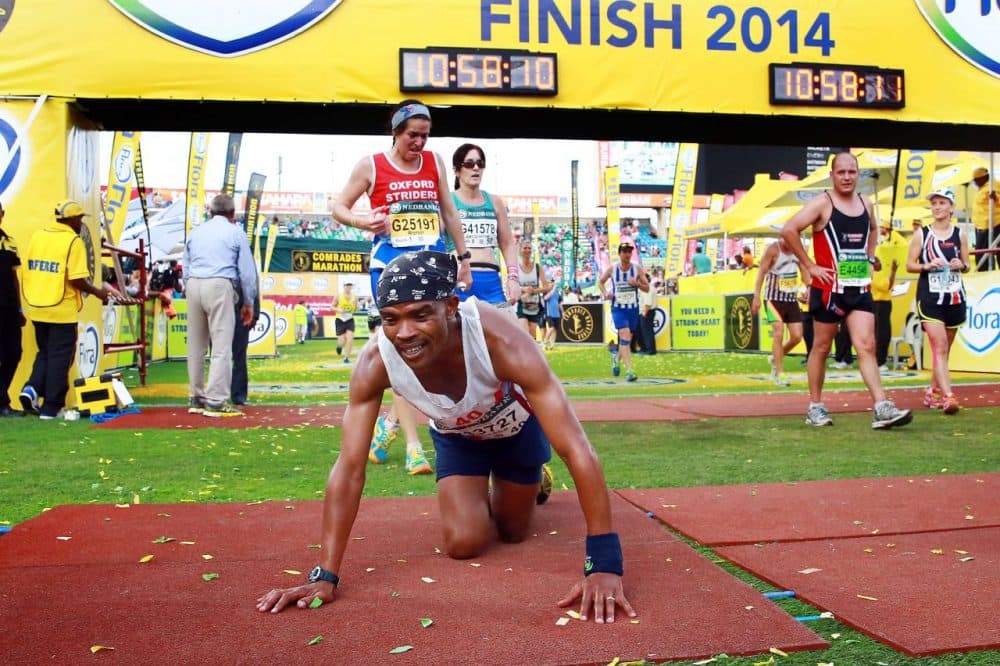 This article is more than 5 years old.
Ultramarathoners train hard and they train a lot, and it's likely that, until fairly recently, nobody involved with the sport had a problem with that. Of course one trains hard for a race that lasts all day and into the next... and maybe into the day after that.
But numbers of ultramarathoners have now run out the other end of excellence and into exhaustion. Meaghen Brown wrote about that subject for Outside Magazine and she joined Bill Littlefield.
---
BL: "Overtraining syndrome" sounds like something that must happen to anybody who puts in this kind of distance, but the symptoms range from somewhat distressing to terrifying — or am I being melodramatic?
To run 100 miles actually takes a lot of mental energy. Some people say it's about 75 percent mental, 25 percent physical.

Meaghen Brown
MB: No, that's actually true. There are basically three levels of overtraining. There's overtraining, which everybody has heard about. You, maybe, are really tired for a week after putting in a lot of miles for a marathon. There's non-functional overreaching, where you start to have some strange hormonal things going on. And then there's what I wrote about in the article, which is overtraining syndrome, and those symptoms are pretty terrifying.
People have reported profound exhaustion, sometimes the ability to not even get out of bed. Muscle soreness that never really goes away. Just the feeling of having like seven cups of coffee. Heart palpitations, loss of libido. Those are sort of the ones that you hear a lot.
BL: How common are these symptoms? How common is overtraining syndrome?
MB: So there aren't really any numbers to be able to answer that question very well. Overtraining syndrome is something people have known about for quite a while, but you're only seeing more and more cases now that this sport is becoming more competitive. And you don't have to be an elite athlete to get overtraining syndrome. This can happen to anybody, which isn't really touched on in the piece. But in terms of numbers, nobody is really able to answer that question right now.
BL: Has this syndrome been around long enough so that doctors know it when they see it or are they still kind of operating in the dark?
MB: It's been around for a long time. In fact, there's an old, ancient Greek text that actually mentions something that sounds a lot like overtraining syndrome. Unfortunately most sports medicine doctors don't see enough cases to be able to know what it is. And it often mimics other diseases. There's a disease called Addison's, which looks a lot like chronic fatigue, and so there are parallels with that. If an athlete tests with low testosterone or wacky blood levels — doctors basically want to rule everything else out before they say it's overtraining syndrome, and a lot of doctors don't even know what it is.
[sidebar title="Running For 63 Days To Combat Smoking In Chile" width="630" align="right"]Read about Matías Anguita, Chile's most famous ultramarathoner, who set a new world record by running the length of Chile in only 63 days.[/sidebar]
BL: Ultramarathoner Mike Wolfe talked to you about the mind-body connection. Is he suggesting that part of what causes overtraining syndrome is mental exhaustion, or does the mental exhaustion result from the overtraining?
MB: He didn't suggest that as a connection that he had seen. It was actually something I asked him about because I was seeing this pattern with a lot of runners that I talked to where they really did have this mental exhaustion component to it too. And one person that I spoke with talked a lot about flow states, which is when you're in this space of absolute perfection. Runners experience this a lot, surfers experience this. It's like every single molecule of your being is focused on this athletic or creative endeavor. And a lot of these runners, it was almost as if they had been in a flow state for so long, they could no longer function in daily life with that.
And so, not being able to draw from that mental component because to run 100 miles actually takes a lot of mental energy. Some people say it's about 75 percent mental, 25 percent physical. So they didn't have the mental energy or the physical energy and they were kind of feeding off of each other.
BL: Your article suggests that this syndrome is "robbing a generation of top athletes of their talent." How big a threat is this to the whole sport of ultramarathoning?
And there are some people out there — Jason Koop is an ultra-running coach who's working with a lot of top athletes right now — who's really trying to rejigger that approach and have the athletes train at a much higher intensity but much lower volume and take a lot more rest days. And there's some thinking in the ultra-world that that may be the direction that the sport needs to go. But right now it certainly hasn't caught up with the rate this is occurring.
BL: I may be just guessing here because my knowledge of ultramarathoning is not extensive. But it would seem to me the kind of person who regularly runs 100 miles might come to believe "Yeah, yeah, this could happen to somebody else, but it'll never happen to me."
MB: For sure. Mike Wolfe definitely believed that. I mean, he knew it existed, as did Kyle Skaggs and a number of other runners in the piece. But they all, they'd had a bunch of great years and they'd trained hard and were racing well. And they really did have this feeling of, "That can't happen to me." And I think people who don't race at the elite level also believe that. They're not on the podium and they're not sponsored, so they assume that this can't really happen to them, but it actually can.
This segment aired on June 20, 2015.