Overlooked On Draft Night, But Making It In The NBA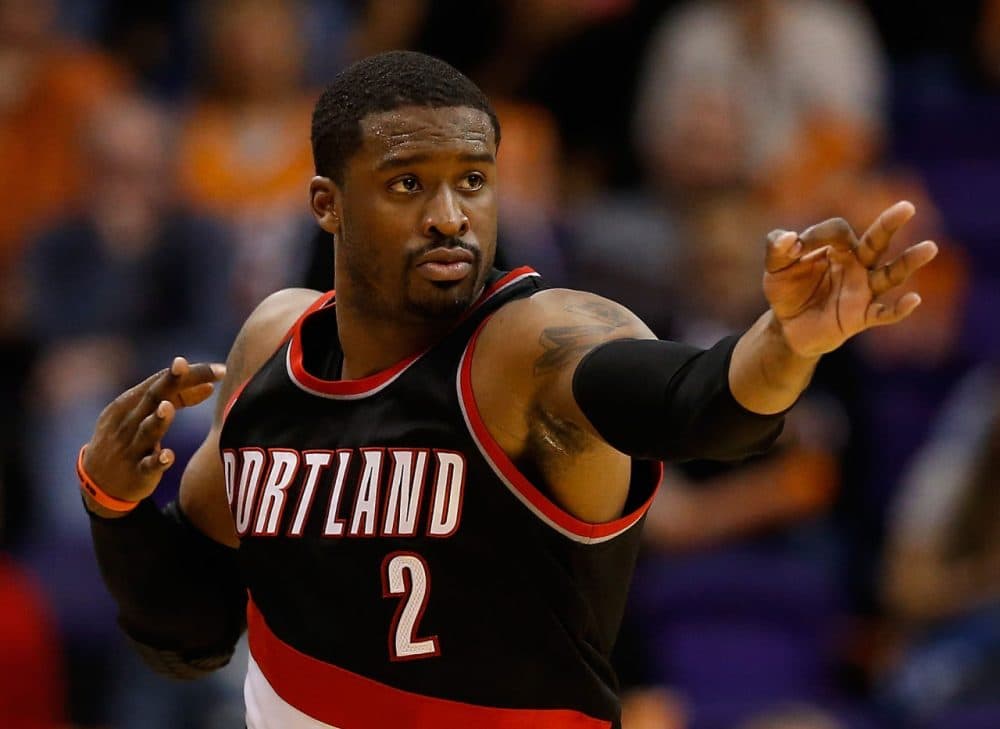 This article is more than 7 years old.
The 2015 NBA Draft is tonight and teams are preparing their draft boards to find the best available players.
Since the NBA Draft has two rounds (38 fewer than Major League Baseball), only 60 players are selected each year. But even if players aren't drafted, they can still be picked up by an NBA team. And sometimes, those undrafted players turn out to be better than high-profile draft picks.
One of the most notable draft day busts was Darko Milicic. As the second overall pick in the 2003 NBA Draft, he was selected by the Detroit Pistons. His first season he made a quarter of his shots, scoring a total of just 48 points. The Serbian native bounced around the league playing for six different teams until he retired in 2013.
I think I'm the best two-way two-guard in the NBA.

Wesley Matthews
Teams passed on José Calderon in that same draft, but he played in the Euroleague until he signed with the Toronto Raptors in 2005. In his first season, Calderon played in 30 more games than Milicic and scored 301 more points. And the Spaniard is still having success a decade later. He played for the Knicks last season and averaged 10 points per game.
Calderon's not alone. Here are a few of the most notable undrafted players currently playing in the NBA.
---
Jeremy Lin
Teams passed on Jeremy Lin in the 2010 NBA Draft, but the Golden State Warriors signed him a month later. The Harvard graduate played sparingly for the Dubs in his rookie season bouncing between the D-League and Golden State.
The following season, Lin eventually latched on with the New York Knicks. On February 4 — after playing only 55 minutes all season — he dropped 25 points to lead the Knicks to victory. Ten days later, Lin hit the game winning three-pointer with a second remaining to lift the Knicks over the Toronto Raptors. 'Linsanity,' was born. In the 12 games before the NBA All-Star break, Lin averaged 23 points and nine assists.
Lin's hot streak even lead to a documentary film: "Linsanity: the Movie."
"Linsanity: the Movie" Trailer:
https://www.youtube.com/watch?v=-e-nOQHawZI
After the 2012 season, Lin signed with the Houston Rockets. He spent two seasons there. Last season, Lin came off the bench for the Los Angeles Lakers, averaging more than 11 points and four assists per game.
---
Wesley Matthews
On the night of the 2009 NBA Draft, Marquette University star Wesley Matthews was back in his high school gym working out. But when he didn't get picked, his grandmother gave him strict instructions. Wesley recalled the moment for Bleacher Report in December:
"I look at the phone and it was 11:40, something like that," Matthews explains. "At that point I was like 'It's not gonna happen'. Grandma came up to me. 'You've got 'til 12:01 to be mad about this, pissed off about this, feel cheated about it,' and it was almost like on draft night, I was just like, really? Like, really? I gotta do this again? Alright, I've got 'til 12:01. I'mma be pissed. I'mma kick some stuff. I'm gonna throw some stuff over. I'm gonna turn some chairs over and then once 12:01 hits, it's time to shock the world."
After his rookie campaign, Matthews signed a five-year, $34-million contract with the Portland Trail Blazers. He averaged nearly 16 points per game.
Wesley Matthews told the Columbian last year that he believes he is "the best two-way guard in the NBA."
That's up for debate, but the Trail Blazers certainly missed Matthews when he tore his Achilles this season. Without Matthews' scoring and staunch defense, the Trail Blazers struggled in the postseason losing in the first round to the Memphis Grizzlies.
Now, he's a free agent and potentially could land a deal worth as much as $15 million a year.
---
Udonis Haslem
Udonis Haslem has never made an all-star game, but he is the Miami Heat's all-time leading rebounder and a three-time NBA champion.
After graduating from Florida, the the 6-foot-8-inch Haslem went undrafted in 2002. He was quickly signed and released by the Atlanta Hawks. With no other NBA offers, Haslem signed with a French team and played overseas for the year.

Then Haslem returned to his hometown of Miami and joined the Heat in 2003. Haslem was voted to the NBA All-Rookie second team.
Now 34 years old, Haslem is one of only seven active players who has spent his entire NBA career (minimum of 12 seasons) with one team. The other players on that list: Kobe Bryant, Tim Duncan, Dirk Nowitzki, Tony Parker, Manu Ginobli, and Haslem's Miami teammate, Dwyane Wade.
Pretty nice company for an undrafted free agent.