Dustin Brown: A Tennis Man With A Van
05:16
Play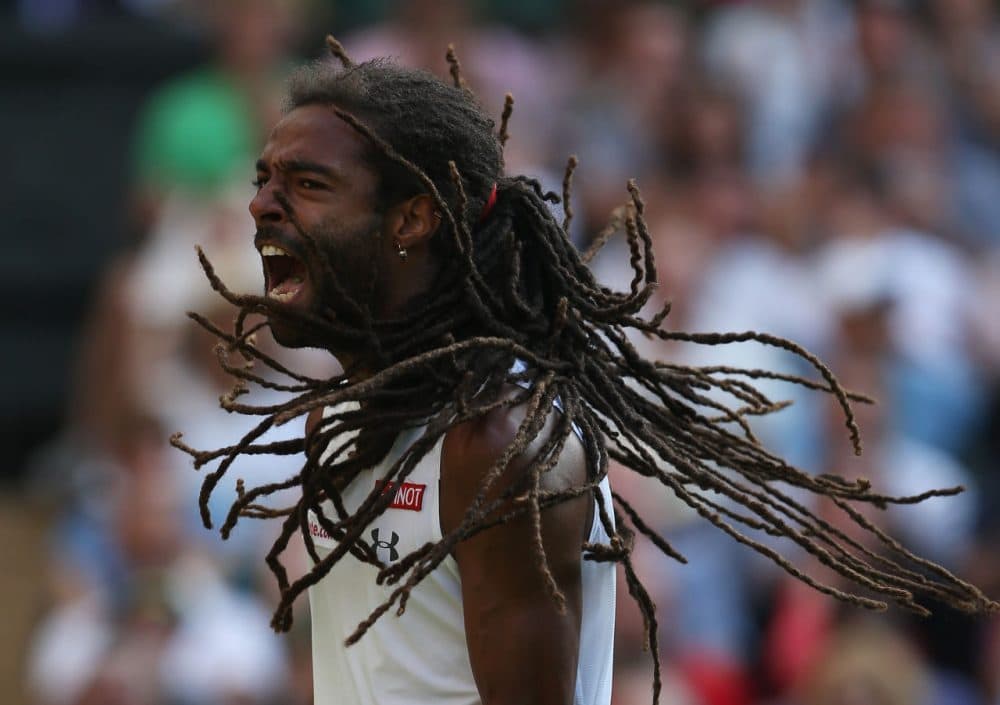 This article is more than 6 years old.
Until Thursday, tennis fans could be forgiven for not knowing the name of the 102nd-best men's tennis player in the world. That's when Dustin Brown knocked Rafael Nadal, winner of 14 Grand Slam titles, out of Wimbledon.
In his post-match press conference, Brown, wearing a Rasta hat and a Superman t-shirt, called it "the best day of my life."
Dustin Brown's Post-Match Press Conference:
Here are a couple of tidbits you might not know about Dustin Brown: he was born in Germany but moved to Jamaica when he was 11. He hasn't cut his hair in 19 years. And he credits his current place on the tour to time spent in a Volkswagen camper van. For more on that, Bill Littlefield spoke with Sports Illustrated Senior Writer Greg Bishop who profiled Brown for the New York Times in 2010.
BL: In 2010, Brown was still working his way up the rankings. He had broken into the top 100 for the first time, was about to make his first appearance at Wimbledon in the singles draw, but was his story really all about the van for you?
GB: Yeah, definitely. The van is one thing that really stuck out for me. You know, he has such an interesting back story, being German and Jamaican and having lived all over the world. But my favorite part of the story was that his mother decided at one point that, you know, for him to be successful they were going to have to buy a camper van, live in the camper van and travel around Europe to these smaller tournaments to try to crack the top 100. And so he did that and he did it for many years, and that part of it always really stood out to me.
If somebody was going to come in and beat Nadal, who's slumped on grass in recent years, never been that comfortable on it, it shouldn't be that surprising that it was Dustin Brown.

Greg Bishop, Sports Illustrated
GB: I think what happened was he ultimately lived in it for as long as he had to. And then when he ended up being able to live in a full space, he kept the van. My understanding is that he still has it and he might drive it occasionally for [an] errand or, you know, if he's got a date he might take it to the movies. But, yeah, I think ultimately he just kinda outgrew it. But I do think he kept it for sentimental value.
BL: Jamaica is known for its sprinters but not necessarily for its tennis players. How much more difficult did it become for Brown to become a professional tennis player when his family moved to Jamaica?
GB: He said it was really hard. He had a hard time finding courts. He had a hard time finding just tennis balls that were in great shape. He had a hard time finding people to play against. They obviously have great weather all year round, so it's possible to train. But it's just not a very popular sport. And so that was kinda what got him to get the van in the first place. He felt like the longer he stayed in Jamaica, the less that he would be known and the less that he could move up. So then they got the van, took the risk, drove around Europe and it all led to that moment with the big win over Nadal.
BL: The Jamaican tennis federation, I gather, was not particularly supportive.
GB: No, when I interviewed Brown in 2010 he had told me that he received an email from the federation president congratulating him for his wild-card entry into Wimbledon. And the only problem with that is that he was ranked 101st before the tournament and he didn't need a wild card at all. And so that, to him, seemed like they weren't paying that much attention. So, you know, it'll be interesting now. A lot of times you'll see these federations try to get some glory out of a big win like that, so it'll be interesting to see how they react to it.
BL: Brown is the talk of Wimbledon this week. His Twitter page, @dreddytennis, has tens of thousands of new followers -- no surprise there. But champions get ousted at Wimbledon every year. Why are we so fascinated with this particular upset?
GB: That's a good point because if you look at the match just in and of itself, you know, Nadal's worst surface is grass; Brown's best surface is grass: it's not entirely that surprising. What makes it interesting to people is Brown's story. I think the hair really stands out, especially at a place like Wimbledon. I think the way he plays with the serve and volley game that's largely extinct from men's tennis — and it used to be very popular there — and I think it's just the back story. I hate to keep coming back to the van, but I think people just latch onto a guy that took a risk and decided, "I'm going to try to do this and do it well." And to have it culminate, people really identify with that.
BL: You know, to be entirely fair to Mr. Brown we probably should point out that this win wasn't exactly a fluke. His record against Rafael Nadal is 2-0.
GB: Exactly, and he's very good on grass. You know, he's very tall; he hits a hard serve; he's good at coming in. It's the perfect surface for him. He's beaten Nadal on grass before in Germany, and, if somebody was going to come in and beat Nadal, who's slumped on grass in recent years; never been that comfortable on it, it shouldn't be that surprising that it was Dustin Brown.
This segment aired on July 4, 2015.