Madison Keys: America's Next Tennis Star?
03:55
Play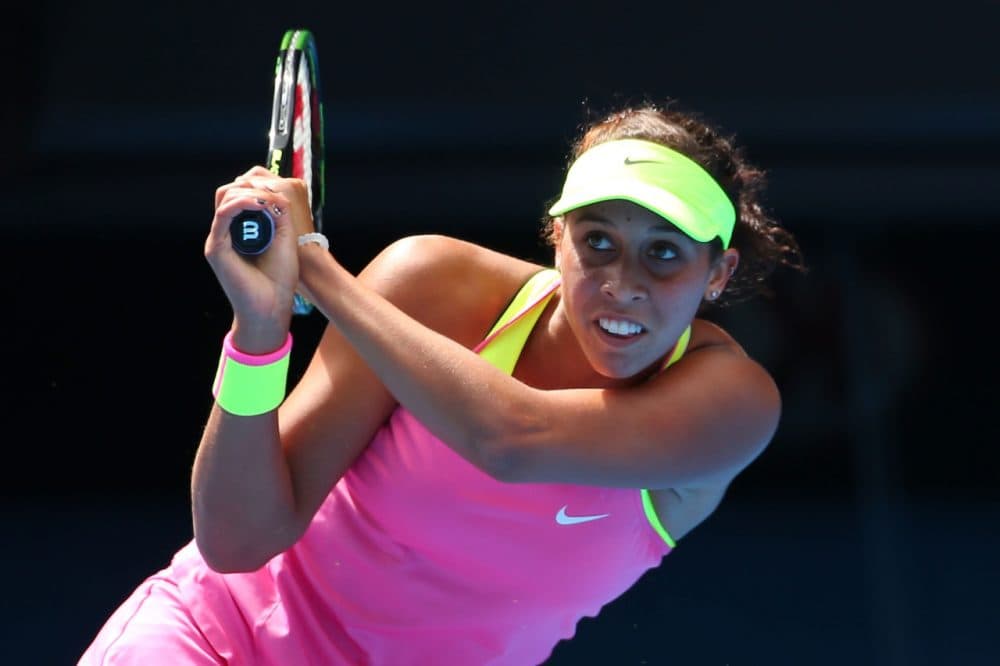 This article is more than 6 years old.
In Thursday's Australian Open semifinal, Serena Williams defeated fellow American Madison Keys, 7-6, 6-2. It was just the first time Keys had appeared in a Grand Slam semifinal. She's likely to be back — she's 19. After the match, Serena Williams said, "It was an honor for me to play someone who will be ranked No. 1 in the future."
Courtney Nguyen has written about Madison Keys for Sports Illustrated and she joined Bill Littlefield.
BL: Is Williams right about the teenager?
I think Serena Williams is right: I think we are looking at a future No. 1.

Courtney Nguyen
CN: We get excited in America about these young talents coming through, and we've been spoiled for so many years — for decades, really. And the big difference, though, with Madison Keys is that she has the weapons. And that's the biggest thing that you really need in the women's game. You can't just be a retriever. That's not going to be enough.
You need to have some sort of shot that terminates rallies, that wins you points. And Madison Keys, at 19 years old, she has an absolute bazooka in that right arm of hers. So that's why I think everyone's kinda salivating, and I think Serena Williams is right: I think we are looking at a future No. 1.
BL: You've written, "She's your typical sarcastic teenager." Tell me a little bit about that. 
[sidebar title="Time For Tennis To Get Loud?" width="630" align="right"] Tennis tournaments are known for having very different sounds, from the quiet of Wimbledon to the noise of the US Open. Ben Rothenberg of the New York Times makes some noise about, well, noise. [/sidebar]CN: Madison is one of those people who, you ask her a question, her instinct is to first just crack a joke. And usually it's a self-deprecating joke. She puts herself down all the time. She gets really down on herself after losses. And so many of the press conferences I've had to do with her, I almost felt like a therapist sometimes, trying to be like, "You know, it wasn't that bad of a loss, Madison. You know, you're OK."
And she would really, you know, just get down on herself and say, "I made stupid shot selections." You can hear her on court sometimes kinda telling herself, "Oh, really nice shot, Madison," when she hits a ball 50 feet out. So yeah, she's just really likable in that way. There's no air of pretense about her.
BL: When you asked her to describe herself in just one word, Keys responded, "uh...psychotic?" What did you make of that?
[sidebar title="Canada's Rising Star" width="630" align="right"] Canadian Eugenie Bouchard is 20-years-old. She has a crush on Justin Beiber and she enjoys snacking on baby food. She may also be the next big star of women's tennis. [/sidebar]CN: I just took that as Madison Keys being Madison Keys. She just jokes about herself all the time. She has these two younger sisters. She's very close with her mother as well, who's an attorney. I think the vibe within that family is, "Madison's just one of us."
So yeah, that self-deprecating sense of humor that she has, and I think it said a lot this week here in Melbourne — she got a great big win over reigning Wimbledon champion Petra Kvitova. She also got that win over Venus Williams.  And when she had to do that post-match interview, she was absolutely speechless. She couldn't even make a joke. She was out of her element, and this was all so new and incredibly overwhelming for her.
BL: Madison Keys had said that she plans to save most of the half-million dollars she earned at the Australian Open by making the semis. But she is allowing herself one purchase, as I understand it. What is that?
CN: Yeah, she had her eye on a Louis Vuitton bag when she got here in Melbourne. So she said that was the one thing that she wanted. The rest would go into her bank account.
BL: My understanding is that she may need some new nail polish as well though. Could you explain that?
CN: Yeah, she has her own version of a playoff beard. She told me that she does her nails before a tournament and then doesn't touch them for the rest of the tournament. So she said, "When I get to the semifinals or finals or late in the tournament, I don't want anybody to see my nails because they're absolutely ratty, but I refuse to re-do them." So I did, in her final press conference, I kinda peeked over, and I looked at her nails and, yeah, they were definitely ratty.
This segment aired on January 31, 2015.