Eugenie Bouchard: The Next Star Of Women's Tennis?
Play
This article is more than 8 years old.
Canadian Eugenie Bouchard is 20 years old. She has a crush on Justin Beiber and she enjoys snacking on baby food. But she's also the eighth-best female tennis player in the world.
Susan Dominus wrote a profile of Bouchard for this Sunday's New York Times Magazine, and she joined Bill Littlefield on Only A Game.
BL: The U.S. Open begins Monday in New York. What are the expectations at the tournament for Genie Bouchard?
She's very well-spoken and she's incredibly photogenic. I mean, it's quite a powerful combination.

Susan Dominus, New York Times
BL: Bouchard's coach, Nick Saviano, likes to say that her best shots are "her forehand, her volley, her serve, and her backhand." But, broadcaster Pam Shriver told you that none of those shots would really scare her. So, what is Bouchard's strength?
SD: Well, it's funny because, you know, up until the past few months what people have really been saying about her is that she has a mental toughness and a coolness and an eveness and a maturity that seems very unshakable. She does have above-average athletic prowess and incredibly strong strokes, but there's no one single stroke that is her trademark or is, like, killer.
It's just that in the past she has seemed able to summon them with, you know, great reliability and under great pressure. Again, since Wimbledon, she seems a little bit less sure of herself, and the pressures, I think, it's possible are getting to her.
BL: Bouchard's good looks and long blond hair have caused some people to confuse her with Maria Sharapova. And at times she is followed by a group of Australians who call themselves "Genie's Army" even though she's Canadian. So is it safe to say that Bouchard also has a lot of marketing potential?
SD: I think it's safe to say. I mean, when you think about the Grand Slams, right, three of them are English-speaking; one of them is French-speaking. She is, you know, really the only player around on the women's side who's fluent in both — I mean practically a native speaker in both.
And she seems sound of mind, and she's very well-spoken and she's incredibly photogenic. I mean it's quite a powerful combination, and, as I say in the piece, she can sort of get by on her potential alone for a very long time because I don't think people expect women to really play at the top of their game until their mid-20s.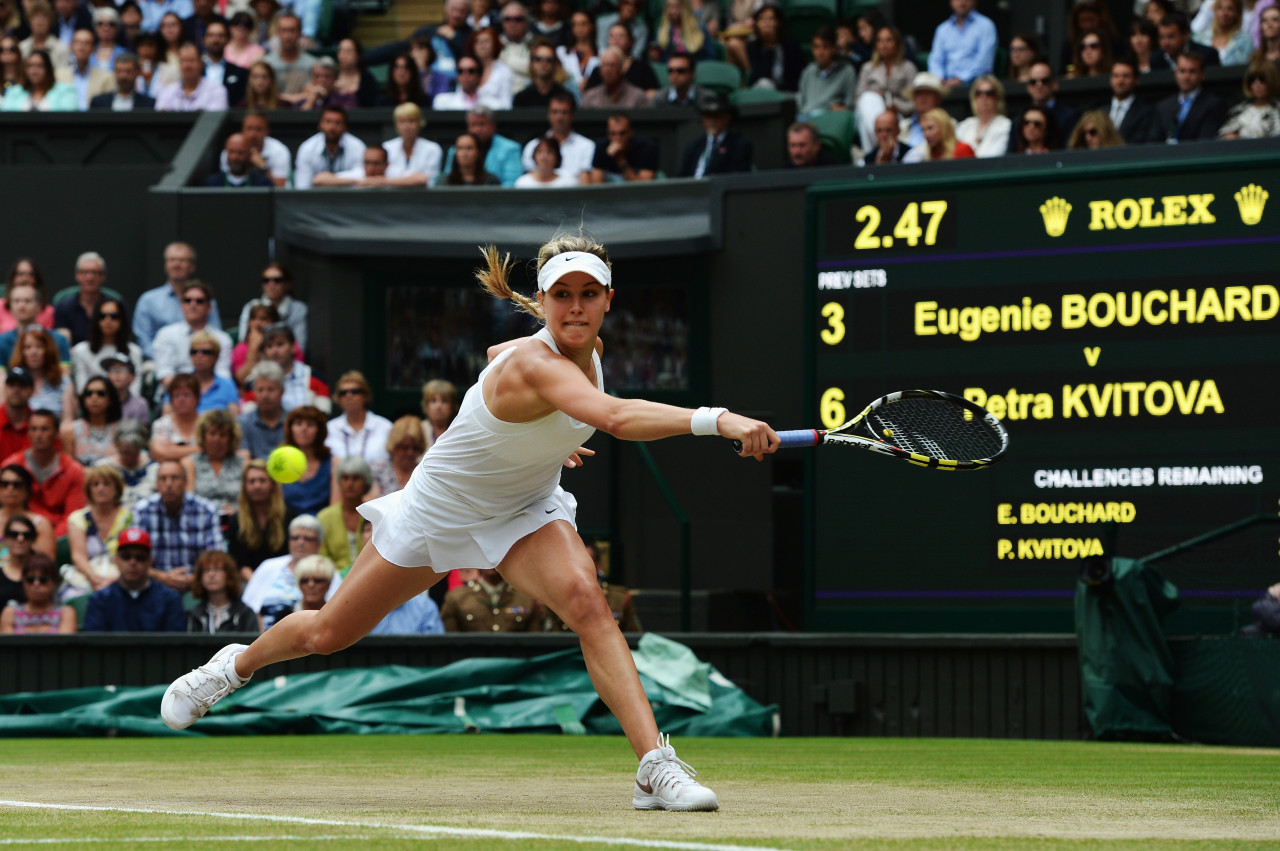 BL: Bouchard's support team seems obsessed with the 1-percent advantage. What do they do to make sure their star is in the best possible position to win?
[sidebar title="Life Of A Ball Kid" width="330" align="right"]In June, we learned what it's like to be a ball kid at the French Open. [/sidebar]SD: Well, they work on every shot. They don't take anything for granted. They don't rest on any laurels, but as I wrote in the piece, there's all sorts of things that they do just to make sure that that little advantage doesn't allude her.
Everything from making sure that her trainer is the one who carriers her tennis bag to the court to really thinking through how to handle the situation if a ball boy on the opponent's side is a little faster with the water or faster with the umbrella providing shade — that kind of thing. I think the idea is when you're talking about the top 10 female players in the world, the differences among them can be somewhat marginal, so you really have to eek out every kind of advantage even it's just psychological and you're convincing yourself that this umbrella shade will make a difference — that too is an advantage.
BL: Well what do you do, though, if the guy with the umbrella is faster on the opponent's side? Say "Excuse me," to the umpire, "We need to switch umbrella boys here"?
SD: I think it's the idea that maybe at the outset of a match — and this is a small aside — but I think that there have been instances where she really did feel it during a game. I think at the outset of the match you very politely approach the ball boy and say, "Hey, here's what I'd really love" or the ball girl "I'd really love the bag of ice on my neck immediately during a changeover." Or "It's very important that the umbrella be open right away" — that kind of thing.
BL: Genie Bouchard has a twin, named Beatrice, who plays an important role in your story. What was it about that family dynamic that so interested you?
One turned out to be an incredibly driven athlete, and the other one has a little more, let's say <em>joie de vivre</em> and is a little bit more fun-loving.

Susan Dominus
BL: Susan, we don't have a lot of time, but I can't leave people hanging. Please explain why the eighth-best women's tennis player in the world still eats baby food.
SD: Uh, only Genie can explain that. I think her sister does too, actually. Who knows? I mean if I had to guess it's a kind of comfort food. When you're training to be a professional athlete you're sort of propelled into very high-pressure, adult situations at a very young age, and maybe there's a part of her that wanted to cling to aspects of childhood. I don't know. Maybe she just thinks it tastes good. It's not that different from applesauce, right?
More Tennis Coverage From OAG: 
This segment aired on August 23, 2014.